The moment in time is etched in Ahman Green's mind only slightly more prominently than the presidents heads in Mount Rushmore. He recalls the time as if it were yesterday.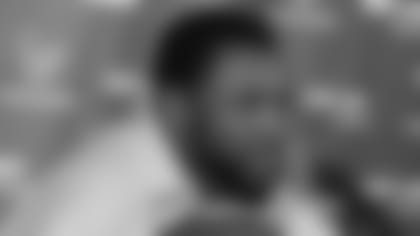 "The Minnesota Vikings, Oct. 24, 2005, third quarter," Green says reeling off the details like a crime-scene investigator. "A toss play to the right. There was no pain at all, just something popped. The next thing I knew I was getting an X-ray and asking the doctor how long would it would take for me to come back."
The four-time Pro Bowl running back can talk easily of the catastrophic injury, a torn right quadriceps where the muscle attaches to the knee, that he suffered with the Green Bay Packers two years ago. As a happy, carefree free agent, he has just agreed to terms with the Houston Texans and can look back on that nightmarish fifth game of the 2005 season with little angst.
It is a chapter in his past now. But one he will never forget.
The intense Green had little time for doctors' prognostications then. He had his own timetable and it wasn't waiting for much.
"I asked them, 'What's the soonest I can get surgery?'" Green said. "They said that's up to you. I talked with the doc and he said Tuesday, or you could wait a week or wait a month, whatever you want.
"So I said Tuesday. Two days later, I had the surgery."
The running back, who is second on Green Bay's all-time rushing list with 8,162 yards, 45 shy of Hall of Famer Jim Taylor, was in a hurry. He didn't have time to feel sorry for himself or wait on doctors' timetables.
"From that point on, I wasn't the typical, 'Oh, woe is me, I'm going to miss a year, maybe end my career, or it's going to be tough to come back.'" Green says. "I was pretty much the opposite because I've been around guys like that who have had knee injuries. I just said this is my time to have a vacation but still rehab."
So doctors did what they do and told Green it would be a while. He disagreed.
"I was walking and running way before the doctors wanted me to and expected me to," Green says. "After the surgery, the doctor said he wanted me on crutches for at least two weeks. I was off them in two days. I couldn't take it. So I was walking around off crutches. I had the mental aspect that I'm going to beat this."
And how. Green returned to the Packers ahead of schedule the next preseason. After admittedly having a couple of difficult games, it was like he'd never left. Green rushed for 1,059 yards, his Green Bay record sixth 1,000-plus season, and upped his career totals to 8,491 yards and 54 touchdowns.
Known as a fanatical workhorse year around, Green already is planning for big things with the Texans.
"I've been working out on my own in Green Bay," he says. "I have a workout room at home. Now I can run into some good weather down here and get in shape a lot quicker."
It's a fortuitous signing for the Texans, who likely won't get starting running back Domanick Williams back any time soon. Davis missed all of last year with a knee injury and general manager Rick Smith said Monday that Davis' knee has been swelling during rehab and he soon will undergo another surgery on it.
"So the jury's still out on where he's at in his rehab process," Smith said. "We're not sure what's going to happen with Domanick at this point."
But the Texans feel good about the signing of Green.
"It does certainly answer our question at running back," Smith said. "We feel we've got a guy who can produce in this offense and carry the load for us."
Green is eager to play for the Texans and help them in an area that can certainly use improvement. Quarterback David Carr has been sacked a startling 249 times for minus 1,466 yards in his five years, and that doesn't set well with Green.
"David Carr needs protection," Green says. "As a running back seeing a quarterback get killed, I don't like it. A lot of the young guys at Green Bay, I taught them how important pass blocking is.
"I love picking up the blitz, outside of running the ball. I'm not going to say I'm going to block every guy out there, but pretty much I'll say 99 percent of the time, I'll pick up the blitz to protect David or Sage (Rosenfels) or whoever's back there. I'll do my job along with the offensive line and the tight ends and we'll give the quarterback a little extra time."
EDITOR'S NOTE:Jim Carley is a veteran Houston sportswriter who has covered the NFL for more than 25 years. He has worked for such newspapers as the Fort Worth Star-Telegram, The Houston Post, the Los Angeles Herald-Examiner and the National Sports Daily covering such teams as the Dallas Cowboys, the Houston Oilers, the Los Angeles Rams and the Oakland Raiders.