with one of his better performances of the season Sunday against the Giants. Carr completed 21-of-30 passes for 176 yards and had no turnovers a week after being sidelined for a propensity to lose the pigskin.
During his weekly Monday wrap up with the media, Gary Kubiak said that, in general, he was pleased with Carr's performance.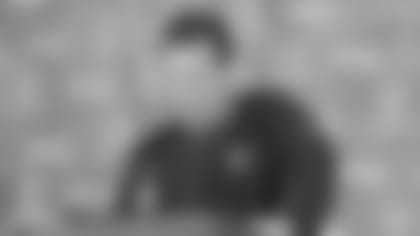 "He did some good things," Kubiak said. "He took off and made some plays for our team with his feet which I think is very, very important. (He) made some plays on third downs, made some excellent plays on third down, but he competed hard."
Carr's highlight Sunday came on a two-yard touchdown run in which he launched himself into the teeth of the Giants defense in search of the endzone. The score put the Texans up for the first time Sunday, a lead they held into the fourth quarter.
Kubiak revealed Monday that the play that Carr scrambled on was actually designed for tight end Owen Daniels. While in practice, Daniels had been open, on Sunday
had the play covered and Carr made a play where there wasn't one.
"I think the one thing he did different on game day, and I don't know a lot of people realized that he did this, was a couple times there were some bad plays and he made some plays with his feet," Kubiak said. "Sometimes you have to remind players to do that. I know as a coach you're always working on the perfect play, the perfect progression, things working perfectly out there on the practice field and during the game things rarely happen that way."
Asked if whether there was a point last week when he knew his quarterback would rise to the challenge of showing fans and some skeptical media that he can play solid football against a quality opponent, Kubiak said that it was business as usual for Carr prior to this past weekend.
"That's part of our jobs, dealing with people evaluating what we do and how we do it is part of what we do," Kubiak said. "In this business, as a player and a coach, you have to understand that. To say there was a point last week where I knew he was going to be okay with it, David didn't do anything differently last week then what he's been doing. David's been working extremely hard."
Halfway home:The game with the Giants Sunday marked the halfway point of the season for
. At 2-6, Kubiak said he would prefer having a few more wins, but regardless, he knows the team his headed in the right direction.
He was particularly pleased with the defense, which he said has a bright future.
"I'm not going to say I'm surprised at this, but I think we're headed in the right direction of having an excellent football team on the defensive side of the ball from the standpoint of our youth," Kubiak said. "I think we're only going to get better.
"The first three weeks were not good at all, it was a little nerve racking there for a little while, but it's starting to come together. We're very young. DeMeco's (Ryans) play has led that group and Mario's (Williams) play has come along. I'm very excited about that."
On the offensive side of the ball Kubiak said he would like to see a better run game and more big plays over
's final eight games of the 2006 season.
"On the offensive side of the ball, we've been moving the ball," Kubiak said. "We've moved the ball, but we need to be more effective points wise. We need to make bigger plays and to make bigger plays we need to run the ball better. To me, we need to run the ball better in the second half (of the season) to try to free up Andre (Johnson) and a couple other things."
Over the Texans first eight games, rookies have played a huge role. Ryans has been outstanding at linebacker from the start of the season and Kubiak said Monday that Williams was dominant at points during the game Sunday at Giants Stadium. When you consider Daniels' five touchdowns and Wali Lundy's contributions on offense,
's 2006 draft class looks to be very strong.
That said, one player who was expected to make an immediate impact hasn't and it's only because of injury, which has been Kubiak's biggest disappointment to date.
Another positive is the team's attitude. At 2-6, no one is happy in the locker room about
's slow start to the season, but you never see any players pointing figures. It comes as no surprise to their head coach.
"They're a good group of guys," Kubiak said of his team Monday. "They work as hard as any football team I've been around. That tells you how hard it is to win in this league. I've told you guys you can do everything right and it's still hard to win in this league, but we're doing it right. Our guys are doing it right and we all want to see the end result get better, but they're all doing the right things to get there. There's a lot of character in that room."
Injury update:DaShon Polk has a sprained MCL and will be out of action anywhere from two to four weeks. [Lional
]() twisted an ankle Sunday and will be "touch and go" this week in practice. Kubiak said that Kailee Wong should be full strength when the team returns to practice Wednesday.
Thinking more long term, the Texans now have about three weeks to determine whether or not Jerome Mathis will return to action this season. Mathis has missed every game this year thanks to breaking a bone in his foot during OTA's.
"You're talking Week 11 before we have to make an ultimate decision on him, but I would tell you all the same thing that he is behind those other players," Kubiak said of the Pro Bowler Monday. "He is not going to be able to play this week. Jerome has to take a couple of big steps before you all seem him on the field. I would say it's 50-50 with Jerome whether he comes back and plays this year."