 It was a close race this week in Week 1 of Houston Texans Fantasy Football presented by StubHub, but one fantasy football guru emerged on top of the standings for all registered Houston Texans fans. Congratulations go out to Ghost Trojans for coming out on top with a high score of 127 points. Ghost Trojans' exceptional football knowledge has been rewarded with a Mario Williams autographed mini-helmet.
Make sure to play this week for your chance to win an **autographed football signed by Dunta Robinson, Chester Pitts, Zach Wiegert, Demeco Ryans, Anthony Weaver, Jeb Putzier and C.C. Brown![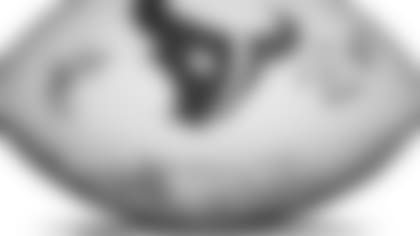 ](http://football.nfl.com/splash/football/nfl/challenge?nflteam=HOU&refcod) **
Congratulations are also in order for Crunch, aka Carmine Pirone from HoustonTexans.com, for his Week 1 victory, placing him at the top of the Texans Fantasy Football Celebrity League. Carmine ousted all other pundits with a whopping 93 points, relying on the strong arm and stubble of Kurt Warner (28 pts.) and his sleeper pick of LT (20 pts.) Carmine's score of 93 was good for first place amongst Celebrities, however it placed him at #128 among Texans fans and around #6,000 for all NFL Fantasy players. Congrats Carmine!