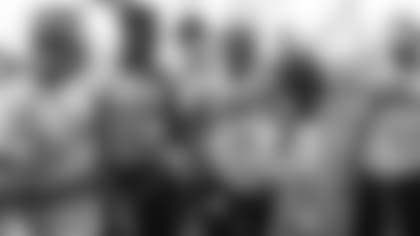 On Saturday, 40 Houston-area high school football players congregated at Reliant Stadium for the NFL's High School Player Development Program.
The seven-hour event provided participants with an opportunity to enhance their leadership skills through a character development presentation with NFL Player Engagement's Player Prep, competitive exercises led by the National Guard and a community service activity at the Houston Food Bank.
Following a presentation by former NFL players Irving Fryar and Leonard Wheeler, the students went across the street to the Methodist Training Center for interactive drills led by members of the National Guard.
"The objective is to work together as a team," said Specialist Justin Grandmont, who ran one of the five obstacle course stations. "People who have never come together join in cohesion to learn from each other and help each other out.
"In my exercise, you learn that if your leader goes down, you have to step up and overcome the obstacle as a team."
Exercises ranged from blindfolded "follow the leader" to figuring out a way for a team of 10 large teenagers to fit through a hole two feet wide. Each activity taught communications skills, trust and problem solving.
"I've been doing this for five years, because it's something I just enjoy," Grandmont said. "We're not necessarily trying to recruit kids for the National Guard but more so teaching them leadership skills that they'll use throughout their lives. If they do happen to join, that's a plus."
Sterling High School sophomore Jaquan McKnight said if he had to describe the theme of the day in one word, it would be "leadership."
"My favorite station was where we got blindfolded and had two people directing us to walk and crawl over things that we couldn't see," he said. "I came here and had to learn to trust people I didn't even know and that they had my back and wouldn't put me in situations that I couldn't get myself out of."
Matt Roberts, a junior at Terry High School, also took a lot away from the day.
"It's a fun experience being out here with kids from other schools, just working together and forming some kind of bond together just in the matter of a couple hours," Roberts said. "I've learned a lot of different ways to be a leader and how to cooperate with others even in frustrating or stressful situations. I plan to go back to my teammates at Terry and try to be a leader and push them to be better. I'll take these skills that I've learned today, not only athletics but also education-wise, and just further myself on through life."
The HSPD participants were referred to the program by their football coaches, who believed the player demonstrates leadership qualities such as teamwork, integrity, dedication and commitment.