**Win comes with cost: The Texans win in
yesterday might be as costly as it was impressive. Gary Kubiak revealed Monday that four key players will miss significant time as a result to injuries sustained in yesterday's win.
"Antwan Peek's going to miss some time with a sprained MCL, a little bit like (DaShon) Polk's," Kubiak said. "We'll place three players on IR, I've never seen that happen in one game before. Lewis Sanders is going on IR (broken bone in hand), Travis Johnson is going on IR with a tear in his, I want to say his calf, and then Zach Wiegert tore his ACL. He'll have surgery next week and he's done for the year."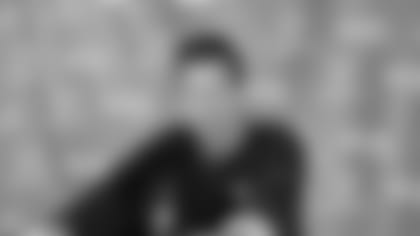 Those are four big losses for a Texans team that will be looking to keep some momentum going, searching for a second consecutive win and third straight home win this Sunday. Despite the losses, there was some good news on the injury front.
David Carr left in the second half of Sunday's win with a contusion of his right shoulder. He did not return, but should be ready for action this Sunday against the Bills.
"David went for an MRI today, it did not come back yet, but we do feel like he's fine," Kubiak said. "He felt pretty good today so I would be surprised if there was a problem."
Jameel Cook has a knee injury that could limit him in practice this week and Glenn Earl dislocated a finger yesterday in
. He'll splint the finger and be available against the Bills.
Gutsy call: Kubiak's decision to go for a first down on fourth-and-one yesterday with less than two minutes remaining in the game was still a hot topic Monday. The coach didn't elaborate much from what he said after the game yesterday when he said the decision was based on how he felt at the moment and that he had the backing of his team.
"I thought our football team had played a pretty good football game against a dang good football team in their stadium," Kubiak said of the situation. "We were in the same type of battle last week and ended up a play short. I just felt like, feeling the vibes of the team, 'hey, let's give ourselves a chance here to make a play this week that we didn't make last week.' We went right off of Fred (Weary)'s and (Eric) Winston's tail there and that's a lot to ask of that young tackle. Even Jeb (Putzier) and Owen (Daniels) did a nice job outside."
Kubiak added that the decision was a little easier with a three point lead, knowing a Jags' field goal on a possible ensuing posssession would only tie the game and not win it. However, when asked if he would make the same decision again in a similar situation, Kubiak wouldn't speculate.
"I don't know. We'll see when the next one comes up," he said.
It's time: With Wiegert lost for the season, rookie Eric Winston will start at right tackle this week against the Bills. Winston has been seeing plenty of playing time in practice the past few weeks, but has only seen limited game action as a reserve at both left and right tackle. The Texans may search for another offensive lineman with open roster spots to fill, but Winston will have a chance to prove he belongs in the NFL.
"One thing we know for sure is that it's time for Eric, which we've talked about that there's going to become a time when Eric plays a lot this year and now you look at it and he's got seven weeks of being a full time starter," Kubiak said. "It will be interesting to see how that goes, but it's his opportunity to prove that he's a player and we'll find out a lot about him."
Kubiak added that Brad Bedell will operate as the Texans swing tackle on game days, backing up both Winston and left tackle Ephraim Salaam. But the real story over the next seven weeks will be how Winston develops and whether or not he is a long term answer on the offensive line.
"It's very important," Kubiak said of Winston's development. "You can come out this season and you feel like Eric can be a starter in this league, that's going to be a big, big plus. He's another part of that rookie class that's playing a bunch. He played yesterday in a very tough situation when Zach went down, the crowd was involved, and we go right behind him on the big play so he's got to have some confidence with what happened to him yesterday. Now he knows he's playing, there's no doubt, is this guy going to be back, is that guy going to be back? Eric is starting and playing. It will be interesting to see how he prepares and plays for the next seven weeks."
Turning point?:Kubiak quickly dismissed the notion that yesterday's win against
could be a turning point in his first season as a head coach. It's not that he is negating the importance of a road win over a division foe, he's just against the idea of an NFL team ever truly turning a proverbial "corner".
"As far as turning the corner, I don't know when you ever turn the corner in this league," Kubiak said. "You look at what goes on in this league, what people consider upsets all the time, there's a lot of teams that have won two or three games and won big football games yesterday. There's a fine line amongst teams, it's pretty dang close. It's hard to win in this league.
"You could do everything right and it's still hard to win. You look at yesterday. We get four turnovers and we don't turn the ball over and we have to make a play at the end of the game to get out of there with a win. Hopefully, it gives us confidence as we move forward. We've got some tough road games down the road. I just want us to be aggressive and I like the emotion we're playing with. I think we've played with a little more emotion the last few weeks then we did early."
Kubiak also said that he did think that Texans were past letting bad plays in a game linger. If the offense allows a sack, it moves on. If the defense is burned on one play, it moves on.
should be turning a better effort into wins over the next month.
Mario dinged:With 4.5 sacks already this season, Mario Williams has already proved himself worthy of being selected with the first overall pick in last year's draft. His feet's of late seem even more impressive when you consider the rookie is not at 100 percent.
"First of all, Mario is playing injured for this football team right now," Kubiak said Monday. "His foot is bothering him. We've got to as coaches, be smart how we get him to every Sunday. It's going to be touch-and-go for us and we'll follow (head athletic trainer) Kevin (Bastin)'s advice. He's playing hurt and he's giving it up for his teammates, but he will continue to do that. I thought he played hard yesterday. His foot was bothering him, but he's fighting through it and that says a lot about him. He is not 100 percent, but he fought through it all day long."
The rookie has earned the respect of his teammates already for not only his performance on the field, but also his perseverance in the face of pain.