When the first two-a-day practice ended at the Houston Texans 2003 training camp tonight, players gathered together and clapped as head coach Dom Capers gave a final talk to the team. Although the players were visibly tired from a long day in the sun, there was a sense of excitement that emanated from the huddle. Compared to last season, when players were excited for the unknown, this season the players are excited because they sense how much better they are.
             "We
             had no idea a year ago what we had," Capers said. "Our
             players were just learning the system, learning what we
             expected.  I think
             things move a little faster now and that's what you hope, is
             that the speed of the game picks up." 

Resolute to improve on the Texans' 4-12 record last season, coach Capers' goal is to become a smarter football team in 2003 by not only making better decisions, but also by limiting unnecessary penalties. As a result, during position drills, the coaches spent a lot of time on fundamentals and technique. Defensive backs coach Jon Hoke had his players work on their dropbacks into coverage. The defensive linemen were working on swim moves and counterattacks, and the offensive linemen focused on snapping, getting off the line of scrimmage quickly, footwork and positioning.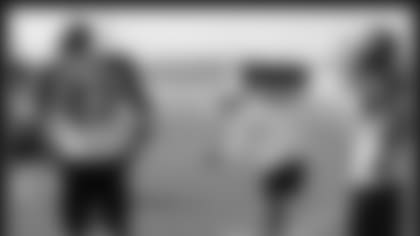 </td></tr><tr><td width="100%">

Defensive backs coach Jon Hoke directs a drill as SS Kyries Hebert and CB Jason Bell watch.

"You never really get away from your fundamentals, even at the NFL level," center Steve McKinney said. "We work on them every day because the second you stop working on fundamentals, that is when you lose them. You have to keep your technique fresh and keep everything running smoothly."
Overall, the coaching staff was happy about how the players performed. For as many penalties as the Texans offense had last year, only having one offensive penalty during the entire practice session is very good news.
"The guys came out here with the right approach, the right attitude," Capers said. "We certainly seemed to carry over from the time we spent on the field in the offseason."
"We'll improve and we'll get better because of the attitude of the guys on this team. Our guys understand the effort that you have to play with. They've worked very hard in everything we've done up to this point in time. I have no reason to believe that they won't continue through training camp."
For rookies Tony Hollings and Andre Johnson, Saturday morning's practice represented the beginning of their first NFL training camp. Apparently, the magnitude of that has not set in yet for either of them.
Without wasting any time making their presence felt, and with no sign of the typical rookie apprehension, both Hollings and Johnson were busy integrating themselves in the Texans offense. At such an early juncture in training camp, to have Hollings and Johnson feeling comfortable is very good news for the Texans.
Hollings reputation as a rusher is well documented, but he showed some great catching ability today when he ran some routes out of the backfield. Johnson, meanwhile, flashed his speed during two different reverse plays. The Texans' coaches are welcoming the players' speed and versatility with open arms.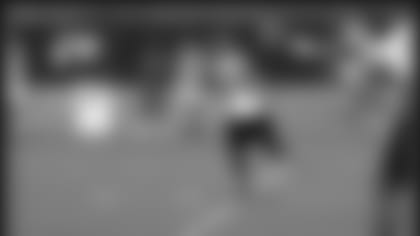 Rookie RB Tony Hollings runs a route out of the backfield as QB Tony Banks gets set to throw.

"One of the things we tried to do is improve our team speed through the draft," Capers said. "Hollings jumped in there today and took a number of reps. You can see Andre Johnson's speed outside. We need to have speed to compete this season."
For Hollings, who is recovering from a torn ACL, just being able to run is good news. The fact that he is competing for a significant role in the Texans' backfield is almost miraculous nine months after receiving a surgical procedure on his knee that ends some people's careers.
"I think I shocked a few people," Hollings said. "A lot of people weren't expecting me to come out in training camp. I'm feeling good right now. My knee hasn't swelled up on me."
After his first full day of seeing Hollings in action, coach Capers was enthusiastic about his performance. Although coach Capers remained cautious, he did not hold Hollings back and trusted that his knee would be fine.
"I thought (Tony) did very well," Capers said. "I didn't know what to expect when you haven't seen a young man on the field and he's coming off of an ACL injury. Our medical staff was very positive about it. He came out today and we threw him right in there. We let him run with all the different units and I thought he did well for himself."
The Texans' backfield may seem a little crowded with the addition of free-agent running back Stacey Mack, as well as incumbents Jonathan Wells and James Allen, but Hollings is relishing the experience. He is just trying to learn as much as he can from them.
"That's my main focus right now, just learning from (the veterans)," Hollings said. "They've been in the league numerous years. They are more physically and mentally mature than I am. I just take the information I get from those guys and coach Capers and put it on the field."
If anyone was expecting Andre Johnson to be overwhelmed during his first day of practice, they were sorely mistaken. Johnson hooked up with quarterback David Carr on a few occasions and he is apparently ready to make an immediate impact.
"They brought me in to make plays and that's what receivers are supposed to do," Johnson said. "If I was to come in and not make plays, I would be a so-called first-round bust. I just want to come in and learn the system and make plays."
"I'm very excited to play with David (Carr)," Johnson said. "The guy has a strong arm and he gets the ball in there. I know when I came out here, I'd never had a ball thrown that hard at me before. But it's something I'll have to adjust to."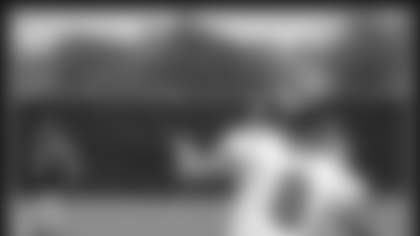 Second-year QB David Carr drops back to throw during training camp.

Carr, who has been impressed with Johnson's raw talent and gifted athletic ability, had a few words of advice for his new wide-receiving option after today's practice.
"The only thing is just to relax and have fun," said Carr. "All the success that (Andre) had in the past, he's going to have in the future. It's just a matter of time."
So far, both Hollings and Johnson seem at ease and more than ready to help the Texans during their 2003 campaign.
Rather safe than sorryDuring the night practice, cornerback Aaron Glenn felt a little tightness in his hamstring during a drill. To be on the cautious side, the coaches decided to let him rest for the remainder of the practice.
"I'm not sure that he pulled it, I think he just felt a little tweak when he was over in one-on-one drills," Capers said. "We basically pulled him out. What we don't want is Aaron to pull his hamstring so we'll guard the thing and see how he feels."