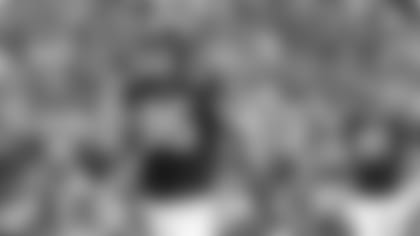 For the first time as a Texan, fullback James Casey enters an offseason in good health. For the soon-to-be fifth year pro, that's energizing.
"I didn't have to have any kind of surgeries, so I can start training right away," Casey said on Thursday. "I feel like that's going to help me tremendously, to help me come back as a better player next year."
He spoke Thursday at Reliant Stadium to a group of Houston-area teachers who were honored for their outstanding work in the classroom. Because he hasn't been hampered by a rehab process, he's been able to get in the weight room and catch passes earlier than normal.
Last year at this time, Casey was coming back from a shoulder procedure. In each of his first two offseasons following the 2009 and 2010 campaigns, he was getting over nagging injuries as well.
"I don't have to have shoulder surgery or foot surgery, or some of those things that I've had in the past," Casey said. "I feel very confident going into next year that I'm going to be a much better player and that I've got my best football ahead of me."
That clean bill of health comes at an opportune time for the former Rice Owl. He's an unrestricted free agent coming off a 2012 that saw him catch 34 passes for 330 yards and a trio of touchdowns. He's capable of playing the tight end position as well, and lined up at various times during the season in the backfield, on the line and split out wide like a receiver.
"It's a different situation for me being an unrestricted free agent like I am," Casey said. "It's something I haven't experienced ever before of course. So it's a different feeling. I have an agent. I'm just hoping it all works out."
Like the rest of his teammates and coaches, Casey was pleased with the way the season started, but definitely not satisfied with the way it ended. He echoed the words of his head coach Gary Kubiak, terming the loss at New England in the Divisional round as a "crash-landing."
"When you get into the playoffs, the further you go, the more it hurts," Casey said. "It just didn't work out for us in the game against the Patriots. It's one of those deals in the NFL that, there's only one team in the end that's going to be happy."
Casey, who registered three receptions for 29 yards in the loss to the Patriots, was especially disappointed by his first quarter drop of a Matt Schaub pass near the goal line.
"I pride myself on having very good hands and catching everything that comes to me and it doesn't happen a lot," Casey said. "But it's going to happen every now and then. But it's unfortunate that it happened in that game. It does eat me up a little bit, but I can't just dwell on that. Now you just have to focus on getting better and making sure those things don't happen in the future."
On the whole, Casey is optimistic about the team's future. He believes the four postseason games played in each of the last two Januarys will pay dividends moving forward.
"We're very experienced now," Casey said. "We've been to the playoffs twice now. We've went far both times and played some road games. Hopefully we can get some of those games at home next year."
twitter.com/doughertydrew