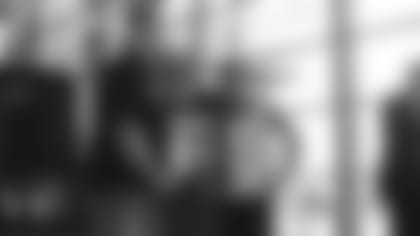 ]( "FB James Casey")

The Stars in the Classroom luncheon, an event held by the Houston Texans and First Community Credit Union, took place Thursday afternoon at Reliant Stadium. There, fullback James Casey and FCCU vice president of marketing Nancy Tremmel recognized each of the 11 winning teachers that were chosen over the course of the 2012 season. 
The selected teachers were nominated by students in the Houston area who believed their teacher possesses exceptional qualities. FCCU selected 11 out of the hundreds of applicants and rewarded them with an autographed Casey jersey, two tickets to a Texans home game, a $500 donation to their school and a visit by Casey to their classroom. Thursday's event was the culmination of the program where the teachers were honored with complimentary lunch and a commemorative plaque.
"It was an awesome thing for me to be a part of," Casey said. "I visited ten schools throughout the season so I was going out almost every Tuesday visiting these schools. It ranged from kindergarten class all the way up to high school classes. I got to meet a lot of great teachers.
"The point of it was to just to give appreciation to some great teachers in the community. They were nominated by kids in the Houston area that they thought were doing a great job. It was a lot of fun to get in these classrooms and talk to kids and teachers. Now it's great to have this luncheon and get to talk some more with the teachers and try to say how thankful I am to them."
Casey, who is the biggest ambassador for education on the squad, graduated from Rice University with a triple major in Economics, Sports Management and Managerial Studies, all while playing NCAA football and maintaining a GPA of 3.84.
"As an NFL player, you know you have a little bit of a platform and with that comes a little responsibility," he said. "Obviously, you want to do a lot of charity work and give back to Houston, but when you're doing that you want to do something that's important to you, too. Education's very important to me. I did really well in school and that's the main reason I'm here. I was able to get into college and do well at Rice and to be given a chance to play football. Without the education, you won't even have a chance at football."
One of the honorees, Kari Romero, teaches kindergarten at Kreinhop Elementary and enjoyed getting the star treatment at Reliant Stadium. She was particularly thankful that Casey made an appearance at her kindergarten classroom and stirred excitement in her five-year-old students.
"I think it brings attention to things that we do every day and kind of highlights teachers," Romero said after enjoying lunch and a presentation from Casey. "I can remember teachers that I had when I was little. To be honored is nice."
Executive vice president of FCCU Cheryl McCullough explained that working with teachers and seeing them succeed is the main goal of the Stars in the Classroom initiative.
"First Community Credit Union  is very proud to sponsor  the Texans and work with the schools and see the success that the Texans have had and the success the school teachers have had as well," McCullough said. "It's not an easy job, and they do a great job at it."