To kick off the second annual Texans Week festivities, Houston Texans owner Bob McNair traded places with Houston Mayor Lee Brown this morning at City Hall. While Brown briefly became the Houston Texans owner, McNair resided over the city council meeting and took Brown's mayor's seat for a little while.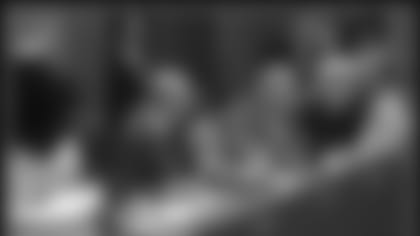 With his right-hand man, Toro, by his side, McNair began the city council meeting.
Upon sitting down in the "hot seat," McNair named the Texans' mascot, Toro, the city's temporary sergeant-in-arms. Although McNair didn't have enough time to ease the road construction or fill any potholes in Houston, he did have an opportunity to declare this week "Go Texans" week throughout Houston.
"It was a lot of fun being mayor, even if it was just for a little while," McNair said. "I'm extremely appreciative of how hard the mayor and city council members work and it was an honor to be there today."
As mayor, McNair also called upon senior vice president and chief sales and marketing director, Jamey Rootes, to explain all of the different activities that are planned around the Houston area for Texans Week. Texans general manager Charley Casserly also spoke to the council about the direction of the team and some of the new personnel on the roster for this season.
When he became the Texans' owner, Brown was immediately put on the spot when Casserly asked him to consider a few potential trades. Respectfully, he deferred all trade questions to McNair. On behalf of the entire city council, Brown thanked McNair for bringing the NFL back to Houston after being away for six years.
To add a little "sugar and spice" to the event, the Houston Texans' cheerleaders were in attendance and they posed for a photo with McNair and Toro after the "official proceedings."
             Last
             year, thousands of dollars were raised for charities during
             Texans Week and this year the bar has been raised even further.
             There are still six more days of fun activities to participate
             in for Texans Week. The Texans encourage all fans to come out
             and enjoy some of the upcoming
                 events.