 there are other challenges than merely preparing for their opponent.
While one week is usually enough time to game plan, it's not long enough to install a new offensive and defensive system. But that's what the coaches and players are faced with this week.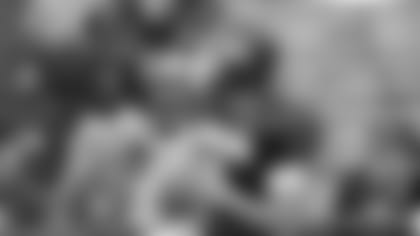 Not only are players being analyzed through nearly every step in practice, but they're expected to put forth their best effort all while learning a new system. Perhaps no other position on the field faces a tougher challenge than the quarterback, and no player more so than
Kolb had a record-setting career for the Cougars. This past season, Kolb threw 30 touchdown passes and rushed for four other scores in a wide-open Cougar offense.
While Art Briles' offense has proved to be highly successful at the collegiate level, it's not a prototypical NFL offense, which means Kolb traveled to Mobile on Sunday not only carrying the burden of the need to impress the NFL masses, but knowing he would quickly need to adjust to a new offense.
Kolb said after practice Tuesday that learning a new offense was rough to start the week, and that the system that will be employed by the South on Saturday is nothing like the one he ran in college.
"No doubt about it," Kolb said when asked if it was difficult to pick up a new system.
"The first day was a little rough, obviously. But today was 10 times better. You have to expect that being from the system that I'm from and I did. I just rolled through the punches yesterday and improved today."
Physically, Kolb knows he can handle a new system, but it's become more of a mind game this week than anything else.
"Basically, just getting used to the terminology and the verbiage of a new team," Kolb said of the hardest adjustment he's had to make. "That's the biggest thing anyone has to pick up when they join a new team.
"It just takes time and study and help from the other quarterbacks, because we're all in the same boat."
The South is led by the coaching staff from the
49ers. Offensive coordinator Norv Turner is in charge of the offense this week and is using a lighter version of the playbook than the one that is on his desk in the Bay Area.
"It's the same offense (as the 49ers), obviously it's a condensed version, but it's pretty much the same," Kolb said.
Despite the troubles Kolb encountered early with the offense, he's enjoyed his experience so far.
"It's been great," Kolb said. "For myself, a guy coming from a smaller school, it's fun coming in here and playing with some guys you get to see on TV every Saturday."
Of course, as with everything related to this week, the ultimate prize isn't a win on Saturday, but earning a top spot in April's NFL draft. After already spending four falls playing football in the
, Kolb isn't opposed to the Texans drafting him. In fact, he likes that idea a lot.
"It would be huge," Kolb said. "You get to be around the same people. I already know I fit in there. (The city and I) have a good feel for one another and I know I can bring a lot to that team."
The biggest challenge for Kolb now is proving to the Texans, or any other NFL team for that matter, that he deserves to be selected.
"I think (the scouts) think I have the physical ability," Kolb said. "The biggest thing is just playing in another system. I need to do my best to prove that I can adjust to this system.
"I think I took a step that way today and I'll continue to do that the rest of the week."
New and Notes:Mississippi linebacker Patrick Willis looked to be the best linebacker on the South team Tuesday, dominating individual drills and the team period…Players were in full pads Tuesday, but were encouraged to stay off the ground…The South seems to be putting more of an emphasis on deep patterns in the passing game. It might be to take advantage of a speed edge that has become evident already in just two days of practices.