 Upon further review:Texans head coach Gary Kubiak met with the media Monday and was quite candid with his thoughts about yesterday's 24-10 loss to the Philadelphia Eagles. After studying the film, Kubiak knows there is work ahead.
"We have a long, long way to go," Kubiak said. "I didn't look at that film and think, boy, if we just handled this play different. There are a lot of things that we have to do to get better."
That wasn't to say that the Texans escaped Sunday without any positives to draw upon.
marched down the field on their opening drive to start the season, but by halftime, that momentum had been completely erased by an Eagles team that appears headed to the playoffs in the NFC for the sixth time in the last seven years.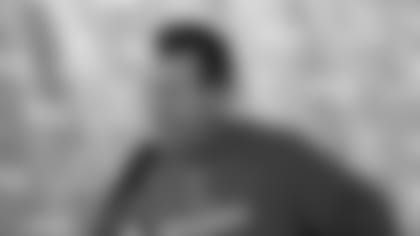 "I'll echo again that I saw some things that were very, very encouraging on both sides of the ball to the energy and intensity that our football team was playing with," Kubiak said. "As we went into halftime, you could have never convinced me that we were going to come out in the second half and get as dominated as we did because let's face it, we did. They got after us on both sides of the ball. (We're) trying to figure that out today, trying to figure out why that happened and it's tough to figure that out, but we have to address that as a football team and move forward."
Running on empty: With just one year of NFL experience between
's two tailbacks Sunday, the Texans could do little to mount a running game, amassing just 70 yards on the ground. The ground game looked promising during
's 3-1 preseason, but Kubiak warned Monday that fans should not draw too much from the exhibition season.
"We didn't run the ball well at all," Kubiak said. "We need to do a better job up front, just our pad level and stuff like that, I don't think it was the same as it had been during the preseason. We need to be more physical and we had been during the preseason. Our first (team) has been very physical, but we knew this football team was the type that comes after you physically and you better be ready to match it. It was a combination of things. It wasn't just up front or just the backs. When you don't run the ball well in this league, you're going to get third-and-long and you're going to get beat."
's mediocre rushing attack couldn't be attributed to the line or the backs solely. He said it was a cumulative effort, but didn't hesitate when asked if
's starting offensive line would remain intact.
"Yeah, and we'll rotate those guards," Kubiak said. "I thought Steve came in and did some good things. He's been beat up, had some problems, and actually went into the game with his foot bothering him and came into the game and played well and we'll rotate those guys. Outside, I thought (Charles) Spencer played like a rookie, but also like a talented rookie and he's only going to get better. I'm really looking forward to watching him progress. Now, he's got a whole new world this week so it will be a learning experience for him. I thought Zach (Wiegart) was solid, but as a group we made some mistakes that we can't make that hurt our football team in some key situations that we can't make. We have to correct those mistakes."
Not under pressure:Anytime an opposition quarterback racks up over 300 yards through the air, there are usually several factors, but the most obvious is a lack of pressure from the defense, and in the Texans case, the defensive line. Kubiak still has hope that
will not have to blitz to apply pressure on opposing quarterbacks and was once again candid when asked whether or not he thought his defensive line could apply pressure in the pocket without blitzing.
"I think it has to be," Kubiak said. "Did we do that yesterday? No, but just like every other part the football team, they need to find a way to get better. I thought we did some things to make him (Eagles' quarterback Donovan McNabb) be quick and that's another way to apply pressure without getting sacks. But it was obvious in the second half, he (McNabb) had way too long to throw the football and we talked about that today as a football team. We need to find a way to get some pressure because we can't expect our back end to hold up as long as we asked them to yesterday."
Mario may stop moving:Defensive linemen rarely accumulate impressive stat sheets and Sunday, Texans' first-round draft pick Mario Williams played through a learning curve that can only be expected from first year players. Kubiak acknowledged that
's most athletic defensive lineman needs to improve.
"I thought he has a long way to go like everybody else," Kubiak said. "He was inconsistent, did some things well early in the game, made some plays, but needs to be consistent assignment wise, gap wise, those sorts of things to be on the field, but he needs to get much better as we all do."
Williams has been on the move early in his NFL career, playing both inside as a tackle as well as on the edge. Kubiak said that the decision on how to use Mario is one that the coaching staff grapples with daily.
"That's definitely something that we debate every day," Kubiak said. "I don't think it's hurting him (moving around), but maybe we try the other. He's showing no signs of the mental part bothering him as far as some of his good plays, some of those actually were made inside. I don't want to say that we won't do that anymore, but if we think it makes him more effective by keeping him in one spot, we'll do that also. But I don't think the fact that we've moved him around has hurt him. I just think he's a young player going against some good players trying to get better."
Carr runs fine: One of Sunday's positives was the play of quarterback David Carr. Carr threw for over 200 yards and a touchdown for a passer rating over 100. Kubiak liked what he saw from his signal caller.
"I thought he took a big step forward," Kubiak said. "I'll tell you like I told him, I said I thought he took a big step forward, but he's still got a long way to go with this team. Was he perfect? By no means. He got away with a couple of mistakes with the ball, but he competed well. He bailed us out of some really, really bad situations. I was pleased with his progress and that's the kind of progress we need to see week-to-week."
More love for Ryans: Kubiak hasn't been shy with his praise for rookie linebacker DeMeco Ryans. Sunday, fans found out why as Ryans collected 13 tackles in his NFL debut, while flying around the field. In the weeks and months ahead, Ryans will take on more leadership for a defense that is improving daily.
"I thought he was special in the game," Kubiak said of his second-round selection. "I've said that over and over. He had 12 tackles, (13 total) if I'm right. He just plays hard, he's in the right spot. I told him, 'DeMeco, I don't care if you've been here six months, go lead this team.' I'm expecting him to become a leader for this group."
Daniels a delight:Ryans wasn't the only rookie collecting accolades from the head coach Monday. Though he failed to catch a pass, rookie tight end Owen Daniels still got high marks from Kubiak. Expect to see Daniels on the field more in the coming weeks.
"He played well, played really well," Kubiak said. "He needs to stay on the field. You're not going to see him come off as we move on. He's another young player that's going to make us better in the long haul. We're expecting him to be here a long, long time. I was impressed. I asked him to hold up on the end against Jevon Kearse a couple times so we could max protect and he did a heck of a job. I'm very impressed with him."
Injury update: The Texans didn't escape Sunday injury free. Cornerback and return specialist Phillip Buchanon tweaked an ankle on the opening kickoff and is day-to-day.
Buchanon wasn't the only hit to the special teams unit. Cornerback Roc Alexander made an immediate impact on special teams after just joining the team less than two weeks ago. Alexander showed signs of excelling at covering kicks as well as returning them, but he's lost for the season with a torn ACL.