As expected Monday the Texans matched the offer sheet that the New York Giants extended to restricted free agent fullback Vonta Leach, keeping him in
Houston for another season.
Though Leach was signed as a street free agent after being released from the Packers last September, he quickly proved his worth to the Texans, especially during the last month of the season.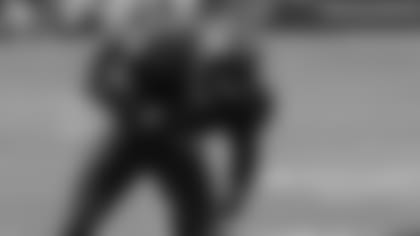 Houston 's success in the run game over the last part of its' schedule as a direct result of Leach's handy work blocking for Ron Dayne. Texans assistant head coach/offensive coordinator Mike Sherman is in that group and believes that Leach earned a spot on the roster this year with his performance in December last season.
"As a blocker he really enhanced our run game last season which was evidenced by how we were playing at the end of the season,"
Sherman said Monday. "He and Ron (Dayne) did a good job over the last month of the season and I think that more than anything was the factor (in bringing him back).
"He's also made some key plays in key situations, some key catches. A guy that big doesn't usually make the kind of catches he makes. He did a nice job coming out of the backfield."
Sherman was instrumental in the Texans signing Leach initially last October. Sherman coached Leach while he was the head coach in
Green Bay and knew that Leach had the potential to develop into a solid NFL fullback.
"He's still a young player,"
Sherman said. "In college he was a linebacker to start with so we ( Green Bay ) were trying to develop him into a fullback and we used him in spot situations and obvious running downs. William Henderson was our starting fullback and he shared time with him. I felt like he would be able to grow into the role that he's in currently.
"He has a long way to go still. He has some technique things we need to improve on, but Vonta still a very young player and his best days are ahead of him."
With Leach and Dayne back in the fold for this coming season, coupled with the addition of Ahman Green,
Houston 's backfield looks to be in the best shape in team history heading into a season.
"You add (Jameel) Cook to that mix and he adds another dimension as well as a back out of the backfield catching the ball and also as a guy who can block. I think it's a good solid group,"
Sherman said. "It will just continue to improve as those guys become familiar with each other."