INDIANAPOLIS -Proving oneself in anything is never an easy endeavor. But for
's Paul Posluszny, they probably didn't think they would have to do much more to prove they were ready to play in the NFL.
Consider that Willis is the reigning SEC Defensive Player of the Year and Posluszny is a two-time Butkus Award winner as the nation's top linebacker. Even so, neither player is drawing much attention in
despite the fact that they are considered by many as the top two linebackers available.
In a draft headlined by speed merchants on offense, Willis and Posluszny seem to be forgotten, though both could go in the first round by draft time.
For Willis, proving himself is nothing new.
"A lot of people didn't give me a chance to go into a conference like the SEC or just play football in college period," Willis said. "My idea of going to the SEC was that I would have to grow up fast because it's one off the best conferences in college football."
And it's not as if Willis had his pick of SEC schools.
"I can't say any of the big-time schools offered me anything other than
Now the perceived knock on Willis seems to be that he may not be as effective a player on passing downs as he has shown to be on running ones. It's a notion he doesn't agree with.
"How do I respond to being labeled a two-down linebacker?" Willis said. "I guess the stats speak for themselves. The last two years, injured or not injured, I've been on the field every down.
"This season I didn't come off the field one snap. I believe for the most part I was a little better in my pass defense this year. I'll let the critics say what they're going to say and whatever I need to do I'll do it."
Willis added that before moving to middle linebacker his junior season, he actually played outside and was forced to play in coverage more and handled it pretty well.
"My first two years in college before anyone knew who I was I played outside linebacker and I was the guy that had to go outside and cover the guy in the slot, he said. "So I'm confident in my abilities."
Like Willis, Posluszny made a shift to middle linebacker after playing outside previously. After winning the Butkus as an outside linebacker as a junior, Posluszny moved to the middle this past season.
It took some time for him to make the adjustment.
"For me personally, I felt more and more comfortable as the season went on," Posluszny said of the move. "I started off a little slow with it, but as I got more experience with it I felt more comfortable."
It must not have gone that bad. By season's end, he was holding his second award as the nation's top linebacker, but still his draft stock was not as high as it was after his junior year.
The only explanation is a knee injury that Posluszny suffered in the 2006 Orange Bowl against
It's a decision he's glad he made.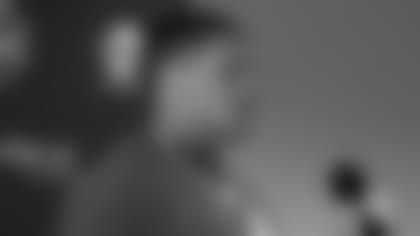 "I think it's two different worlds," Posluszny said. "Last year, if I had come out as a junior, I was a little young, a little light. I wasn't as mature as I am now, so I think it's a lot better that I'm here as a senior."
Posluszny's injury didn't require surgery and he's not wearing a knee brace in
this week during workouts. He's aware that the injury is a concern, but he feels he still is one of the better linebackers in this year's draft and thinks he should be one of the first taken come April.
"I think I should definitely be one of them," he said. "I feel pretty confident about that."
Where he'll go exactly, he's not sure.
"I have no idea," Posluszny said. "Obviously, a lot is going to depend on the combine and the interviews and our personal pro days and we'll go from there, but the decision makers are going to have to make the decisions there and not us."
Willis isn't too picky about where he wants to be selected either, though there is a defensive scheme he would like to play in at the next level.
"Playing anywhere in the NFL would be great," Willis said. "But playing in the
2 would be good. That's what I've played in the last two years."
Posluszny doesn't care what scheme he plays in. He just wants the chance to get on the field.
"It doesn't matter to me, I guess whatever the scheme is that the team runs that picks me and what I fit best," Posluszny said.
Both players went through a complete workout Monday and performed well. Now it's decision time to see which team selects either of these talented linebackers.