It had been a long time since a team won an NFL game with negative passing yardage, 25 years to be exact. But that's exactly what the Texans managed to do Sunday in
against a Raiders team that did everything they could defensively to win the game while their offense did everything they could do to lose it.
The Texans' defense was outstanding Sunday. There's no disputing that. In fact, outside of a few big plays against the Bills,
's defense has been among the league's finest during the second half of the season.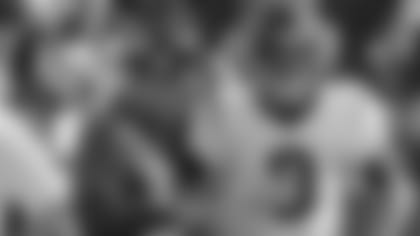 The same can't be said for
's offense. It hit rock bottom Sunday, especially in the passing game, losing yards (-5) for the game and running just three passing plays in the second half.
But this is a new week and a new opponent. While the Raiders rank first in the NFL in pass defense, the Titans rank last in the NFL in total defense, and Sunday should provide a special atmosphere, particularly with a certain quarterback in uniform for the opposition.
"A win is a win in this league, so it feels like a win and you're happy to get a win so it's a plus for us," wide receiver Eric Moulds said of last week's struggles offensively. "At the same time, last week is last week and we have to move on. This is going to be a fun game to play in with all of the different circumstances of the game."
If the earlier meeting with the Titans is any indication, there will be plays to be made in the passing game Sunday.
and Andre Johnson thinks that the Texans' offense could repeat that performance Sunday.
"There are plays to be made," Johnson said. "If you look at the film, you see other teams make plays on them. Like I said, we just need to go out and try to play a perfect game. That is not going to happen, but you want to go out and make plays and not do things to put yourself in bad situations. They've been playing good football and when teams have lost games against them, they've put themselves in bad situations, so you try to get yourself out of those situations."
The Texans put themselves in plenty of bad situations last time out against the Titans. Despite the defense holding Tennessee to just 197 total yards, Tennessee was able to put 28 points on the board in large part thanks to five
As bad as the aerial attack was last week against the Raiders, Johnson thinks it could be the passing game that carries
"We just have to go out and make plays," Johnson said. "That's pretty much the bottom line. Just go out and make plays and not turn the ball over or make mistakes to set us back. If you do that, then you'll go out and win games."
Johnson knows about making plays. He's been
's top playmaker since stepping foot on the field for the first time in a Texans uniform. He hauled in nine catches for 78 yards in Nashville earlier this year to go along with one of his five touchdown receptions on the season.
For that reason alone, Johnson probably can't wait to step on the field against the Titans again after last week. In a stat line indicative of how poorly the passing offense performed in
, the NFL's leading pass catcher had just one on Sunday. It wasn't exactly Johnson's shining moment of the season.
"It's frustrating, but you have a new week now," Johnson said of last week's one catch. "You just have to come out and prepare and not have the things happen that happened last week."
That seems to be the theme around the locker room. Perhaps no player is as frustrated as David Carr, who led the fledging passing attack in
"I just want to get in another game," Carr said. "Anytime you're not productive at all, trying to help your team win, it was exciting to win the game and the plane ride home was sweet, but you want to feel like you helped a little bit." ](http://store.houstontexans.com/family/index.jsp?categoryId=2237490&clickid=mainnavgeartxt)This weekend also offers Carr an opportunity to silence some critics who think that the Texans should have selected
quarterback Vince Young with their number-one draft pick in April.
Carr didn't exactly sparkle in his first head-to-head matchup with Young, so even though he wouldn't admit to it, he must have payback on his mind.
"You always want to win the game no matter who you play, it doesn't matter who it's against," Carr said. "But we feel like we've played these guys several times in the past and we feel like we've won our share, they've won their share. We can win. There's no reason why we can't go out there and win a football game on Sunday, but they're thinking the same thing and that's why you go out there and play."
It should be a playoff-type atmosphere Sunday, and with the Texans looking to bounce back from a substandard performance on offense, the TNT rivalry will take on a whole new meaning.
As much as Carr would like to put up huge numbers and bury the Raiders game deep in his past, ultimately, he just wants to come away with another win Sunday.
"Honestly, obviously you don't want to throw for 30-some yards again, but I want to win more than anything else," Carr said. "If it means we have to run the football like we did on Sunday, I'll take it. But yeah, you want to go out there and be productive and we've got guys that want to be productive in the passing game. Andre wants to get his catches and Eric and those guys. We're going to do everything we can do to help our team win."