Kansas City running back Priest Holmes is still listed as questionable for Sunday's game against the Texans with an ankle injury. That means the Pro-Bowler has a 50-50 chance of playing.

But the Texans are planning for him 100 percent.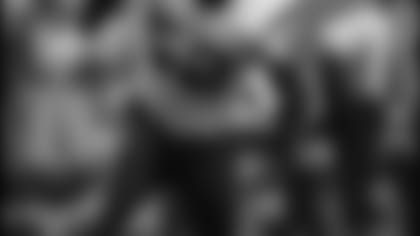 "We definitely are preparing like he's going to be in there and even if he's not in there they have good backups," Texans linebacker Kailee Wong said. "It really doesn't change much. Of course, Priest Holmes is a great player, but at the same time they also have good players behind him."
Holmes rushed for 1,420 yards and a league-record 27 touchdowns last season. He has supplied all four of the Chiefs offensive touchdowns in the first two games.
Losing him would mean losing the centerpiece of the offense, but as long as there's a chance he'll suit up, the Texans are getting ready.
Holmes is not the type of player to sit out unless absolutely necessary.
Four-year veteran Derrick Blaylock would start if Holmes is unable to go. Second-year pro and first-round draft pick Larry Johnson would be the backup.
"You always prepare for the starter I think." Texans head coach Dom Capers said. "Then if Blaylock's in there, a little bit different style runner a little bit more of a cutback guy. He came in here last year and scored a 20-yard touchdown against us."
The Texans have allowed just over 100 rushing yards per game and giving up 121 to LaDainian Tomlinson opening day against San Diego. Since then the team has concerned itself more with getting off the field on passing downs.
Holmes running ability can open up the passing game – a concern for any defense facing the Chiefs.
"They're such a good offense," Texans defensive tackle Seth Payne said. "Obviously Priest Holmes is their marquee player, but everybody knows what they're capable of doing."
Marquee may not be a strong enough word. Holmes has made several promises about increasing his production. Baring an injury, he appears well on his way.
"We like the fact that we're averaging 5.4 yards per rush," Kansas City head coach Dick Vermeil said. "Priest has had two of his longest runs in the first two games. What did Priest tell us he wanted to do? He wanted to rush for 2,000 yards and make more long runs. He's a man of his word. Now, we've got to get him healthy so he can keep doing it."
Blaylock is more of an unknown. He was drafted in the fifth round as a running back/wide receiver. According to Vermeil, his work ethic, especially in the weight room, and versatility on special teams has helped lift him through the depth chart.
He has yet to fully break out however, rushing for 184 yards in three seasons.
The Chiefs other running back, Johnson, was a highly touted pick in the 2003 draft. Vermeil said Blaylock would start if Holmes is injured, but Johnson would play.
That doesn't matter as far as the Texans defense is concerned.
"They're still going to run the same plays," Payne said. "Larry Johnson is backing up Priest Holmes so he hasn't had a lot of chances to play. He's a first round pick, right? He's obviously got a lot of talent; he just hasn't got a chance yet. Either way we're going to have a tough job."