Gary Kubiak's first mini-camp as head coach of the Texans began Wednesday morning as the team engaged in a practice not unlike the OTA workouts they've been enduring over the past few weeks. As was the case last week, players practiced Wednesday with just helmets, though neither the intensity nor the tempo of the practice suffered.
"I liked the way we practiced today, I really did," Kubiak said. "This is mini-camp, but in a lot of ways it's not much different than what we've been doing. And we have a lot of guys that are missing some time, but our team is still practicing and forging ahead and that's what we have to do. We were down to three running backs today and boy, they practiced their tales off. That's the NFL and if you ever let that keep you from getting better, you're cooked and I like the way our team is fighting right now. I'm trying to finish up the summer on a good note."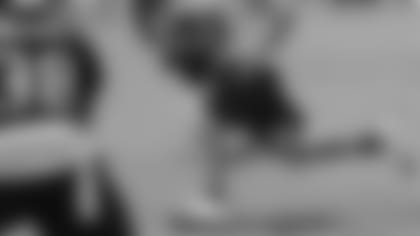 One of the players Kubiak is referring to is Mario Williams. Williams missed Wednesday's workout after having both is big toenails removed Monday. Williams should be back in action before the end of the Texans' second mini-camp next week.
has been nursing a sore knee during the offseason, but it was hoped that he might return to full action for mini-camp. Wednesday, he spent some time on the stationary bike and most of his time observing the offense. While some fans might view this as a setback, Kubiak and Davis didn't seem worried.
"He worked a little the other day at walk-through and I think he's going to be fine and I don't want to do anything to set him back," Kubiak said. "As long as I see him back there paying attention and he's ready to go July 27, that's what's important."
Kubiak didn't say whether or not
might be back before the end of this week or next week, but at this point it seems unlikely Davis will return as neither side has anything to gain from a hasty comeback.
"We're rehabbing right now, so far so good,"
said. "I'm just taking it one day at a time and not trying to mess myself up before the season. There's no set date. I'm just doing a little more each day and seeing how (the knee) handles it."
Despite this small setback, there is plenty of reason to have hope for a healthy 2006 season for
. The running back said that his knee has not felt this good for quite some time, which is one of the main reasons why he won't be rushed back.
"I'm confident it's going to heal up because the way it feels now, it's a whole lot better,"
said. "When I put pressure on it, it responds well. It doesn't swell up like it used to, so that's a very good sign."
With only three running backs in action Wednesday, rookies Chris Taylor and Damien Rhodes saw plenty of action in the Texans' backfield along with veteran Antowain Smith. Rookie Wali Lundy was sidelined with a minor injury. Taylor and Rhodes have shown some explosion early on and Kubiak has been pleased with their progress over the past few weeks.
Another pleasant surprise has been the play of cornerback Phillip Buchanon. Much maligned a season ago, Buchanon got a fresh start this year with a new coaching staff. Kubiak had nothing but positive things to say about Buchanon.
"I like the way he's worked," Kubiak said. "Phillip took a lot last year and I heard it when I got here and I know he heard it last year and (defensive coordinator) Richard (Smith) came in here and addressed some situations with him. Phillip's a very talented young man. He can help this football team big time as a corner and he can be one of the best returners in football. We're asking more out of him than last year and he's giving it to us every day. Those are the type of things we need to get turned around."
Buchanon has seen plenty of action in recent days on both the kickoff and punt return teams. With his speed and athleticism, he is certainly an option to fill in for the injured Jerome Mathis.
"He'll go back there," Kubiak said. "The more he can do the better. He was returning some kicks, too. So the more he can do for this football team the better. He wants to do that and carry more than just the corner load."
The Texans first mini-camp ends Friday, while their second begins Monday and runs through Wednesday. If he chooses, Kubiak, in his first year with the Texans, can have a third mini-camp even though teams without first-year coaches may only have two. A possible third mini-camp is scheduled for early July. A decision on that camp will be made at the conclusion of the first two Texans mini-camps.