Practice report archive
INSTANT REPLAY: The Texans spent a productive morning re-living Saturday night's preseason contest against San Diego when the team collectively broke down the game tape before correcting their mistakes on the practice field in the afternoon.
Though there was a lot to take from the film, the team took away one valuable lesson in particular; the game isn't over until the clock reads 0:00.
"You've got to play for 60 minutes," head coach Dom Capers said. "I think the team came away realizing that we certainly had our opportunities in that game and it came down to they made the play at the critical time and we didn't."
Capers was referring to the Chargers' game-winning field goal with 20 seconds remaining in the contest. Though the Texans allowed their opponent to drive 33 yards to a victory in the final minutes of the game, there were many positives the coaches took from the preseason test run including QB David Carr's two touchdown completions, WR Andre Johnson's 81-yard receiving game, return man J.J. Moses 110 yards in punt returns and a successful comeback by CB Aaron Glenn.
"There were a lot of positives in that game and I think it pointed out more than anything how every play is critical," Capers evaluated. "You see real positive signs from all three phases of our team. We have to just work to put them all together and that's what we're working towards."
SHORT AND SWEET: The Texans don't have much turnaround time this week as they prepare to take on the former Super Bowl champion Tampa Bay Buccaneers on Thursday night at Raymond James Stadium.
The team practiced today and will hold another session Tuesday afternoon while Wednesday will consist of a short morning walk-through before the traveling group boards the plane to Tampa.
While it would seem that the small window of preparation would distress most coaches, Capers finds himself in the perfect situation. Especially with a challenging season opener around the corner in Miami.
"It gives you the extra day in case anybody gets nicked up in the Tampa Bay game," Capers said about playing on Thursday instead of over the weekend. "It gives the players another day off and it gives us another day to prepare. I would always like to have, if possible, the last preseason game on a Thursday."
DIFFERENT LOOK: The Texans offensive starters played well into the third quarter Saturday night while the defensive starting lineup saw their biggest bulk of action thus far in the preseason. Look to see play from a wider variety of Texans against Tampa Bay as the usual starting lineup will watch most of the helmet-clashing from the sidelines.
"Time is growing short," Capers said about the preseason ending and final roster decisions being made. "Our front-line guys will get very limited repetitions over in Tampa Bay."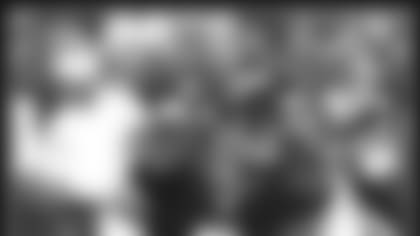 QB David Carr will take less snaps against Tampa Bay while reserves Tony Banks and Dave Ragone will see a good amount of offensive actions.
Today marks the first of two cut days, but next weekend is when the final 53-man roster will be announced. Thursday night will be a final tryout for many of the players that have spent the past few months feverishly working to perfect their football skills.
"We still have a lot of other players that we need to get more of a look at," Capers said. 'We still have a lot of decisions to make. They become tougher and tougher decisions as you get closer to your 53-man roster."
DURABLE DEFENSE:The Texans defensive unit is confident they can return to action in 2003 just as strong, if not stingier, than they were a year ago. With almost a 100% return rate, the experience is in place, now it's just a matter of putting together the final pieces.
"If we have everyone back out there and get everybody healthy doing our thing, there's no doubt that we're a better defense," linebacker Kailee Wong said. "I think we're in a good spot. There's no doubt we have shown we can do some things. So it's just a matter of us now really going out there and doing it."
Capers was pleased with the unit's performance over the weekend, especially in containing the San Diego running game, which they held to 77 total rushing yards.
"I thought looking at the game Saturday night was really our best game playing run defense," Capers said. "We had a high percentage of what we call 'wins' on run defense.
"We were in an inordinate amount of third and fourth-and-short situations. It's something that we had a hard time with offensively last year. We've been 100 percent so far in those situations this year."
During today's practice the defense even stepped it up in pass coverage where LB Troy Evans picked off two tipped passes.
PLEASANT SURPRISE:Coming into training camp, return man J.J. Moses had no idea where he stood on the Texans depth chart. His place on the final roster is still yet to be determined, but along the way, Moses hasn't shied away from proving his case to make the 53-man squad.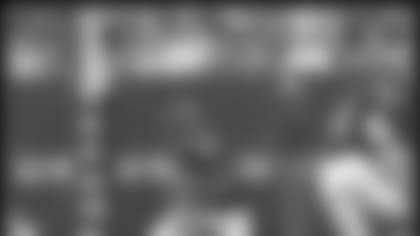 J.J. Moses has 117 yards in punt returns with a long of 65 yards and has collected 239 kickoff return yards including a 50-yarder in the preseason.
Over three games, he's showed lightning speed, something Texans fans were able to witness on his opening 50-yard kickoff return Saturday night at Reliant Stadium.
His intensity hasn't been limited to game time though, Moses brings it with him every day on the practice field.
"On thing I can tell you about J.J. Moses is from the first time he came on the practice field, you could tell that he enjoyed practicing," Capers remembered. "He had a lot of fun and went out there and treated every day like that was a game.
"He is a great example of normally what you see on the practice field, you see on the game field."
Moses hopped from 2002 training camp in Kansas City to a practice squad post with Green Bay before the Packers elevated him to their active roster in December. Now Moses is looking for some stability and a home to show off his speedy talents.
"I don't know about the future, but one thing is that I'm really blessed to have the opportunity to have a chance to show what I can do in the preseason," Moses said.