* As advertised*: There are times in football when a win can be misleading. Some good fortune or one big play can turn a game in favor of one team that otherwise might have lost. But if there is one axiom that all coaches live by, it's that the tape doesn't lie.
After reviewing yesterday's win against the Jacksonville Jaguars, Gary Kubiak still had plenty of good things to say about
"There were some good things that happened," Kubiak said. "On special teams, I thought we were very solid. Our kickers, I know Kris (Brown) missed that field goal, but our kickers did an excellent job of bottling them up. [
)]() punted the ball extremely well. We covered very well. Our kicking game was solid."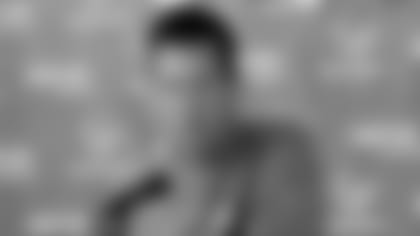 And the special teams were not the only unit to receive praise.
"On the defensive side of the ball, I thought we played extremely well," Kubiak said. "We had a lot of good things going on up front. Our back end played extremely well, made some big plays, no bigger play than Antwan (Peek) stripping that ball and Petey (Demarcus Faggins) doing the same thing. Those were huge plays in the game."
You could argue that the defense sparked an offense that was less than spectacular to start the second half. After taking a 10-0 halftime lead, the Texans went three-and-out twice to start the second half, seemingly leaving the door open for
However, the defense rose to the occasion, and the offense responded with 17 fourth quarter points. But
was only in that position thanks to its consistency, according to Kubiak.
"On the offensive side of the ball, I really believe it was just about consistency," Kubiak said. "We didn't hurt ourselves and we protected David (Carr) well."
exploded on the ground in the second half Sunday, producing the best rushing numbers of the season. However, it didn't appear that way all game as
was struggling to rush the ball for much of the first three quarters.
But the Texans kept pounding the rock, controlling the clock, and finally it paid off, as displayed in the final numbers.
"There was a period there in the third quarter where we really weren't running the ball well," Kubiak said. "We kept plugging. We ran a crack toss and caught a blitz, which it seemed like loosened them up a little bit and it got us excited about what was going on. Late in the game, I thought we ran the ball well."
Despite the Texans late-game surge on the ground, there's still room for improvement, according to the head coach.
"I think one of the things that we'll be able to look at as an offense is that we left a lot of yards on the field," Kubiak said. "Wali (Lundy) will see that, as a young runner, that there were a lot more (yards) out there, but I think we were able to run the ball because we stayed after the run."
A start for Lundy?: Speaking of Lundy, the rookie running back had a breakout performance Sunday, totaling well over 100 yards of total offense, while scoring his first NFL touchdown.
But it may not have been enough to push him into the starting lineup. Samkon Gado got the start Sunday in the backfield, but didn't come close to matching Lundy's productivity. Ron Dayne was inactive against the Jaguars, but Kubiak maintained that all three will continue to see time, and he would not name Lundy the starter.
"Definitely, he's going to play," Kubiak said when asked if Lundy would start Sunday against the Titans in
. "We're going to continue to play guys. I don't get too caught up in the starting thing. We're going to continue to play a lot of players and continue to search with this football team.
"If you're part of the 53-(man roster) on this football team, then you're going to get a chance to prove you can help us win. Let me say that. Did Wali step up to the plate yesterday and play well? Yeah, he did, but we have Ronnie (Ron Dayne) and we're going to continue to give Ronnie looks, and we've got Chris Taylor on the practice squad, who I think, before this year is out, you're going to get to see him play some. But we're going to continue to look at those players. I think we're going to continue to get better because we are playing a lot of guys."
Building blocks:With consecutive home wins for the first time in franchise history, and a 2-1 record against the AFC thus far, there's plenty to be proud of for a Texans team that won just two games all of last season.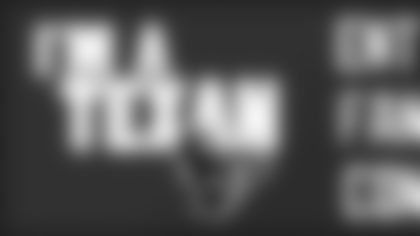 ](/news/article-1/win-an-nfl-championship-trip/A6AD06FB-D595-4B6B-8B58-69D5A66E3288)While their head coach has been down the winning path before, many players on
's roster don't share Kubiak's pedigree of winning. He's making sure they recognize the importance of a win over a quality opponent and how they can build on that in the coming weeks.
"It's extremely important, and I think our players, when different guys step up, that has something to do with us taking a step forward," Kubiak said. "That has a positive effect on our football team."
So don't expect a letdown this week at Tennessee. Despite winning two out of their last three games, Kubiak's not betting on a young, hungry team to relax.
"I wouldn't expect that to happen," Kubiak said. "If anything, I hope it builds confidence around here. The guys felt good about how they played yesterday. They played a very good football team yesterday. That team was 12-4 last year and is a solid, playoff football team and they dominated a couple of football teams this year, so we should feel good about that.
Carr runs smooth: Don't look now, but only one quarterback in the AFC is putting up better numbers than David Carr. Indy's Peyton Manning is the only signal-caller who ranks ahead of Carr in passer rating, and since the season is now six games old, it's safe to say that the fifth-year quarterback is handling his new offense just fine.
His head coach said Monday that Carr's playing well, but like everyone else on the roster, there's still room to improve.
"I think David's getting better," Kubiak said. "It's interesting because what was he yesterday, 25-of-38? Very solid performance. Two touchdowns. He had an opportunity there for one in the fourth quarter. From a ratings standpoint, all that is really good. But the main thing for me with David is that I can call him in today and I can show him how he can play better. That's very encouraging."
Carr's improvements are subtle ones to casual NFL fans, but Kubiak said he has no doubt that Carr will work hard to address needs in those areas.
"David's performance is always going to be linked to his footwork, his eyes as a player and his overall commitment as a player in every phase of the game," Kubiak said. "I can show him that even though there's some good things, it's exciting for me to sit down with him and say, 'Okay, David, if you can get better at this then you're going to play better.' I like the way he's working, but I see a lot of room for improvement and I see a guy willing to make that improvement."