---
EDITOR'S NOTE:*Tight end **Owen Daniels* will be providing periodic diary entries for HoustonTexans.com to give fans insight into the life of a rookie draft pick.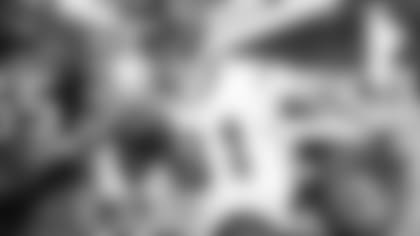 I don't think I had ever sat down to think about what football was like for me growing up. As we approach our preseason opener (which by the way is Aug. 12 at Reliant, come support us!) I'm beginning to feel the excitement building up inside me. There's so much time in between seasons that any football player can relate when I say that I'm anxious to set foot on the field for the first time in eight months. It's the same excitement I felt before my first varsity game in high school and the same feelings when I couldn't wait to play in a Badgers uniform.
If I could go back in time, I'd love to go back and ask myself a couple of questions, I don't think the younger me would believe me if I told me that in a couple of years I'd be in the league. As a kid, any kid playing football, the ultimate goal is always to play in the NFL. But as time passes we tend to forget that dream and begin to work for our reality. Well, now the NFL is my reality and I'm living every boy's dream.
Except that in that dream I never realized the hard work I'd have to go through to make it to the first game. The soreness of the first couple of days is gone and now I'm pretty much immune to pain. I'm tired, just like everyone else on the team, but there is a lot that keeps us going. There's competition with each other, between the defense and offense, and coming up there's another team coming in.
There's so much work that goes into training camp. Any other point in my football career I had something that was more important than a game, my education. Now, we still go to 'lectures' but this time it's all about football. Training camp is EVERYTHING football. We live football, breathe football, read football, dream football and even when we eat everyone has to worry about maintaining, gaining or losing their weight.
Football is football. It's the same as it's always been, but the level of intensity and the pace we're going does not compare to anything I've been through. Practices are hard; no one ever said they would be easy. There's always important lessons to learn before we head out to the field. There's always something to remember, something to fix or a better way to do it. The pressure is always on from ourselves, from each other, the coaches and even when the fans are watching. We know there's expectations for this year and believe me when I say that there is not one individual that doesn't go out there every day and leave it all on the field.
I wish I could sit here and tell you that I'm going to be the most exciting football player to watch, but I don't think I am. I'm the kind of player that follows a play and what the coaches preach to us. That's how I got here and I can tell  that the excitement has been watching this team grow. This is a big part of why I can't wait for Saturday, a little over two weeks of training camp has got to pay off somehow and what better way than against an opponent. ](http://store.houstontexans.com/product/index.jsp?productId=1772605&cp=2237490&parentPage=family&clickid=mainnavgeartxt&parentPage=family)
All the veterans keep telling us that the best part comes after training camp is over and there are a lot of things I'm looking forward to. To begin with I'm going to this Mexican restaurant I found that has great fajitas. As soon as there's a day off and good weather I'm hitting the golf course, away from football I like to keep it competitive. But most of all I can't wait to move into my new place. I've been living in a hotel room for most of the summer, so it'll be nice to have my own place to go home to.
I'd like to take this opportunity to thank my family and girlfriend for being great support!

I hope to see you all this Saturday,

Owen