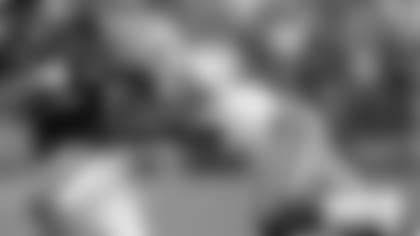 ]( "LSU ILB Kevin Minter")

NFL Network analyst Daniel Jeremiah joined "Texans All Access" on Tuesday afternoon for his weekly "Path to the Draft" segment on Texans Radio presented by Warehouse Pool Supply.
A former scout for three different NFL teams, Jeremiah discussed potential inside linebacker, outside linebacker, safety and nose tackle options for the Texans with the 2013 NFL Draft a little more than one week away (April 25-27). Here are some of his comments below. PODCAST: Full interview
On LSU's Kevin Minter at No. 27 overall: "I think you're going to have the option to flirt with him. Whether or not you want to marry him is gonna be entirely up to the Texans. I do think he'll be there when they pick. The fact that he came in a little undersized, 5-11, didn't run as well at the Combine, low 4.8s; he did clean that up a little bit at his Pro Day, but he's one of my favorite players in the draft. I think he's just a really solid football player. Maybe doesn't have that elite range and speed that you'd like, but he's just somebody that's so instinctive, is always around the football and just a solid football player. He's a plug-and-play guy."
On other ILB possibilities for the Texans: "One guy to keep an eye on is Kiko Alonso from Oregon, who's 6-3, 240 pounds. The Texans have that big front seven; he'd fit right in. Somebody that's really big and rangy, can run and can really cover, which is what I really like about him, covering blitz. Now, coming downhill, he needs to use his hands to take on blockers a little bit better, but you're talking about someone with some real big-time size, speed and (who's) gonna make a lot of plays. He's had some off-field issues… but he's one to keep an eye on. Also, I like Jon Bostic from Florida, 6-foot, 245-pound kid, another one that just plays really well. The question with him was play speed, then he goes to the Combine and runs a really good time, so that kind of eased any of those concerns. This draft is loaded in a lot of positions, inside linebacker being one of them."
On potential options in the early rounds: "There were actually a couple of players in this draft that teams are really, really varied in their grades on, both from Florida State, Bjoern Werner and Tank Carradine. Werner doesn't have the ideal measurables you're looking for. He is productive when you watch him on tape. He's kind of been labeled as this over-achiever, try-hard player. When I watch him on tape, I actually dinged him on effort a couple times. There was a play against Miami where he kind of completely shut it down in pursuit. That bothered me some, but he does have a knack as a pass rusher, very productive at Florida State. He's somebody some teams see as a top-15 pick, other teams have him in the late second round. They're all over the map on him. Tank Carradine, coming off of a knee injury, I actually gave him the same grade as I gave Werner. I had him sequenced a little bit above Werner assuming he returns to full health, which he should. He's somebody that's long, he's physical, maybe not as smooth as Werner but a stronger player, a much better run defender and somebody that gets to the quarterback using power."
On LSU's Eric Reid: "I'm not as high on Eric Reid as some others. There's reasons to really like him because you have the size, the speed, the athleticism. He put on a show his pro day; everybody that was there said it was a big-time display. But when I watched him on tape this year, I was disappointed compared to the year before. He made a lot of plays on the ball the year before. This year, you just didn't see him touch the football that much, missed a bunch of tackles. The Ole Miss game to me is the one that sticks out where their quarterback takes off in the middle of the field and Eric doesn't get him on the ground and he gets a touchdown as a result. So he is, to me, a high-ceiling, low-floor player, meaning there's some risk involved, but you could hit it big. There's enough teams that are interested in him that I think you're gonna see him go off probably in the first 25 picks."
On Fresno State's Phillip Thomas: "Well, if you like guys that intercept the football, you'll like him because he does it a lot. Eric Reid, you watch all these games and you don't really see him make many plays on the ball. Philip Thomas led the nation in interceptions. He had eight; I remember two very athletic picks. He's gonna have some missed tackles, all these safeties do miss some tackles so, to me, you have to be able to offset those missed tackles with ball production and that's what this kid Phillip Thomas does. He gets his hands on a lot of footballs. Maybe not ideal size, but he's a tough kid, you can put him down in the box. The closer to the line of scrimmage he is, the better he is as a tackler. You give him a lot of room to close and make tackles in open space, you'll have some issues but he's gonna generate some turnovers for your defense. Probably looking at him at the earliest maybe a late second round but probably gonna see him go in the third."
On potential Texans picks: "Well, I'd keep an eye on Jesse Williams from Alabama. Really good football player that would be a great fit there. I have him as the 28th best player in the draft, so he's kind of right in the Texans' wheelhouse. That'd be somebody I'm really excited on. After that, you start looking at some guys in the next couple rounds. You've got some smaller school guys that are interesting. Brandon Williams from Missouri Southern, 341 pounds. If you want something interesting, weird to watch on YouTube, type in his name and you'll see him walking on his hands all over the football field. You've got Montori Hughes, who was at Tennessee, got in some trouble there, ended up at Tennessee Martin. He's a big, athletic kid that could be a nose. You've got Johnathan Hankins from Ohio State. Some people have him in the first round. I think of him as a second-round pick. He plays nose, plays at defensive end as well at a 3-4. Big, strong kid."