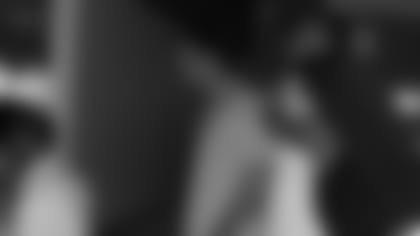 While Thursday's introduction at Reliant Stadium gave fans and the organization a brief glimpse at the new face of the Texans franchise, for Schaub, Thursday's presser was just the first of many media requests.
Ideally, Schaub would have been spending his time yesterday getting to know his new teammates. He saw a few of them after an optional team workout, but for many of his new teammates, they remain in the dark as to who Matt Schaub really is.
"Obviously, I don't know much about Schaub," Chester Pitts said Thursday. "The couple of games I saw him play, he played pretty well. He's a big strong guy and I know he can throw the ball."
That's about to change. In a request that might be the first of many insights into Schaub's leadership qualities,
's new signal caller asked for the name and phone number of every one of his new teammates before heading out of town.
In the coming weeks, he will reach out to all of them, but as early as Thursday, his new teammates had an upbeat feeling about the direction the Texans are headed.
Despite being handicapped with limited room under the salary cap,
has been a major player during free agency. The Texans have locked up star receiver Andre Johnson, signed four time Pro Bowl running back Ahman Green while at the same time addressing needs at several other positions.
The acquisition of a quarterback who many scouts believe is on the verge of stardom is yet another signal to Texans players that their team is committed to winning right now
"It's a positive feeling because you see we're trying to move in a positive direction," DeMeco Ryans said of
's active offseason. "We're trying to get better all around and we're trying to get some players in here to make this a playoff team."
"I definitely feel like they've brought in some quality players," Pitts said. "Ever since the new staff has been here, that's been their main focus, bringing in better talent, bringing in better players. It's only going to make us better and that's what coach (Gary) Kubiak emphasizes every day, every week. That's his motto and I'm ready to jump off a bridge to help him do it."
under the Kubiak regime. It's safe to say a year later he's not having any regrets.
"It's exciting just because you see them making moves trying to win," Weaver said. "The coaching staff, the upper management in the front office is committed to winning and I think you can see that by the moves they've made this offseason."
Of course with addition comes subtraction. The most visible loss being quarterback David Carr.
"I was surprised about the (Schaub) acquisition," Pitts said. "David's been the face of this franchise, he was a day one guy.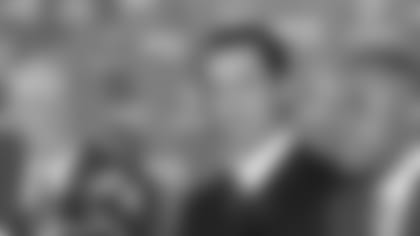 "But that's part of it. No matter who you are you can end up on another team and David will probably go to another team and play really well. Sometimes you just need a change of scenery. He's going to be fine."
Weaver, who will enter his sixth NFL season this fall, has grown use to surprising moves.
"That's just the nature of this league, anything is possible," Weaver said. "In the end, it's got to be for the betterment of the team. If they feel you need to go to make the team better, that's the way it's going to be, whether it's me or anyone else on this team."
Time will tell if the acquisition of Schaub was a smart one and no one will know for months if all the moves the Texans have made this offseason were the right ones.
There is a sense of the unknown around the locker room today, but that will begin to fade as players start reporting for offseason workouts and at as the new quarterback begins to run up his phone bill.