 Short and sweet: The Texans gathered for a little over an hour Friday morning in final preparation for the Kansas City Chiefs who invade Reliant Stadium Saturday night at 7 p.m. Gary Kubiak was pleased with what he saw from his team before releasing them for the rest of day.
"I liked what I saw; there was a lot of energy this morning," Kubiak said. "That tells me they're ready to go, see where they're at and do it against somebody else. I'm looking forward to it."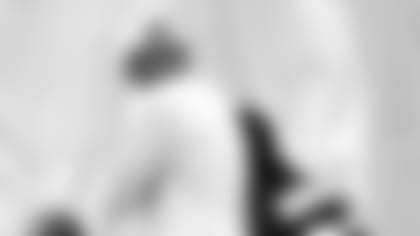 While Kubiak's feelings about tomorrow's Texans debut could have been described as nervous excitement earlier in the week, he said Friday that as game time inches closer he has actually been able to relax.
"Actually, I'm a little different on that standpoint," Kubiak said of his nerves. "I think the crazier things get, the more mellow I get as a person. That's the way I was as a player. I've kind of been that way as a coach. I'm nervous and I'm excited. I tend to mellow down and try to handle the situation more so than anything else throughout my football career, so hopefully it will be the same way tomorrow."
Kubiak's plan of playing his starters for the first quarter didn't change Friday and he reiterated the fact that personnel wise, the Texans are in a pretty unique situation compared to other teams in the NFL.
"I think we're a team that's going to look at our veterans more than some teams," Kubiak said. "We have to see them both (veterans and rookies). We'll be able to do that. We've got some young guys too. We've got (LB) Demeco Ryans, the starting mike linebacker for this team, and he just got out of college. He's fixing to play a lot of football. We should be able to get a good look at our guys, and the fact that we have some nicks and some guys out, that helps us move some guys up and take a good look."
Role reversal:One key offseason addition that has flown somewhat under the radar is defensive lineman Anthony Weaver. Judging from the first two weeks of camp, Weaver is poised to have a breakout season this year. However, if that's in the cards for the now fifth year pro, it will most likely come at a different position. While Weaver is listed as a defensive end, the addition of Mario Williams in April's draft has allowed Weaver to move inside. While the position change may be new, playing inside is nothing new to Weaver.
"It's been a transition, definitely, but I've played the three technique before while I was in
," Weaver said. "It's going to take a little bit of an adjustment, but I've been working hard in camp and I plan to get better throughout the season."
Weaver helps anchor a defensive line that will easily rank as the franchise's best before this season is over. He's already made several adjustments, but he expects to improve as the season goes on.
"There's a big difference, especially in the run game," Weaver said. "Whenever you take a step down, whether it be from end to a three technique or from a three to nose, everything happens that much quicker. So there's adjustments, a lot more double-teams than I'm use to, but I'll be ready for it."
Do I know you?:Typically NFL teams scrimmage one another during training camp before engaging in their first preseason game. While the Texans have followed this practice in years past, this
wanted the focus to stay on his Texans. That strategy seems to have paid off with crisp, up-temp practices, but the players are ready for some new faces Saturday night. Weaver is just one of many players that said he's ready for an opponent other than his teammates.
"Definitely, it get's a little boring facing the same guys day in and day out," Weaver said. "You learn each other's tendencies and you lose focus a little bit because nothing is new. The chance to go out there and tackle somebody is huge and we're ready to go."
An established veteran, Weaver has little to prove against the Chiefs so he has some pretty realistic goals for his first game in a Texans uniform.
"Right now, you just want to work out the kinks," he said "You don't really worry about conditioning or anything like that. The main thing is that you want to get out healthy, that's the big issue."
Unlike Weaver, Mario Williams will be making his NFL debut of sorts Saturday and he's ready after two long weeks of training camp.
"I'm just excited to have the opportunity to go out on the field and play and see what I got," Williams said. "Football is just football. Obviously, it's a new level, but I'm still going out there with a purpose, to go out there and compete."
The rookie is also looking forward to seeing a different foe lined up across from him Saturday and he was quick to point out that he's never seen another opponent other then his
"It's been longer than two weeks, it's been since OTAs," Williams said. "You definitely look forward to getting out there and seeing some new faces."
Injury report:As reported earlier in the week, Steve McKinney will be out for tomorrow's game with an ankle injury. Both Phillip Buchanon and Mike Flanagan are questionable with hamstring and thumb/wrist injuries, respectively. Zach Wiegart is battling a sore shoulder and should play against the Chiefs.