 Game mode:Training camp has reached the point in which the fresh pigskin excitement has faded. It's also the point in which the Texans' coaching staff is raising the level of intensity for each practice and coming down harsher on mistakes. Tuesday morning the Texans began the slight transition from training camp to game preparation.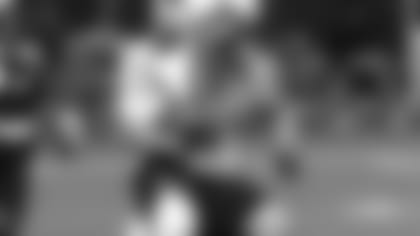 "We're working on various personnel that we think we'll see as a defense during the season," Gary Kubiak said. "Various personnel we're going to get from teams that we play, and especially the opening week and some of the things we're going to get. We'll start to incorporate some of the (Philadelphia) Eagle's stuff in our work as we prepare for next month."
Before the Texans can begin thinking of opponents, there's unfinished business on the field that Kubiak would like to get out of the way before the Texans are ready to go for the season.
"We have a lot of things we are trying to get done and cover," Kubiak said.
Kubiak is addressing the problems he sees from every possible angle, including his  staff.
"We have to get our (coaches) work done, and get our point across. When a player makes mistakes on something over and over again, as a coach you have to take responsibility for that and say 'there's something we're doing wrong here'."
Battle of five: While the ideal running back situation would be to have veteran Domanick Davis carrying the ball to start the season, Kubiak expressed his interest in seeing all five available running backs battle for Davis' back-up spot.
Antowain Smith will definitely be seeing playing time this Saturday, according to Kubiak. Vernard Morency, Wali Lundy, Chris Taylor and Damien Rhodes will not all get to play against the Kansas City Chiefs. Instead, two will join Smith against the Chiefs and the other two will play at St. Louis.
"We are going to make sure that they get a chance to play and not try to play four guys and end up with three or four carries each," Kubiak said. "We aren't going to do that; when they play we want them to get some reps."
Who will play Saturday will be decided Thursday afternoon.
Offensive line: In contrast to yesterday's practice the defensive line had a tough time breaking through and making plays Tuesday morning.  The offensive line, led by center Mike Flanagan, jumped at the opportunity to show the progress it has made in the last couple of weeks.
"I thought today was our best nine-on-seven because they (offensive line) are just fighting through it," Kubiak said. "I love the leadership that (Mike) Flanagan gives to this group. A lot of guys are going through camp and playing; you can see that it is making them better because of the way a lot of guys are playing. From our first group to the second group, to me, they all look the same. It's the same group coming off the ball, and that's what we have to do to get better."
Veteran leaders:Two weeks ago the coaching staff wondered who its leaders would be once training camp got under way. Tuesday, they were quick to point out who has elevated to the leadership roles.
Assistant head coach Mike Sherman sees the same characteristics Flanagan possesses as a leader on the team. 
"The center speaks for itself; he has a true wealth of experience and knowledge," Sherman said.
"He is at a point in his career where I think he is able to express himself to others how it should be done. I think some of the younger players in particular will look to him as an example of, 'I want to play that long, I want to play that well, and if I do what Mike Flanagan does and maybe that can be me someday'."
Eric Moulds, a new face on the Texans squad, but a veteran on the field has also been dubbed a leader.
"When he walks into a locker room, walks into a meeting, walks onto a field, all those young kids know who Eric is, and they look up to him," Kubiak said. "When they see him work the way we want him to work as coaches, they say 'maybe that's how you do it.' That's how you play 11, 12 years, and they're nothing better than an example."
Trying new things: One of the most competitive drills introduced Tuesday morning was the cornerbacks challenge to the wide receivers. Quarterbacks Sage Rosenfelds and Quinton Porter took turns attempting touchdown passes to the wide receivers near the end zone. The close coverage supplied by the defenders didn't allow for many complete passes.
"We were in new situations today, and we were working without a huddle," Kubiak said. "We had to stop and fix a few things this morning, that's part of the game."
Special teams:The afternoon practice was once again dedicated to the special teams unit. With Phillip Buchanon and Jerome Mathis out with injuries, the search is on for a kick returner. Tuesday afternoon Kubiak pointed out rookie Wali Lundy and Chris Taylor as possible replacements Saturday.
Play of the day:The highlight of the early practice was a DaShon Polk interception that came near the end of the practice session during the 11-on-11 drills. Polk stepped in front of a receiver to pick off a Quinton Porter ball and ran it all the way down the right side for a touchdown.
Keep an eye out: Two of the most exciting newcomers to watch on the squad are tackles Eric Winston and Charles Spencer. The first half of training camp has been a seesaw for both as they have faltered and learned and improved through the mistakes rookies are expected to make. In the end, they're playing time will be determined by their consistancy.
"It's hard to say right now," Kubiak said. "Eric Winston is developing, he came back from the mini camps and the opportunity session we had previously and has really done a great job in training camp. Whatever he did between last mini camp and now, he made a big jump...with these young guys, it just needs to be consistent. They will have a couple of plays that says 'yes that's the guy we want in there', and then a couple of plays in which we don't want them in there. The consistency part has to come not only with those two rookies, but with every body."
Injury report: Chester Pitts swollen knee did not allow him to practice Tuesday morning. He was out for 'precautionary' reasons and is expected to be ready to play Saturday night.
Domanick Davis (left knee) and Phillip Buchanon (hamstring) remain sidelined and it is unknown when they will return.