 Book closed:Wednesday night's practice marked the last two-a-days for the Texans this season. In that respect, in many of the player's minds, training camp is essentially over. Factor in the point that Gary Kubiak says he has finished installing his offensive system and it appears as though the Texans will spend the rest of the preseason executing plays, instead of learning them.
"We've put it all in," Kubiak said Wednesday night. "We've tweaked things here and there that we will come out here and work on, but as far as teaching the system, the book, they know the whole book. Now how much they grasp when we get to opening day you never know. We teach so much stuff that you could go through a season and still never run 30, 40 percent of things we teach so it's really matter of us now grasping the concepts we teach and then being able to expand a little bit on those."
That might come as a surprise to some fans. There are few things more complicated in sports than learning an offensive system in the NFL and on the surface, it seems strange that a first-year coach would already have his offense installed three weeks into the season. But there's a careful plan in place and Kubiak divulged why he puts so much on his players so fast.
"In all honesty, I'm a little different," Kubiak said. "At this time of year, I want to see how much a player can handle. I want to play a lot of guys in the preseason games because I want to see when that kid gets in there in the third quarter, I want to see if that guy studied all week and knows what he's doing. I really try to challenge players in the preseason."
It seems as though the challenge has been accepted. Kubiak said that he was pleased with Saturday's effort and other then a few missed assignments, it was obvious to him that the players have been in his "book". Considering
set a franchise preseason high with 24 points in just their first game, all evidence points to a smooth transition for David Carr and company.
Mix it up: The Texans changed things up a bit during their morning practice Wednesday. Much of the day was spent in team periods with both the offensive and defensive units getting plenty of time to do some fine tuning. There was one problem. The players had grown accustomed to their routine and Kubiak said that the coaching staff might be to blame for a tempo that dragged a bit in the morning.
"We as coaches kind of screwed them up in a period," Kubiak said. "We were trying to change up and do something a little different then what we've been doing normally here in camp. We lost the tempo of what we were doing, that's our fault. We have to get that fixed. It starts with us (coaches). We have to be ready to practice as well as those guys. We kind of slowed the tempo down."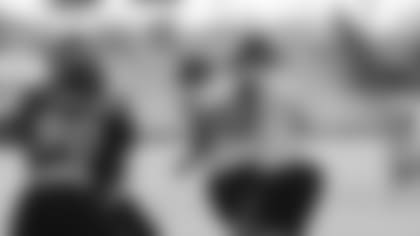 Mario's review:While he registered just one assisted tackle Saturday night, Mario Williams has at least one person believing he played well. After reviewing the game film from Saturday's win against the Chiefs, Kubiak had plenty of positives to point to about
's top choice in the draft.
"I thought he played pretty well," Kubiak said. "There were a couple of plays that people have pointed out when he looked like a rookie. If you look what he did at the point (of attack), he was very physical with the tight end, very disturbing for the Chiefs in their run game. He went against (Kyle) Turley, who has played for years and years and then we moved him inside and Will Shields locked him up so that's some real ball right there. He found that out real quick, but those are the type of guys he's going to have to beat."
It shouldn't come as a surprise that Kubiak likes what he saw on Saturday. He said Wednesday that he likes everything he has seen so far from Williams in camp.
"I just kind of like what he stands for," Kubiak said. "You don't even know he's out here sometimes, he's all business. That's just his mentality. He's not a loud guy. He just busts his tail and asks us what he can do to get better. We knew that when we brought him in here and I think he's making the players around him better."
Addition through subtraction:It's no secret that the Texans' defensive line should be the strong point of their defense this season. With key offseason additions, the front four has garnered much of the attention in training camp. However, Kubiak said Wednesday that with the injuries and bumps and bruises that the secondary has taken, the defensive backfield has become a strong point as well.
"I like our back end," Kubiak said. "I think through adversity our back end is getting better. By picking up Dexter (McCleon) and picking up (Kevin) Garrett, I think through the problems, we're getting stronger back there."
Flanagan as advertised: One offseason addition that has gone somewhat unnoticed is center Mike Flanagan. Flanagan arrived in
He has a fan in his new head coach.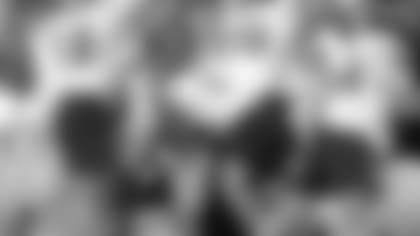 "I have to give that credit to (assistant head coach) [Mike (
)](), he has been around him," Kubiak said. "I knew him as a player coming out. I know he has been a fine player in this league and he can play at a high level. I can tell you what I like about him now. He is everything Mike told me he was. He is a leader amongst people, not just the offensive line. He loves to play, very studious, has a good time with football, but when the doors close and the meeting starts he is all ball. That's what being a pro is all about."
As for Flanagan, he is enjoying his new scenery in the
"I've been in the same scheme up in
for ten years," Flanagan said. "The same calls, the same techniques. Things are similar here, but a little different. It's a new group of guys, obviously. It's a great organization, great city. It's fun, I'm enjoying every minute of it."
Perhaps the biggest asset that Flanagan will bring to
is his expectation of winning. Flanagan has been through both ups and downs during his time in the NFL and said he tried to keep things in perspective for some guys on the team after the preseason win Saturday.
"The other night when we won, guys seemed pretty excited," Flanagan said. So I said, 'Hey, it's the preseason guys, it's not what we get paid for.'"
impressed the coaching staff versus the Chiefs and has earned some playing time this weekend.
"I'll tell you what happens. Sometimes as a coach you can get a good feel for a player at practice, but sometimes you can't," Kubiak said. "He (Rhodes) got in the game the other night and it just looked like it wasn't too big for him. He looked pretty sharp there carrying the ball. And he's looked good returning kicks for (special teams coordinator) Joe (Marciano) so we want to give him a chance We're going to give him a good luck at him and he'll return kicks for us this weekend as well."
Preseason too long?: With the bumps and bruises that the Texans have suffered the past few weeks, one might think that many of the players and coaches might be in favor of a shorter preseason. That was not the case when they were asked Wednesday. Kubiak was emphatic about the need for a strong preseason slate.
"We need that time," Kubiak said. "Especially a team like this. That's what football is all about, getting ready and going out there and performing. We need those reps."
Even a nine-year NFL veteran like safety Jason Simmons sees the benefit to the preseason.
"It's kind of tough to say," Simmons said of whether the preseason is too long. "I hate to straddle the fence. If you're a veteran that's one thing, but if you're a player on the bubble, and you're trying to make this team, you want that opportunity to play and go out there and show what you can do in the game. Guys trying to make the club need this time."
Injury report: Cornerback Lewis Sanders was out Wednesday with a minor leg injury. DeMeco Ryans also watched from the sideline with a sore knee. Both injuries are minor and both Sanders and Ryans should play Saturday in
. If it was up to Sanders, he would have been playing today.
"Lewis Sanders is begging to come back out here and I told him to take the day off," Kubiak said Wednesday morning. "He is not practicing today and he will not practice this evening, but he will be fine and ready to go."