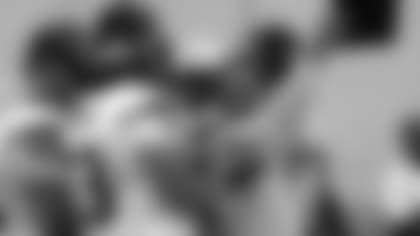 Road ready: **After Wednesday night's open practice, head coach Gary Kubiak scheduled a late morning special teams workout inside the Methodist Training Center on Thursday. The entire team reconvened later in the afternoon, when Kubiak had simulated crowd noise playing to prepare the players for their first road game of the season at St. Louis' Edward Jones Stadium.
"That's a big adjustment for your football team getting ready to play on the road and handle the noise, especially when you're trying to get 90 guys to handle the noise. It's different when you have your squad cut down during the season. I'm just trying to make sure that it won't be a shock to them. We'll probably do a little bit more tomorrow morning."
Kickoff isn't schedule until 7 p.m. CT Saturday, so there will be plenty of time for the Texans to relax before facing the Rams. With that in mind, Kubiak scheduled a few meetings prior to the game in order to prevent the team from getting lethargic.
Kubiak plans to have the first unit play more snaps against the Rams than they did against Kansas City.
"The game plan basically is to play our starters for about a quarter-and-a half up to a half, depending on how many reps that is," Kubiak said. "Then (we'll) play our two's from there, and our three's will play at sometime in the fourth quarter. Basically, it's going to move back a little bit, but the starters could play up to a full half."
As the Texans inch closer to the regular season, Kubiak will begin to change the team's routine accordingly. Once training camp breaks Aug. 22, the Texans will be in their regular season mode.
"We still approach (this week) like a preseason game," Kubiak said. "Next week we'll prepare like it's a regular season game from how we teach and how we meet. We're still fairly basic this week on what we're doing. We want to look at a lot of people, so we don't want to get too confusing. It's pretty much the same routine as last week."
Backfield rotation:Versus the Chiefs, running back Vernand Morency did not receive a single carry. Kubiak made that decision so he could get a better look at some of the Texans' younger running backs.
"We'll play two (running backs) for sure, we might play three," Kubiak said. "We'll definitely have a system where we'll rotate before so we're not just wearing out one guy. I think you have to have two (running backs) on game day to be effective."
Quarterback Cody Pickett, acquired in a trade with the San Francisco 49ers earlier in training camp, will see his first game action of the preseason Saturday. Rookie Quinton Porter, meanwhile, will watch from the sidelines after completing each of his four passing attempts for 51 yards against the Chiefs.
"David (Carr) will play up to a half, depending on how many reps he gets," Kubiak said. "Then Sage (Rosenfels) will take over, and at the end we will take a look at Cody Pickett. Quinton (Porter) will not play this week. He did a great job last week, but I want to look at Cody, so he'll come back and play in a week."
Race to return: If the Texans' running game appears to be 'by committee' at this point in the preseason, so does the team's return game.
At the moment, several players are taking reps returning kickoffs, including rookies like Taylor, Rhodes and Lundy. On Thursday morning, each took turns hauling in kicks during the special teams practice.
"I'm feeling comfortable," said Taylor, who gained 24 yards on his lone kickoff return last Saturday. "It was my first time back there in the game. But as I keep practicing, I am getting better and better.
"I just try to run the ball like I run the ball regularly. Try to find a crease, and when you find one, you have to hit it because the hole closes so fast."
Cornerback Phillip Buchanon is the front-runner to return punts, but a hamstring injury has hindered him during training camp. Recently, though, Buchanon has begun to return to form.
"I think he's explosive," Kubiak said of Buchanon. "There's no reason why he shouldn't be one of the top guys in this league. Coming out (of college) he was that way. He's done it in pro ball, and he has to do it for this team. We have to be able to win three ways, and in special teams, if you can make big plays like that, it gives you a chance."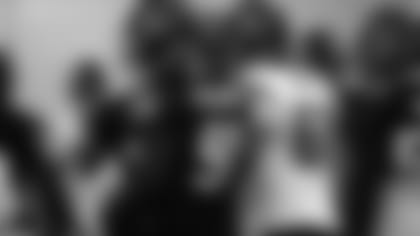 As an insurance policy to return punts, rookie wide receiver David Anderson is a solid option. The seventh-round draft pick from Colorado State totaled 18 yards on three returns against Kansas City, including a game-long 19-yarder where he juked several would-be tacklers.
"I did return punts my freshman, sophomore and then a little bit my junior year in college," Anderson said. "Not so much the end of my junior year and senior year, because we had a little lack of depth at receiver and I don't think (the coaches) wanted me to get crushed.
"But yeah, it's one of my favorite things to do. I love doing it."
The learning curve obviously is different at the pro level, but Anderson's confidence is growing after each rep he gets.
"It took me a little bit to get a hang of returning punts (in the NFL), especially the speedy guys coming down and things like that," Anderson said. "Obviously, the balls are kicked a lot higher and a lot further, so you have to get used to that. But it's definitely something I'm working hard at to get a hold of."
Special teams coordinator Joe Marciano has been teaching Anderson to square up to the ball and avoid catching it on his back foot or turning away from the punt coverage unit. Late in the first preseason game, Anderson lost his focus and fumbled a fair catch.
"I had a couple good returns (Saturday)," Anderson said. "It felt good to get smacked that first one, to see what it was like. And then the second one was a good return and it got my confidence up. And then I took my eyes off the third one. But coach says you can't teach the stuff I was running and doing really well. I can get better at catching them, and that's something I'm definitely working on."
Defensive shuffle: In search of the best combination on the defensive front, the Texans are rotating several players at tackle and end.
"To do that, this team has to continue to find another inside player," Kubiak said. "Whether that's going to happen or not, I don't know. How far Alfred (Malone) comes, how far (Earl) Cochran comes, that will be a key to that. We know that Mario and Anthony can play inside and out. When it's all said and done, we have to play our best four. We have to figure that out through a little movement, and we're going to do that in preseason."
Second-year tackle Travis Johnson has been developing well, but Kubiak still expects more from him.
"Travis Johnson is doing a good job," Kubiak said. "He actually played very well last week. He can play better and he knows it. He is busting his tail. I think he is having a good camp. He needs to have a great camp and he needs to have a great year for this football team."
Right now, Johnson, Seth Payne and Robaire Smith are the Texans' best options at tackle, aside from Weaver. But Kubiak would like to see a four-man rotation inside.
"I think Robaire Smith has played solid for us," Kubiak said. "When Anthony Weaver was in there he played extremely well. Travis Johnson is making progress. Seth Payne is a guy who is going to give you everything he has got every play. We are going to rotate those players. If we do find another inside player to go with Seth Payne, Robaire Smith, Travis Johnson, than we would like to play Anthony Weaver outside more. We are going to prepare as if we have chance for that to happen."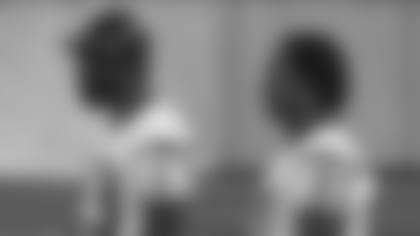 Injury report: **Running back Domanick Davis continues to rest his sore knee, but Kubiak seemed pleased with Davis' recent progress.
This afternoon, Davis and wide receiver Jerome Mathis (foot) followed the offensive practice script together on the sideline.
"Domanick has been very positive for the last two days," Kubiak said. "You guys saw him running. He ran very well last night. (Head athletic trainer) Kevin (Bastin) felt real good about it. (Davis) will not make the trip (to St. Louis). He will stay back and continue to get treatment."