 Back to work: After a day off from the practice field Sunday, the Texans returned to the comfort of the indoor field in the Methodist Practice Facility Monday afternoon with a short, crisp two-hour workout. Gary Kubiak was pleased with what he saw from his team Monday after their win on Saturday night.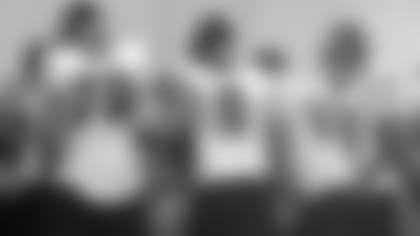 "It made me feel good," Kubiak said of Monday's practice. "We had some good things happen the other night, and that was exciting. To come back out here and practice the way we did, it was impressive. Our players are ready to come back out here and get better. We corrected our mistakes the other night. We have to keep making up ground. We have to keep getting better. If we can keep the attitude and the attention to detail that we had today, we'll continue to make up a lot of ground. I was very impressed with the practice today."
One might think that Monday's practice was a carryover from Saturday's win. Kubiak didn't necessarily agree with that sentiment.
"I don't know, we're finding out about our team everyday because it's our first go around together. The thing about football, especially the years that I've been around pro football, is that you're not going to feel good everyday. Coaching, playing, it doesn't matter who you are, you have a job to do everyday. They came out here today and they were kind of quiet. They're beat up. It was the first time they hit other people. We kind of got going real slow and all of a sudden the minute they got into the team period, they got into it, they got into practice. They practiced fast, and they practiced the importance of the mistakes we made, and we got those cleared up. I like the way they went about their work."
Not so fullbacks: One area of concern that Kubiak addressed from Saturday's game was the play from the fullback position. In the Texans' offense, the fullback plays an integral role whether it be blocking or receiving out of the backfiled. On Saturday, the position saw a lot of missed assignments in both areas. Jameel Cook and Nick Luchey saw the bulk of time at fullback Saturday and therefore, drew most of the criticism.
"I told you guys I wasn't real happy with how it went the other day. I think they're both better players than they played," Kubiak told reporters after practice. "I think a lot of it might have been their first time out in our system, and hesitant in some of their assignments."
Like the rest of the team, Cook and Luchey came out Monday focused on correcting those mistakes and drew praise from their head coach.
"I know one thing, they came out ready to go today, and they fixed them," Kubiak said. "That's what we're going to do as a team, we're going to make mistakes, but we come out here and get them corrected, get ready to go next week. I liked the way they practiced. I like the way they responded."
Kubiak would not single out either Cook or Luchey and said both had qualities that can thrive in
's offensive scheme. Fullbacks seem to be going by the wayside in today's NFL, but don't look for the Texans to follow suit as Kubiak sees them as vital to a strong running game.
"We like them both (Cook and Luchey)," Kubiak said. "When you have a fullback involved, it helps you in an eight-man front. If you can run the ball in this league, you're going to have a lot of eight-man fronts. For some people that runs you out of running the ball, but that's not going to do that to us. We're going to stay committed to this. We've got an eight-man front, and we'll find a way to get it picked up somehow because we're going to stay committed to running the ball."
New digit:It might have been hard to notice, but quarterback Cody Pickett changed his number over the weekend. Pickett, who remained sidelined as he learns the Texans' offensive system, was acquired through a trade with the
49ers earlier in training camp. He had been wearing number nine in practice, but switched to number two for Saturday's preseason debut. He offered an easy explanation of why after practice on Monday.
"This is the number I wanted when I got here. In college, and in my first two years with the 49ers, I was number three, but coming here Kris (Brown) had it so I thought I would go back to my high school days when I was two. Nine wasn't my choice, it was kind of a last minute decision. I asked them and they told me I could switch, it would just take a week and here we are."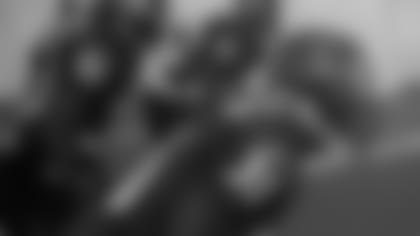 Buchanon is back**: Cornerback Phillip Buchanon returned to practice Monday. Buchanon, who will instantly add depth to the
secondary, had been out with a hamstring injury. Buchanon should also return to being
's top punt returner. The Texans tried several players out on punts Saturday with mixed results. As for Buchanon, his goals are simple now that he's back on the field.
"I feel good, just trying to back in the flow of things, taking it day by day," he said. "I'm just trying to be the best. I want to be the best cornerback and the best punt returner. I'm just striving to be the best."
Linemen added: Minutes before practice Monday, the Texans announced the signing of defensive end Darrell Wright. Wright was most recently with the Seattle Seahawks in their training camp before being waived on August 4. He has previous NFL experience with the Dallas Cowboys and played this offseason in
with the Cologne Centurions. Defensive end Phillip Alexander was waived to make room for Wright on the roster.
Injury report:Domanick Davis remained out of practice Monday. There is no specific timetable for his return. Kubiak was asked Monday if
would have to see some time during the preseason in order to be named the opening day starter. He offered an honest answer.
"I don't want to answer that right now. I think that would be hard," Kubiak said. "That would be very hard to do. I think he'd tell you the same thing. I don't know, stranger things have happened, let's wait and see."
Zack Wiegart enjoyed a day off, but perhaps most concerning was the departure of DeMeco Ryans halfway through practice Monday. Ryans was seen with ice wrapped around his knee, but was his usual smiling self after practice and walked out with no problem after sustaining a small bruise.