 The Great Indoors: **Day eight of training camp marked the first time both practices were held inside the indoor field in the Methodist Practice Facility.
If there was any doubt about how serious this coaching staff takes the special teams unit, Friday morning left no doubt. After a late Thursday night practice, the special teams unit returned to work Friday morning for an intense lesson from special teams coordinator Joe Marciano.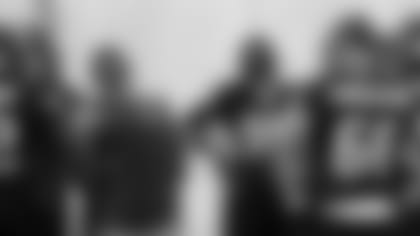 I think it's real important," head coach Gary Kubiak said of special teams. "Especially during the preseason, because throughout the second half of preseason games, you're playing with a lot of young players, and you don't want to get sloppy out there. It's a time for them to get their assignments down and get ready to go."
The special teams practice allowed the rest of the players to arrive at work a little later than usual. The team responded by giving the most spirited practice yet.
"There were guys bouncing around, very fast, lots of enthusiasm," Kubiak said. "The group is coming together. I just like the way we're becoming a football team. You have to keep going. I want to finish the week well tomorrow, and I want to make sure we finish it healthy. That's important. We need to get after it in the morning, and then we'll take a little break over the weekend."
Kubiak did not schedule a practice for Sunday. After Saturday's workout, players do not have another practice until Monday morning.
Play of the day:Free safety C.C. Brown fired up the defense after coming up with an interception from David Carr during an extremely competitive 11-on-11 sequence.
"He threw it right at me, it made my day," Brown said.
The defense continued their strong performance by breaking up several passes from Sage Rosenfels and Carr.
"I guess today was all about the defense," Brown added.
Rooting for Bennie: Since being drafted in 2003, tight end Bennie Joppru has been victimized by multiple injuries that have ended each of his seasons prematurely. He's finally healthy this year, and there's no bigger Joppru fan out there than Kubiak.
"You root for him," Kubiak said. "You really root for the kid because you know what he's been through the last three years. He basically changed his body. From what I understand, he went from a 250-pound player to 230 now. We're wearing him out. He's playing all over the place, and you root for a kid like that, and he's well on this way to being a big part of this team."
Tackle update:The intensity of two-a-day practices brings out the good and bad of each individual, and occasionally it shines a light on hidden characteristics. Rookie tackle Charles Spencer is quickly getting a reputation for being one of the team's toughest players.
"He's pretty nasty," Kubiak said. "I was teasing with him one day last week. I said 'I can watch you get into your stance, and I can tell when you are fixing to win, just by your attitude. I need you in that stance every snap.' He's raising his level of play."
Spencer's experience has allowed him to see both sides of the ball. He played on the defensive line earlier in his collegiate career at Pittsburgh.
"There's a couple of veterans on the offensive line, and I am taking the coaching from those guys," Spencer said. "Bringing the defensive mentality to the defense is what my coaches preached. I try to bring that to the offensive line, especially the run block, and I think it's helped me."
Injury report: Running backDomanick Davis (left knee) and cornerback Phillip Buchanon (hamstring) are still expected to set foot on the practice field Monday morning.
Cornerback Dunta Robinson (ankle) also could participate in practice on Monday.