 Running back by committee?: After receiving a second opinion yesterday on his sore left knee, Domanick Davis returned to practice Wednesday (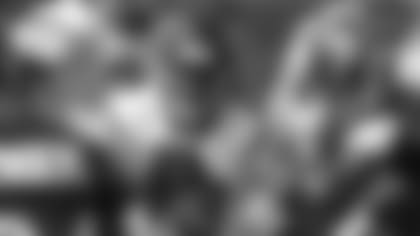 "I can't say that I didn't think we might be at this point," Kubiak said. "I knew that when he went back to work that we were going to go through some tough situations bringing him along."
' absence has given more playing time to the rest of the Texans' running back stable, which looks full of able horses as the first preseason game approaches next weekend.
"I'm excited about what I see," Kubiak said Wednesday. "I'm watching 32 (RB Antowain Smith) out here, he's been in this league a long time and it looks like he could go all day. I'm watching some young kids make plays, and (RB) Vernand (Morency) gets better every day. We have to worry about what's here, and those guys are here, and they're doing a good job. We're going to stay focused on that."
Eight strong: When the Texans made the switch from a 3-4 to a 4-3 defense this offseason, there were two immediate effects: The linebacker position was weakened, and the defensive line was strengthened. The Texans addressed their needs at linebacker by drafting DeMeco Ryans and signing veteran Sam Cowart, among others, but they didn't stand pat along the line.
Already buoyed by the addition of Jason Babin and Antwan Peek, who return to their natural defensive end positions this season, the Texans signed Anthony Weaver and drafted Mario Williams to help make up what could be one of the best defensive lines in the NFL in 2006.
"We're going to have an eight-guy rotation," Kubiak said Wednesday. "We're going to play a lot of guys on our defensive front. The bottom line in this league, up front, you need to rotate people to be good. You have to stay fresh."
Spencer in the mix: Third-round draft pick Charles Spencer spent some time Wednesday morning with the first-team offense. He and Seth Wand have been continually rotating since camp began on Friday. Spencer, a converted defensive lineman, is entering only his second season as a left tackle. However, Spencer has impressed coaches with his aggressiveness and athleticism, and could push for a starting job.
"No doubt he is in the mix as we speak," Kubiak said. "This kid's capable of starting in this league and playing a long time. He has some issues that he's battling. He's battling being a rookie. He's battling some excess weight that we have to get off of him on a conditioning level. We brought that kid in here to play, and no doubt he's in and we're expecting him to come along as quickly as possible."
Spencer said he's not taking his opportunity for granted and that he still has plenty to learn about playing left tackle.
"I'm not comfortable at all," he said. "It's a position that's very demanding. You're blocking the quarterback's blind side, so you can never get comfortable at this position. You need to work and strive to get better every day, and that's what both Seth and I are doing right now."
Don't think that Spencer believes he can't start, because he does. He approaches every practice as if he is already the starting left tackle.
"I believe everybody has to think like that," Spencer said. "Everybody has to believe they're going to be the starter and then this team will be a lot better. I think that's everybody's attitude at this point."
Three deep:With Andre Johnson and Eric Moulds receiving periodic breaks during camp, the competition for the third receiver spot has heated up over the past few days. With Johnson and Moulds entrenched as the top two, Kevin Walter seems to be the frontrunner to be third wide receiver, but who falls in at four and five is still very much in the air.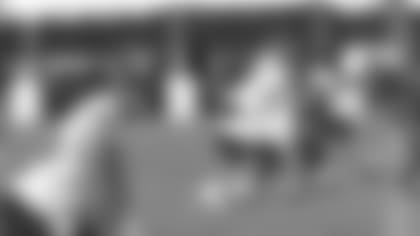 "Kevin is doing a fine job as you can see," Kubiak said. "He's bringing something to our team, toughness and a work ethic that we looked for when we found him. Derrick Lewis was making some plays out here today. With what we're doing with Andre (Johnson) and Eric (Moulds), these kids are all getting a chance to make plays. Really it will boil down to how they play during the preseason. We'll try to put them all in a situation where they can show guys what they have, and whoever steps to the plate is going to be a part of this football team"
Walter is a sure-handed receiver who has shown an ability to go over the middle and make tough catches. What he lacks in speed, he compensates for with precision route running. As far as how much he will play, he doesn't seem concerned.
"I don't worry about that stuff," Walter said. "I just go out there and work. That's the coaches' decision to make."
Walter is sure of one thing, Houston's offense is going to create some defensive headaches for their opponents this season.
"We're going to be a tough offense," Walter said. "We're going to run the ball down your throat. We're going to pass the ball. We're going to make big plays, and all of our receivers are going to hang our hat on blocking for our backs. We're going to have a lot of toughness out there."
Credit due:Don't look for Kubiak to be shy handing out compliments to his assistants. While in
, it was assumed that the Broncos were running the "Shanahan" offense even though Kubiak was the offensive coordinator. In fact, Kubiak was instrumental in the game plan during his stay in the Mile High City, but he never worried about receiving credit.
"I never felt that way, because one of the things you know if you are in this business is that it takes everybody to be successful," Kubiak said. "Sure, when things go good somebody gets a lot of credit, and if they don't, somebody's going to get some blame. That is part of the business. To be successful in this league as a football team, as a franchise, you have to have a lot of good coaches working in the same direction and a lot of good players. It's not about one person, and I think when you realize that you have a chance. If you ever think that it is not that way, then you will have a hard time succeeding."
Injury report:Aside from Davis, other players that were sidelined Wednesday were Steve McKinney, Chris McKenzie and Mario Williams. The veteran McKinney was taking a break, while McKenzie is still waiting for results from an MRI on his shoulder after injuring it Tuesday morning. Williams is once again suffering from a minor toe infection, different from the two big toes that were removed over the offseason.
"It was a different deal, it was one of the other ones," Kubiak said. "He just had an infection set in last night and called (head athletic trainer) Kevin (Bastin). He didn't sleep at all last night, just working on his foot, so he needed a break."
Williams is not expected to miss significant time.