 One and done:The Texans practiced just once Saturday as they concluded the first full week of their 2006 training camp. However, with a day off Sunday, Gary Kubiak didn't want to stall the progress that has defined his first camp as a head coach. Consequently, the team had a high intensity workout that lasted well over two hours.
"I wanted to push us this morning and we went a little long," Kubiak said. "We got after it. We had a lot of things to cover and just wanted to send a message to ourselves about how far we've come as a football team in the past week and a half. I feel like we've made a lot of progress. I want them to feel good about themselves before we take a little break."
With a heat index approaching the mid-90's, Kubiak did let the team shed their shoulder pads for the better part of an hour. The players responded by continuing to practice with high intensity and it didn't go unnoticed by their coach.
"I'm very excited about how this football team is coming together," Kubiak said. "There work habits are good and I just told them a minute ago that the key is on any team when you stop worrying about yourselves and start worrying about your teammates and I see this group starting to do that. We're going to be as good as the whole group, not one or two players and I like the way that's coming around."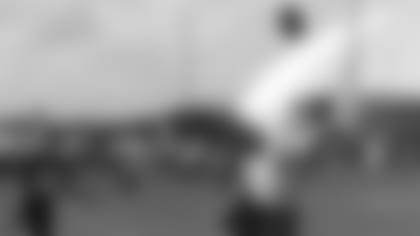 Nice catch: Saturday's practice was highlighted by a finger tip grab by tight end Bennie Joppru. Joppru has been a bit of an enigma to Texans fans since he was drafted in the second round of the 2003 draft. Joppru was touted as a player that can make plays, but few have witnessed his ability thanks to a myriad of injuries. Now healthy, Joppru has been making those plays the past week, including Saturday. David Carr likes what he sees so far.
"Jopp's going to be a good player," Carr said Saturday. "Talk about a guy with a chip on his shoulder. This guy, he's been battling injuries, he's been battling everything to get out here and play and he's been good."
Joppru has dropped close to 20 pounds since being drafted, but it hasn't helped with the Texans heat as much as you might think.
"Oh I'm still struggling," the
native said. "It's less water that I can carry around so I actually sweat more now that I am in better shape and actually cramp up more. As far as my cardiovascular shape, I'm great, I just tend to cramp up a little easier."
Joppru is the type of tight end that excels in Kubiak's system. His catch Saturday was another example of how the Texans will use the tight end this season to stretch the field as Joppru's touchdown snag came from about 25-yards out. Now healthy for the first time in his NFL career, Joppru is just glad to be out on the field.
"I'm feeling good," he said. "It gets hot out here and you get a little tired mentally, get a little confused, but that's why we're out here, to think under pressure and under stress."
Meco's the mike: Eight days into training camp, rookie linebacker DeMeco Ryans looks to have emerged as the starting middle linebacker for the Texans. When
drafted him in the second round this past April, they knew they drafted a player who could play both inside and outside. It appears that Ryans has found a home in the middle, at least for now, as he spent most of Saturday running with the first team defense. For Ryans, it's not the speed of the game that he's worried about, it's the defensive calls that he strives to get better at every day.
"I'm still working on it," Ryans said. "It's kind of difficult at times because there is a lot going on. Each day, I try to get better with one call here and there. By the end, I should have it all down. I don't take it all in at one time because it's just too much to memorize at a fast pace."
Regarded as one of the sharpest players on the team by the coaching staff, Ryans is quickly becoming a great student of the game. That's one asset of a solid middle backer, but leadership is another, and Ryans continues to work on that as well.
"I'm prepared to do that (be a leader)," Ryans said. "It's just a matter of going out there and getting the respect from the guys, going out there, making some plays and being accountable to my teammates. If I'm accountable to those guys, I think they'll take on the leadership I'm trying to provide a lot easier."
Injury report: Cornerbacks Dunta Robinson and Phillip Buchanon remained out of action Saturday. Both are expected to return to practice Monday morning and Robinson is looking forward to it.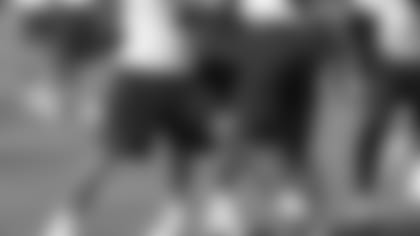 "It's been killing me to be on the sideline watching," Robinson said. "I want to be out there making plays. You're watching the rest of the team get in game shape and I haven't been able to do that because I've been sitting on the sideline watching. So, it's kind of tough, but luckily it's not one of those things that's going to keep me out for a long period of time."
Jeb Putzier and Mike Flanagan both took a day off Saturday. Both offseason additions have been as advertised and Saturday, Kubiak gave the pair a break. Steve McKinney remains out with a sprained ankle. Fred Weary has been taking the bulk of the reps at right guard in his absence. Zach Wiegart returned to practice Saturday as did Mario Williams, who practiced for the second straight day after suffering a toe infection earlier in the week.