 Back to work:The Texans returned to the practice field Monday after enjoying their first day off of training
. Gary Kubiak was emphatic last week that his team could not afford a step back after a break. It appears they might have taken one Monday, at least in the morning. Although it was not discernable to the naked eye, Kubiak called his team's performance "sluggish" and hoped that the performance would not be repeated.
"We have to practice better as a team, it's always about our team," Kubiak said after the morning practice. "I was hard on David (Carr) today because our offense goes as our quarterback goes. When he practices well, we practice well, that's just the way this team is. We struggled this morning, but it's training camp, we just have to come back this afternoon and do better."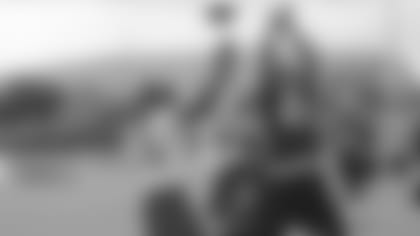 Carr did receive his fair share of criticism during the morning workout. He said after practice that criticism comes with improvement and he had no issue with Kubiak's comments.
"I welcome it," Carr said. "I mean what am I going to do, yell at myself? I've tried that in the past and it doesn't work. He knows how he wants the offense ran. If we are not doing it the right way then he needs to tell us because I would rather have him tell us right now than to find out on Saturday without him telling us."
Credit the defense:At least two players were willing to credit the Texans defense for the offenses' struggles Monday morning. After accepting at least part of the blame for an average performance from the offense, Carr was quick to point out that the defense played well.
"He is an offensive minded coach, so the defense is over there all fired up and coach Kubiak is like that was a terrible practice, sloppy," Carr said. "The defensive guys made some good plays. But he is talking about us (offense) most of the time because if the football is not being caught and run with then our offense doesn't look too good, so the whole team doesn't look good. But we will clean it up."
Dunta Robinson, who returned to practice Monday after missing last week with a sore ankle, shared Carr's sentiments.
"If the offense is being sloppy, the defense is usually playing good," Robinson said. "I'll take some more sloppy practices."
The offense strikes back:The offense answered back in the afternoon practice in the comfort of the Texans Indoor Practice Facility. As rain fell outside, bombs dropped in the secondary as an emphasis was put on the downfield passing game during Monday's second practice.
While the defense didn't fair as well in the afternoon as it did in the morning, Monday's afternoon session did end on a defensive high note with a Mark Estelle diving interception downfield.
Still the story was the offense and Kubiak was pleased with how the offense responded after a shaky ending to the morning practice. Kubiak gave Carr some tough love early in the day, but showered his signal caller with compliments later.
"He (Carr) takes to coaching very well," Kubiak said. "Like this morning, we struggled at the end of practice and I go in and watch the tape and we practiced pretty well until the end. Then we got sloppy and I put a lot of that on the quarterbacks, not just David, but Sage (Rosenfels) too. We came out this afternoon and went over the mistakes we made this morning and we didn't make them again and that's what this game is about."
Kubiak and Carr have already forged a bond, one that grows stronger by the day and the coach commented on their relationship Monday.
"In this league, the coach and the quarterback have to have a great relationship," Kubiak said. You know the pressure that's on that guy taking the snaps and he has to know you are doing everything to make him better. It's been good, I love it. That's why I do what I do. I've been around a lot of quarterbacks and it's a (heck) of a battle to get to the point where you are one of those top three or top-five quarterbacks in this league. That's a battle and a tremendous accomplishment when it does happen, but I see a guy that can do it and he's headed in that direction."
D-Rob's return: While Robinson was all smiles after the morning practice, that was not the case during the Texans two-hour workout in the morning. Monday was Robinson's first practice in a week and he was grimacing early as he tested his ankle. He said after practice that it loosened up as practice went on and Robinson made it through both of Monday's workouts without a problem.
His return gave a boost to a secondary that has been stymied by injuries early in camp, most notably to Robinson, DeMarcus Faggins and Phillip Buchanon. Faggins is out for the foreseeable future and Buchanon should return to practice shortly, but Robinson's presence is critical as the Texans' 4-3 defense continues to take shape. Robinson will be leaned on heavily this season in a talented, but young secondary, and he knows it.
"It's (this season) huge for me," Robinson said. "In order for us to win, I have to have a big year and that's what the coaches have told me and that's what I'm expecting."
Pitts has been bothered by a sore knee as of late so he took a breather Monday to give it a rest. It does not have long-term implications.
It was thought last week that Domanick Davis and Buchanon would return to the practice field Monday. Neither did.
"It's not a surprise to us that he (Davis) is not quite ready," Kubiak said Monday morning. "We keep telling you all tomorrow, tomorrow, but we really don't know right now. We're going to get the swelling out of his knee and put him back to work. That could be Wednesday, that could be Thursday, that could be next Monday. I really don't know, but it's day-to-day. Phillip, I was surprised couldn't work today. We brought him over yesterday and put him through some stuff. We checked his hamstring and he was definitely not full strength. (head athletic trainer) Kevin (Bastin) feels like he's day-to-day."