 Date change: **The open practice scheduled for Friday, Aug. 4 from 8:30 a.m. - 11: 30 a.m. has been cancelled.
Fans can use their tickets from that date to watch any of the remaining open training camp practices, on Saturday, Aug. 5 at 8:30 a.m., Monday, Aug. 7 at 8:30 a.m. or on Wednesday, Aug. 16 at 7:15 p.m.
Rising to the occasion: Head coach Gary Kubiak called Thursday morning's workout the "best practice of the year" despite key players being sidelined with injuries. Kubiak was happy to see that his team remained focused.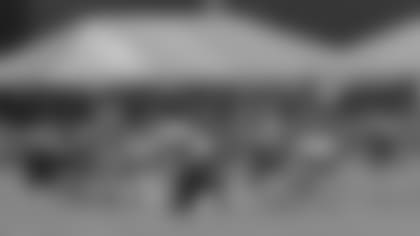 "That's life right now," Kubiak said. "We've got a lot of guys beat up and we could sit here and feel sorry for ourselves, or we could keep battling. We're going to keep battling. We've got a lot of guys out here wanting to make plays and make this team."
Wide receiver Jake Schifino also joined Lundy, Taylor and Morency taking turns during punt returns.

Night moves:The evening practice showcased a variety of offensive schemes that set the stage for some crowd-worthy defensive plays. The highlight of the night was the two-minute drill in which David Carr connected with Andre Johnson for a touchdown on the first attempt.
"There are some good things going on," Kubiak said. "David was exceptional in the two-minute drill, and that's what he has to be. That's his job."
Kubiak is quick to praise those individuals who have showed consistency throughout the seven days of training camp.
"I want to mention a kid that's having a great camp," Kubiak said. "Lewis Sanders is having just a wonderful camp. With all the issues we have at corner, sometimes you get so tied up with who's getting beaten up that you don't mention the guys who are really making a statement. I think he's really making the statement that he wants to play and play quick this year. I tell you, I've been real impressed with him today."
* Fan appreciation:*  An estimated 3,000 fans showed up Thursday evening to support the Texans during one of their six practices open to the public.
"I think it's important to these players for the people to come out," Kubiak said. "These players need to know that they're going to get support from Houston. That's really good support when it's 100 degrees out there and there's people sitting in the stands watching the practice. I think it helps guys get through practice, it gets them motivated and hopefully it's good for the fans."
Competition everywhere: With injuries mounting, many new faces are receiving opportunities to prove themselves to the Texans' coaching staff. 
Right tackles, Zach Wiegert (swollen shoulder) and  Ephraim Salaam (swollen knee) were sidelined during the early practice, but rookie Eric Winston stepped in as the starter and did better than expected.
"He's been practicing behind these two guys (Wiegert and Salaam)," Kubiak said. "I bet when he went to bed last night he didn't think that he was going to be working with the first group today. That's football. When we get going, and you get somebody nicked the first or second play of the game, you have to step in and be a player. We're going to go evaluate the film and see how he did."
Winston was happy for the chance to play with the first-teamers.
"I feel like I went out there today and I competed well," Winston said. "You're always a play away. You just have to be ready, and you have to know what you're doing out there. It's always nice to work with the ones and get to play next to Steve McKinney. It certainly makes you look like a better player by playing with guys like that."
"This team is about opportunity," Kubiak said. "I don't care how you got here, draft-wise, free agent, trade, it doesn't matter. When you get a chance to play, if you step on the field and do it, you're going to play and that's the way we're going to operate."

Salaam returned to action for the evening practice, while Wiegert remained on the sideline.
"Spencer's battling Seth every day neck-and-neck, rep-and-rep," Kubiak said. "There's no doubt he's got the ability to be a starter in this league. How quickly he plays like one of those, acts like one of those, prepares like one of those, that's going to be the telltale (sign). He's having a fine camp."
On the other side of the ball, the team is alarmingly thin at cornerback, but newly acquired veteran Dexter McCleon has given Kubiak some assurance that the pass coverage is in good hands.
"I don't know if you guys noticed at practice today how many plays (Dexter) McCleon made," Kubiak said. "He's a veteran player and he's going to help this team. If we don't find someone, we don't have a problem. (Kevin) Garrett started making some plays today. He's getting comfortable. We're out there looking (for help). Corners don't just walk around. That's tough, but I think if we keep battling, if (general manager) Rick Smith keeps battling, and we as coaches just keep looking around, I think we're going to find some guys that are going to help us."
Letting go: One of the staples of training camp thus far has been a period during practice when coaches head to the sideline so the offense and defense can work against each other without any interference.
"We get off the field and we put them in situations where we're not in their hip pocket all the time," Kubiak said. "You saw us do that today. I think you have to do that. It's easy as coaches to be right in your players' hip pocket all the time about what's going on, what his job is, what his technique is on that play. But how does he play when you're on the sideline and there are 80,000 people screaming? How does he perform under stressful situations? That's why we get off the field and let them do their own thing."
"I want those guys (Johnson and Moulds) to work once a day and I like them working on grass if at all," Kubiak said. "I want to give them a break, during two-a-days I'd rather it be when we're in here on the turf."
Williams was out Wednesday with a toe infection, but it wasn't on the same toe that he dealt with earlier this offseason.
"Mario could have gone this morning," Kubiak said. "I just said, 'Hey, we're on the turf and I want him on the grass this evening.' That was strictly on me."

All four were back in action for the evening practice.
Injury report: Cornerback Phillip Buchanon left morning practice to get his hamstring checked.
Domanick Davis will rest his knee through the weekend in hopes that the swelling subsides. He will be back on the field on Monday morning, according to Kubiak.
After Chris McKenzie collided with wide receiver Kevin Walter earlier this week, Kubiak announced Thursday that the second-year cornerback suffered a season-ending fracture to his shoulder socket. In addition to McKenzie, cornerbacks Dunta Robinson (ankle), Demarcus Faggins (ankle) and Buchanon (hamstring) are not practicing, though Robinson is expected to return shortly, and Buchanon's diagnosis hasn't been confirmed yet.