* Steady progress:*Practice ended early Thursday as head coach Gary Kubiak rewarded the team for their hard work under humid conditions. Another reason for the early departure was to allow the players' minds to rest after completing the first step in the installation of the playbook.
"We teach in an eight-day segment, so we finished our last day of actual teaching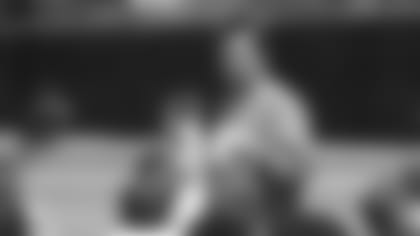 today," Kubiak said. "We threw a lot at them and they were swimming for a couple of days and we got a little sloppy, but they battled back. The thing that I'm most concerned about, or that I wanted to get done, is just (teach them) how to work, the tempo that we want and how we want to practice, and we've done a good job of that."
At this point, the Texans' defensive execution appears to be slightly ahead of where the offense is. That doesn't surprise Kubiak, who expected the learning curve to be a bit steeper on offense.
"It usually is," he said. "That's the way it usually works. But if (the defense is ahead), we have to catch up. We have to get both sides going fast. We have more ground to make up than anybody. So we just have to keep pushing."
Cram session: Nobody has had more information thrown at them the past two weeks than quarterback David Carr. Kubiak admitted Thursday that his demanding approach with Carr is by design.
"I've been hard on him, but I expect a lot from him," Kubiak said. "As I told him today, that's the way I'm going to stay and that's the way we're going to work because you're going to play well for this team. I'm going to keep pushing him, and he wants to be pushed. He's responsive to all of that. How David Carr goes is probably how this team is going to go, so we have to get him going right."
To ease the pressure on Carr, Kubiak has emphasized to him that he has 10 teammates that will shoulder a lot of the responsibility. That being said, Kubiak wants his starting signal-caller to set the tone, and he believes Carr has done that with his selfless attitude and response to all the adversity he has faced.
"I've learned that he's a tough young man," Kubiak said. "He's been through a lot. He's been on the ground a little bit through the past few years. It would be easy to say, 'Hey, well, there's nothing I could do there. Or that wasn't my fault.' He doesn't operate that way. He takes a lot upon himself. He's a hard worker. There's nothing about David that you're not looking for as a coach. He comes out here ready to go every day."
Carr has been all ears, and is happy for the fresh start. The past four seasons, including the 2005 campaign, are distant memories to Carr, and he plans to keep them that way.
"It's a clean slate," Carr said. "(The coaches) said it and they've also stuck to it. They haven't brought up anything from the past. They haven't brought up anything that we've done offensively at all.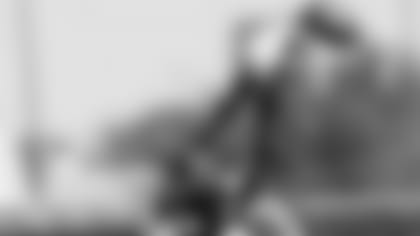 "I'm definitely excited. This is awesome."
Best man wins:Cornerback Dunta Robinson, one of the Texans' most valuable defenders, has been fielding punts alongside cornerback Phillip Buchanon. Wide receiver Jerome Mathis also will log some reps once he's fully recovered from his motorcycle accident.
The possibility of placing one of the team's best players in one of the most vulnerable positions doesn't bother Kubiak, who believes Robinson could be a lethal weapon in the kicking game.
"We're going to put the best guys back there," Kubiak said. "I'm not worried about protecting this guy or that guy. If that's the best guy back there on game day—if that's Dunta, if that's Jerome, if that's Phillip—whoever helps us win the game, that's who we're going to put back there. There's no saving. The best one is going to play."
Added insurance:After practice Thursday, Kubiak and several members of the Texans' scouting department watched free agent Nick Luchey work out with quarterbacks Matt Baker and Quinton Porter.
The 6-2, 267-pound fullback played with the Bengals last season after spending the past two years in Green Bay with assistant head coach/offense Mike Sherman. The former Miami Hurricane was drafted in the fifth round of the 1999 NFL Draft by the Bengals.
"I think it's important that we find a veteran fullback with a little experience in this league," Kubiak said. "We're very excited about Jameel Cook, as you guys can see out here. He's been exceptional, and a leader out here. But we need to get him some help. Those two young kids (rookies Quadtrine Hill and Scott Weaver) have got a chance, but the experience would really help us right now. So we'll keep looking."
Injury report:Linebacker Charlie Anderson missed practice with a sprained knee. Anderson feared the worst before x-rays showed that he could return in a few weeks.
"He's going to be fine," Kubiak said. "He's very, very fortunate. (Head athletic trainer) Kevin (Bastin) seems to think he actually could probably come back toward the end of the last mini-camp, but we won't do that. We'll get him healthy and get him ready to go. I just want him out here knowing what he's doing. But he's going to be OK. We got lucky."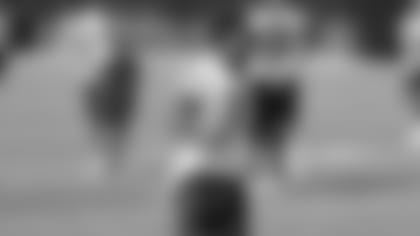 Running back Domanick Davis, who continues to rehab from his knee surgery, was absent from practice for the birth of his child. Kubiak expects the team's leading rusher to get some work in during mini-camp.
Other players have been slowed by minor ailments, but Kubiak anticipates most of them to be healthy by next week.
"We're a little nicked up," Kubiak said. "We have had a few guys missing time the last couple days. So we'll give them a long weekend here, take a break and come back next Tuesday."