 The Texans have proven themselves to the coaching staff, and they were rewarded for that Monday afternoon. The team went out in full pads for the morning session, but only players on special teams coverage units were required to show up in for the afternoon practice.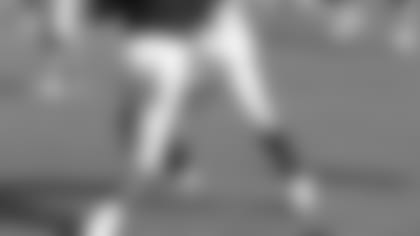 "We'll do that every other afternoon to give those guys a break," head coach Gary Kubiak said. 
"It lets the other guys stay in and get off their legs.  It also gives these guys a break and it gives coach (Joe) Marciano his own practice to come out and concentrate on some of his specifics."
From day one, this coaching staff has paid considerable attention to the special teams unit, and the team is starting to take notice.
"Special teams is extremely important and we're trying to send that message to all these young players," Kubiak said.
"If you're going to be on this team, you're going to have to contribute to special teams."
Kicker Kris Brown welcomed the added attention to the kicking game, and knows that it will take another strong year from special teams in order for the Texans to be succesful.
"As good as offenses are and as good as defenses are, if you look at what special teams can do for a team, sometimes special teams is the biggest factor of a game," Brown said.
"There's a lot of hidden yardage and plays there. If we can have an impact on helping our offense or defense based on where we're giving the other team the ball or putting their offense in a bind, it makes their job that much easier."
The rest of the team reported to meetings for the afternoon.
In the red zone:One of the most essential parts of the game is for the offense to be able to convert in the red zone. The morning practice featured the offense and defense rushing and passing inside the 20-yard line.
"They're doing some good stuff  andwe're playing a lot of guys, rotating them and there's some great competition going on there," Kubiak said.
"I like the way they're picking up what we've been doing with them. We have a long way to go, but today's red zone practice was really impressive to me. I thought they came out off the ball well."
Overall progress:Football two-a-days can be grueling, especially without the reward of a Sunday game. The first preseason game is less than two weeks away, when the Kansas City Chiefs come to Reliant Stadium, and players are focusing on that light at the end of the tunnel. But it can be tough going through the preseason grind.
Kubiak is confident, though, that the team knows it must maintain its work ethic despite the harsh schedule and conditions.
"I think the guys know what's expected of them every day and our meetings at night," Kubiak said.
"I think they've settled into that. It's the only week really in the NFL where you go all week and you really don't test yourself at the end of the week, so it's all about business this week and then we'll start getting ready to play next week."
Leave no man behind:Kubiak's direct approach to calling out his players has caught the attention of many. He believes it is a good thing to be up-front because it makes each individual accountable for his performance.
One example of a player that Kubiak has high expectations for is defensive tackle Travis Johnson.
"It's not so much me, it's our team's challenge to him, to the players and each other," Kubiak said.
"They need to be able to look at each other and say 'We need you to be ready to go. We need you to be a great football team.' So it's about all of us, not just me challenging him. We're all trying to get everybody going in the right direction."
Another player that has shown improvement in just his second day in a Texan uniform is Dexter McCleon.
"When he came out yesterday and put on the pads for the first time he struggled a little bit," Kubiak said.
"But he practiced better yesterday afternoon and even better this morning. So I expect him to get better day-by-day."
Rookie update:There's a lot going on in the minds of the Texans rookies. There's a lot of learning to do, from adjusting to changes to trying to prove themselves on the field.
"I'm trying to show that I can be a complete tight end," Owen Daniels said.
"People have labeled me as a receiving guy. I just have to work hard in (the blocking) aspect of the game. I'm learning from the older guys every day. Mark Bruener is a great teacher of the game. He's one of the best blockers I've seen at tight end in my whole life."
Wali Lundy is setting high expectations for himself.
"If I get a chance, I think I can show what I can do," Lundy said. "I don't want to say I'm going to go out there and dominate, but I can say that I will play the best I can. I think I can be productive."
"We're going to play him inside and out," Kubiak said.
"One of his strengths is he's a smart young man and he did a lot of that in college. And if we leave him in one spot people can lock in on it, so you move him around a little bit and you create some more problems. He's picking up and (defensive coordinator) Richard Smith wants him to do well."
DeMeco Ryans also has impressed the coaching staff with his work ethic.
"I think there's a certain type of guy who is real successful in this business as a player," Kubiak said. "He's studious in the classroom, very accountable and stepped in there like a vet with these guys. I think he's ahead of the curve from that standpoint.. An exceptional man."
Injury report: Linebacker Wali Rainer will have surgery to repair a fractured ankle. He is expected to be out for the season.
Meanwhile, Domanick Davis is still sitting out on the sidelines nursing a sore knee.
"He went two days and got very sore the third day and we knew that was coming," Kubiak said. "We're going to do the smart thing. Even if that means Dominick doesn't practice tomorrow and takes another day and comes back for two. He's got a knee that's giving him some problems, but he's also proven that he knows how to get ready to play through that adversity so we're going to do what's best for him and the team."
Kubiak also said that it will take five weeks before a decision is made on  whether or not Jerome Mathis will be back this year. Kailee Wong's condition is week-to-week and will be determined in about three weeks.