* In and out:* The Texans got an early start to their third and final day of their first mini-camp of the offseason. Gary Kubiak had been starting at 9:30 a.m., but the combination of the heat and a team meeting to follow had the Texans on the field at 8:30 a.m. Friday.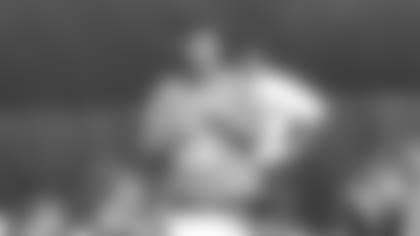 Not only was the practice earlier than normal, it was shorter as well. Typically, practice has run close to two hours, but today the Texans were on and off the field in a little less than 90 minutes. As Kubiak closed his first mini-camp as head coach of the Texans, he was pleased with team's effort over the past three days.
"We've had some great work," Kubiak said before heading to a post-practice meeting. "I want them to get to the point where they come out here and have an hour and 20 minute practice and they can get after it from the start. Today was a good indication that we're learning how to do that."
Though practice was short, the team period did not suffer. The full offense and defense went at it for more than 30 minutes Friday with both sides making some nice plays. An Eric Moulds reception deep down the sideline was one of the highlights for the offense, while a Chris McKenzie interception during 7-on-7 drills highlighted a productive day for the defense.
Go deep:Unlike last season where the tight end position was more of an afterthought than a weapon, this season the middle of the field should be open with the addition of Moulds and the return of a healthy Andre Johnson. The Texans added Jeb Putzier to help stretch the field, but they'll be asking Mark Bruener to do a little more than just block this fall. It's a role that even Kubiak admits the veteran tight end is not accustomed to, but the first-year coach also knows Bruener brings more to the team than just his football skills.
"We're asking him to do more running down the field than he's done in the past," Kubiak said. "But he's doing a good job. He's a leader on this team. Guys respect him and that's a good solid group (tight ends) going into camp."
it appears that Ryans fits that mold.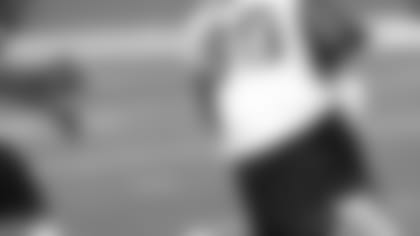 "Basically, it's tough competition every week (in the SEC)," Ryans said. "Week in and week out, you never had a week off and that's how the NFL is, but on another level. If you take a week off, every team is able to beat the other team, so it's a pretty fair game, just like the SEC."
While the SEC is one of the premier football conferences in the country, Ryans still acknowledges he has some improvements to make to get ready to play on Sundays.
"I think for the most part my instincts are pretty good and I've got good speed," Ryans said. "But I think I need to work on getting off blocks quicker. I find myself staying on blocks too long and the ball is just running right beside me. So just getting off those blocks quicker is something I need to work on."
In the fold:Perhaps no player on the Texans' defense had a larger role than Antwan Peek last year. Today, the defensive end was rewarded for his efforts and production by signing a new deal, general manager Rick Smith announced.
Terms of the contract were not disclosed for the restricted free agent who was chosen by the Texans in the third round (67th overall) of the 2003 NFL Draft out of Cincinnati.
Injury report:No additions to the walking wounded following Friday's workout as the usual suspects remained out. Mario Williams was held out for a third straight day after having both his big toenails removed on Monday. He could be back on the field as early as Monday.
"Everybody's fine," Kubiak said after Friday's workout. Same guys didn't practice today that haven't been and hopefully Mario (Williams) will do something next week."