Last dance: The Texans ended their second and final mini-camp of the offseason Tuesday morning with what they hope will end some games this year: a Kris Brown field goal.
had the option of having a third mini-camp if head coach Gary Kubiak chose due to the fact that Kubiak is in his first season. Instead, Kubiak decided against the idea and took it easy on his players this week after a busy last month. Players will be off until they report to training camp on July 27, though many will choose to work out voluntarily at the facility.
"It's been a good month," Kubiak said. "I wanted to make sure that we left this week in one piece with all the guys that were healthy, didn't want to get anybody nicked up, that's why we took the helmets off the last couple days. But we've had good work. The key is now do we pick up where we left off or do we have to start over? That's the important thing."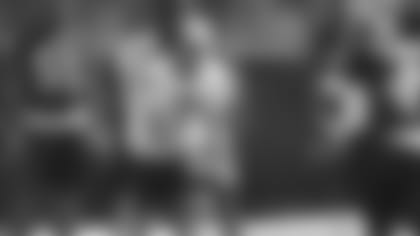 The Texans spent much of Tuesday in team drills, where they worked on both the offense and defense simultaneously. The linemen got some individual work, but for the most part the day was spent making sure both the offensive and defensive units had a strong grasp of their respective playbooks before the team heads off for a five-week break.
One player that seems to be handling the new offensive playbook well is quarterback David Carr. He received some high praise from Kubiak.
"I think he's (Carr) the most improved player from this offseason," Kubiak said. "From the day we walked out here until today, I really thought he was the most improved. Yet he still has a long way to go. The key to David, like any other player, and I've already spent a ton of time with him, but David's got to come back and pick up right where he left off. We can't go back and work on things that we were trying to clean up. Nobody's worked harder. He's been out here every day, but he always has been, so I didn't expect any different."
Numbers strengthening:It's been no secret that the Texans have been a little shorthanded at the linebacker position over the past few weeks, but Kubiak said Tuesday that at least two more linebackers should be ready to go when training camp begins on July 27 th.
"I feel fine about Charlie (Anderson) and with Sam (Cowart) doing something the last couple of days, it makes me feel like (Sam) might be ready now," Kubiak said. "Those two guys I feel 100 percent about them being ready to go when we get started. Now Kailee (Wong), the plan all along is probably looking a little further down the road than that, but we'll see. He's made some progress and we'll see where he's at when he comes back in July."
Even with the return of Anderson and Cowart expected in late July, Kubiak said that linebacker depth will be one of the key issues during training camp.
"Yeah, it is a concern, but it's a group that has a chance to be strong in numbers," he said. "It's a group that has some veterans, different players that we've accumulated. Who ends up being the starters is going to be a tough, tough call. The key to that is guys like Kailee coming back and Sam coming back."
Big Ben reaction: A day after Pittsburgh Steelers quarterback Ben Roethlisberger was seriously injured in a motorcycle accident in downtown
, Texans players and coaches were quick to react.
Carr, one of the team's franchise players, wished Roethlisberger well, but didn't hesitate to point out that a player in Roethlisberger's position risks more than just his own career when engaging in risky off-field activities.
"You have to be careful with whatever you're doing," Carr said. "You can get in a car accident going fast, too. I'm not saying Ben was, I don't know what happened in this situation. You just have to be careful because you're not just tied to yourself and your family, but all the other guys that are out there in that huddle for you. Their contracts and their families' lives depend upon whether you're out there, too. You just have to be careful."
Kubiak has been part of a team that was seriously victimized by an off-field accident before. Just last year in Denver, Broncos' offensive lineman P.J. Alexander was involved in an accident that cost him his starting job. Recently, Kubiak was affected by a motorcycle accident involving Jerome Mathis, though Mathis' accident was not nearly as serious as Roethlisberger's. 
"All you can do is preach to those guys," Kubiak said of how he warns players of off-field dangers. "I told them the other day that you've only got so many years as an athlete, you're not going to have this talent for long and you better take advantage of it. If you do something like that, you're playing with danger because it takes away your time that the good Lord gave you as a skilled athlete. All you can do is preach it. We had the incident here with Jerome and then we said no motorcycles, but you can't follow them home. It's just a tough situation."