SLEEPLESS IN HOUSTON: When it comes to life-changing situations, it doesn't get much better for Texans linebacker Kailee Wong.
Wong's wife Marissa gave birth to the couple's first child over the weekend, Makai Lee Wong. And the little boy has quickly become the center of his father's life.
Wong has been a ghost at practice, playing hard for two hours, and then darting off to see his seven-pound, 11-ounce bundle of joy.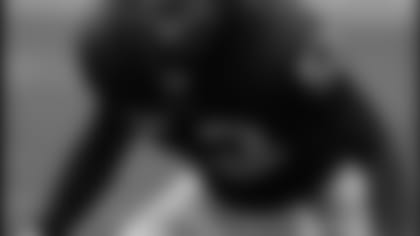 "It is an unbelievable experience," Wong said, hurrying off the practice field Tuesday afternoon. "It's the best thing to ever happen to me. It's so awesome, I can't even describe it with words."
Or maybe it's the sleep deprivation affecting his vocabulary.
Wong said Tuesday he hadn't really slept in 47 hours. He's ready for some rest, but ready to be a father more.
"I'm looking forward to everything about being a father, just being there, being his best friend, being a good role model to him and just raising him in the right way where he's a good man," Wong said. "He's a stud man. He's a strong little kid. A lot of people won't believe me, but he actually picks his head up already. He's a tough little one."
PUNTING AROUND:Wong and the rest of the defense got a pleasant surprise Tuesday afternoon, earning a day off through what has become a tradition at Texans camp.
The team played a different kind of game after practice, picking a team of five linemen – offense and defense – and alternating chances at catching a punt. The team with the most catches got the night off.
It came down to the last punt, with defensive lineman Robaire Smith being the hero for the defense. Smith caught the final attempt of the afternoon, showing some lateral speed to get under ball and make the catch.
QUOTABLE:Texans head coach Dom Capers on rule changes concerning penalties on defensive backs: "I think I've got a pretty good feel of what they're going to call. We've been trying to be very strict in our approach out here in terms of what we think will be called in terms of grabbing jersey and those types of things. You don't want to get into a game and it becomes a frustrating situation where you have more than your share of penalties."
INJURY REPORT:More players returned to practice Tuesday afternoon.
Defensive linemen Seth Payne and Junior Ioane took part in team drills. Payne saw the most practice he has all preseason. He has spent most of his time in individual workouts to rehab from a torn anterior cruciate ligament.
Defensive back Glenn Earl also returned to practice.
"I think (Payne) feels good about it," Capers said. "I know he's anxious to get back out there. He's been wanting to get into team. We're obviously being cautious and I think a big part of it is regaining the confidence…"
Capers said offensive lineman Zach Wiegert is a week away from returning full speed to practice. He said Wiegert will be finished with IV's to cure an infection in his elbow over the weekend and may return Monday.