ALL-PRO DAD CANCELED:A capacity crowd was on hand to attend the Houston Texans All-Pro Dad's Night, but weather forced the event to be canceled. Lightning and rain forced the team into the bubble and hour into the evening practice.
David Carr, Todd Washington and special teams coach Joe Marciano were scheduled to speak at the event.
WAITING ON THE BOYS: The Cowboys return to Reliant Stadium Saturday night for the first time since the Texans upset them Sept. 8, 2002. It was the first game in Texans history.

Tight end Billy Miller has been hampered in training camp with back spasms, but returned earlier in the week. Miller gave the Texans a 7-0 early in the game, catching the first touchdown in team history.
All that aside, the team is ready for the rivalry game.
"Well, that seems like ancient history now," Texans head coach Dom Capers said of Miller's catch. "These guys, after you go through two weeks of practice, you're ready to go out and play a game against somebody else."
LIFE ON THE LINE: The Texans' offense may not be starting a rookie for the first time in two years, but that doesn't mean the unit hasn't undergone any changes.
Offensive lineman Chester Pitts was tested early and often in his NFL career, starting at left tackle as a rookie in place of Tony Boselli. That first year the line gave up a league-record 76 sacks.
Last season Pitts and his teammates allowed only 36 sacks.
"I had to grow up fast," Pitts said Wednesday morning. "It's a position where you have to be a smart guy and go out there and try to grab the bull by the horns and go to work. You have a lot of responsibility out there when you're protecting the quarterback's blind side. You can't let the franchise get killed out there."
Pitts was finally growing comfortable with the pro game after allowing just one sack in two seasons at San Diego State. Then, when his future seemed the brightest, Capers called him into the office.
There would be a change in 2004. Offensive lineman Seth Wand would start at left tackle. Pitts would move to guard.
"I wouldn't say I was disappointed," Pitts said. "At first it was a little blow to my pride because I felt like I didn't do a good enough job."
But Capers eased his fears. Pitts was doing a good job – so good coaches thought he could help the team better on the inside of the line. Adding Wand on the outside gives The Texans a formidable front five with an average height of 6-foot-5 and an average weight of 319 pounds.
Pitts compares his move to that of Marcus Coleman, who may be a better free safety than cornerback.
"Of course we bumped him guard and we feel good about him being at guard," Capers said of the switch, which has been one of the more successful moves thus far in camp. "We feel like he's got those kind of abilities. You always look for a guy you know you can count on being there week in and week out."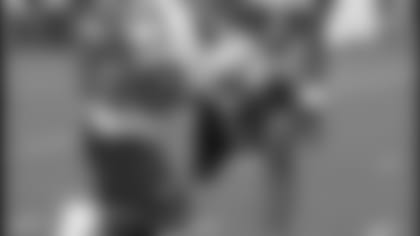 Anderson has been all over the field during camp, playing several positions on kick return and coverage. Capers said the team could use him as a return man Saturday night against the Cowboys.
"He's proven himself well out here on the practice field," Capers said. "The next step is to see how he does in a game situation. You have to be able contribute on special teams like any young guy coming in.
"He has some physical tools and I think he's working hard. He's been able to stay healthy and stay on the field. We'll see how he does Saturday night."


EVENING HIGHLIGHTS: Wide receiver Andre Johnson caught a 34-yard touchdown pass from Carr during the two-minute drill. Johnson had three catches on the drive.
Wide receiver Sloan Thomas took a Dave Ragone pass 65 yard on the first play of the second-team two-minute offense. Thomas outran a few defenders on the play, taking a short pass and turning it into the big play.
Wide receiver Derick Armstrong hauled in a touchdown pass from Carr in red zone drills, finding the ball in the air and adjusting a couple of times before pulling it in over cornerback Dunta Robinson. "As far as catching balls when they're contested, when there are people close to him, he does as good a job as anybody on our team," Capers said. "He can lay his body out and make the tough catches. We've seen him do it repeatedly."

QUOTABLE: Capers on playing time Saturday against the Cowboys: "We've got an awful lot of guys we need to get playing time. It's one thing when you see them out on the practice field, but you always want to see how it carries over on the game field in normal game conditions."
Capers on Tony Banks: "Without Tony Banks last year we win, what, two games? We take the Patriots into over time with Tony Banks as our starter. He went in and performed well. All the guys on this team have confidence in Tony Banks, he's a veteran, he's been around. That's the value of having a veteran backup quarterback."
* *
Running back Domanick Davis on his progress: "I'm standing on my toes too. I know I got to hurry up and get well and get out here and do my thing because there are guys under me that want my spot. I just have to stay focused, heal up and be ready."