CLOSING TIME:It's finally over. Training Camp 2004 is finished. The Texans closed camp with smiles and an overwhelming feeling of relief.
"They checked out of the hotel tonight so we've broken camp officially," Texans head coach Dom Capers said Monday afternoon. "They know that anytime you start getting on this type of schedule you're getting close to playing regular games.
"I think we've had a good camp. We've had one good (performance); we've had one poor one. For the most part I think we've gotten the things done that we wanted to get done and we've stayed relatively healthy."
It doesn't signify the end of practice – on the contrary, it's really just the beginning – but it does mean an end to long hours and nights in the team hotel.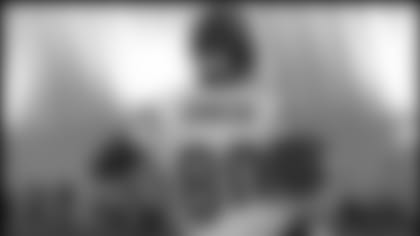 "I'm just glad camp is over," wide receiver Andre Johnson said. "I don't feel as comfortable staying in the hotel as I do at home. Yeah, I make my own bed at home, but my bed is more comfortable at home than it is at the hotel."
Other players are ready to get settled into new homes. Rookie linebacker Jason Babin was in town for just a few weeks before being sequestered in the team hotel.
"It's a little disruptive, but I think they like to have things their way and that's the way it goes," Babin said of the requirement to stay in the hotel.
He also had the pressing issue of learning a playbook and becoming a starter. He was admittedly "swimming the whole time in camp."

Family time was put at a premium during camp. Starting quarterback David Carr had to play with his two sons during the few precious moments after practice. Tight end Billy Miller's family came to several practices.

He said it kept him from falling apart. Physically problems were bad enough. Miller, who missed the first week of camp with back spasms, said he spent several nights on the hotel floor.
"Nothing is good about camp." He said. "I can't think of anything that's good about camp. Camp is just camp, it's not the fun camp you went to when you were a little boy. It's non-stop work and football.
"My family comes out everyday, I'm a family guy. If I have to go a day without seeing my little guys and my wife I'd probably have a terrible practice."
MISSING FOR FRIDAY:Johnson will miss Friday's game against the Broncos because of a death in the family.
"It's one of those things," Capers said. "Of course, you'd always like to have Andre, but he's got a personal issue he has to attend to. Family always comes first so we'll miss him, but he'll be back in here and ready to go for the next week."
THE PRACTICE AFTER:Linebacker Kailee Wong was less than thrilled about his performance in a 38-3 loss Saturday at Pittsburgh. Of course, he was playing a new position.
Capers moved the seven-year veteran from outside to inside linebacker against the Steelers. It was the first time he played inside since 1998. The head coach said he did a good job, but Wong said he could have done better.
He called the experience "strange" and said he was more tentative than he expected. He felt a little better about his performance Monday morning.
"I got good reads," Wong said. "I didn't get myself in the best position, but for the most part I had the proper reads. My lines were probably a little jacked up."
Wong had five tackles in limited action. He worked inside with both Jamie Sharper and Jay Foreman leading up to the game at Pittsburgh, but will move back to the outside in preparation for the Denver Broncos.
Capers said there are no plans to make Kailee a permanent fixture inside.
"Right now, I'm back at outside linebacker," Wong said. "We knew it was going to be a one week thing. At least that's what the plan was. I'm trying to step left if the ball carrier is stepping to that side. I'm trying to go with the flow. I don't want to be running in to any other linebackers. For the most part, at least that was accomplished."
RETURN MAN:Wide receiver Jabar Gaffney saw time at punt return Monday for the second time in camp. He worked out at the position the first week of practice.
Capers said the team will continue to rotate as many players as possible through the position and the rest of special teams looking for good combinations and flexability.
"We're going to take a look at Jabar," he said. "We're going to give him an opportunity to return some punts. He's a sure handed guy. He catches the ball well. He's been our backup guy and he's caught some for us."
TIME CHANGE:Capers moved Monday afternoon's practice to later in the day to give the team more time to view the Steelers game film.
He said the team is eager to bounce back from the lopsided defeat and because of that, is glad there is a short amount of time before taking the field again.
"I changed the schedule because I thought it was real important that we not have to hurry through the Saturday night game," Capers said. "There were a lot of things we needed to take a look at. We certainly didn't want to gloss over so many errors."
QUOTABLE:Cornerback Dunta Robinson on tackling Steelers running back Jerome Bettis Saturday night: "The shoulder is still a little stiff. I've got to do what I can to get him down. I had to tackle him three times. I made sure I kept up with that stat. It was rough, but he came down. It was like running in to a brick wall full speed. I was kind of dizzy; saw two of him when I got up. It's rough, but that's the game."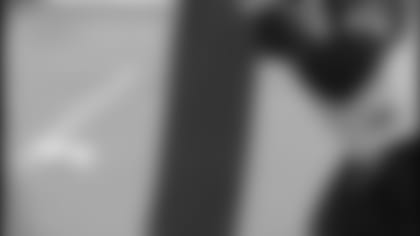 Defensive end Robaire Smith on being aggressive: "I think it's really just a mindset. Anytime you get in between those lines and you see a guy that's 330 in front of you it's not funny anymore. You have to protect yourself and do what you've got to do to make a play. That's what we're out there for is to make plays."
INJURY REPORT:Linebacker Marcus Bell (shoulder strain) and cornerback Vontez Duff (rotator cuff) did not practice Monday.
"Well, if he's totally healthy he'll go," Capers said of Davis' probability for Friday's game. "We'd like to get him in and get him a little action."