HONORED GUESTS:Texans quarterback David Carr was very matter-of-fact when it came to practicing against the Dolphins Friday morning.
The Texans beat Miami 21-20 last season. So it wasn't about revenge. It was about gaining more respect in the franchise's third year.
"Our team can match up with anybody," Carr said. "We just have to go out and prove it."
Proving it took another step Friday morning – the first time the Texans practiced against someone other than themselves in training camp.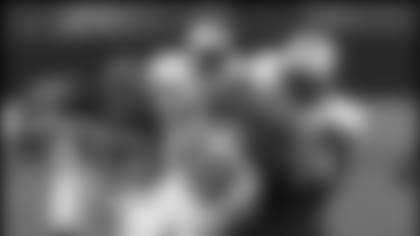 The teams practiced under overcast skies and temperatures in the low-90s, working on a variety of individual and team drills.
"I like the ways our guys compete," head coach Dom Capers said. "I think we are a more mature team than we were this time last year when we worked against either the Cowboys or the Broncos. I see that when I look at our team on both sides of the ball."
The teams will work on their two-minute and red zone offenses Friday afternoon. Another practice will be held Saturday morning before a scrimmage at Reliant Stadium that afternoon.
Both teams had their shares of joys and disappointments in the first of four scheduled workouts.
"We're obviously trying to get a lot of things done in a short amount of time but the effort was good and the execution was good," Dolphins head coach Dave Wannstedt said. "There was some carryover between what we were doing back home to down here. That's one of the things we're evaluating."
*
*BOSTON INJURED: **Dolphins wide receiver David Boston injured his left knee in the afternoon practice. He sat on the ground for several minutes with trainers huddled around him before being helped to a training table where he spent the remainder of practice.

"I think it was a fade route," he said. "We both turned to go to the ball and his knees just gave out. I turned around and he was on the ground. I heard him moan a bit. I don't think it's nothing too serious, but he did hurt his knee."
Wannstedt was unsure of the severity of the injury but said doctors would examine the knee.
Boston has 25 career touchdowns and 4,619 career receiving yards. He was acquired during the off-season through a trade with San Diego.
AFTERNOON HIGHLIGHTS:The Texans defense held the Dolphins offense to three-and-out in its first attempt during two-minute drills.
Cornerback Rober' Freeman picked off a pass late in the two-minute period.

WORKAHOLIC:It has become as routine as lunch and film sessions – linebacker Jason Babin staying after practice and sweating his way into the Texans defense.
Babin, a first-round pick from Western Michigan, is making the transition from defensive end to outside linebacker in the Texans 3-4 scheme. Learning the pro game and a new position has been sort of a double whammy.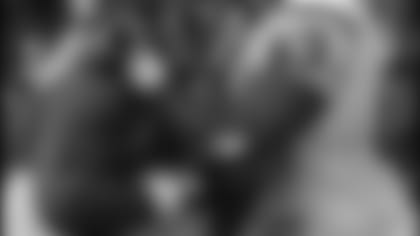 He and fellow rookie, Robinson, have been on the field more than anyone on the defense.
Babin admits he "jumped on (Wong's) shirttail" when he arrived in Houston.
"It's very complicated," Babin said of the defense. "The most important thing for me is studying the game and learning. Kailee Wong has been staying with me after practice everyday, staying with me in the film room everyday. To me, that is the best thing that could have happened. He has so much experience and talent."
QUOTABLE:Capers on Texans rookies: "We have to get a good look at these young guys and get them as much work as we can in the scrimmage tomorrow and on into the preseason games. They'll play quite a bit."

Wannstedt on the Dolphins running game: "We were running the ball extremely well today. The offensive line is coming together. I was really pleased with the execution form our running game as strange as that may sound. Travis Minor, just like we said all along, When his number has been called he has stepped up and met the challenge and he's doing that now."

TIGHT END UPDATE:Tight end Deitan Dubuc sprained his ankle in the morning practice.
Dubuc, who signed with the team Aug. 4, was brought in to add depth to a position filled with injuries. Jabari Holloway (groin) and Billy Miller (back spasms) have not been practicing with the team.
Capers appeared frustrated by the plethora of injuries at the position. He said the injury was somewhat severe.
"We're struggling at the tight end position," Capers said. "He'll be gone maybe a week or so. Other than that, we had just normal bumps and bruises. We made it through the morning fairly well.
"It's the way it always goes. It seems like invariably they all come at one position. It seems like tight end is the position this year."

INJURY REPORT:Center Dennis O'Sullivan injured his knee during the afternoon practice and was carted off the field. Cornerback Darrick Vaughn's knee tightened up early in the afternoon practice. He later returned.

Offensive lineman Garrick Jones (back spasms), running back Domanick Davis (knee) and linebacker Shantee Orr (sick) were limited during the afternoon practice. Davis did not practice Thursday because of puffiness in his left knee and was limited Friday as a precaution.

Capers said center Steve McKinney (hamstring) and Miller (back spasms) should return to practice Monday. Offensive lineman Zach Wiegert is still out while he finishes a series of IV's to clean the infection in his elbow.