After a little more than two weeks of training camp, the Texans came out ready to play Saturday night. Proof of this was the 24 points the offense put on the scoreboard by the final whistle.
Even with just about everybody on the roster getting checked off for participation throughout the game, there were a few standouts, especially on offense.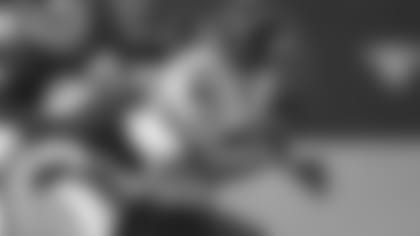 Quarterback David Carr rushed for 20 yards in the first quarter, a career preseason high. Carr, along with Sage Rosenfels and Quinton Porter, combined for a total of 152 passing yards for the game.
The Texans' rushing yards, 173, surpassed the 172 total yards of offense by the Chiefs. Rookie running back Wali Lundy had an explosive debut as his 58 first-half rushing yards were the most ever by a Texan in the first half of a preseason game.
"I felt like I had prepared myself over the weekend," Lundy said. "The coaches really prepared us to come out and play, especially coach (Joe) Marciano, he told me to go out there and have fun, and that's what I did."
Overall, the Texans' finished the night with 325 total offensive yards and scored in every quarter of a preseason game for the first time in club history.
"I really feel like we've built a nice level to start progressing," offensive guard Chester Pitts said. "We scripted some plays and some we didn't. Today we went a little off the script. As long as the plays work, it really doesn't matter."
For only the second time in preseason team history, the Texans did not surrender a sack. However, they collected five of their own thanks to a bolstered defensive line headed by rookie Mario Williams, who recorded an assist in his NFL debut.
"I've got a lot to work on," Williams said. "As far as really studying film, especially when the season comes and we see which guy is playing and we can pick up his tendencies as opposed to going out there in preseason. You don't know because they're just rolling guys in. I've never watched film on these people before."
A different look for the offense was the full integration of the tight ends to the receiving corps. Rookie Owen Daniels led all receivers with 29 yards on four receptions. That wasn't necessarily a surprise. Tight ends were almost forgotten in last season's offense. The position accounted for only 10 percent of the Texans' total receptions. Meanwhile, the Broncos' tight ends caught 22 percent of the team's total passes in 2005, when Texans head coach Gary Kubiak was the offensive coordinator.
"We (tight ends) get put in a lot of situations where we get checked off or we're the main option on certain plays," Daniels said. "That puts a little pressure on us to make some plays, but it's better than not getting looked at at all." 
Daniels also shared the thoughts of many of his teammates about Saturday's preseason debut.
"It felt good just to be out there playing against somebody else besides our own team." Daniels said. "I feel pretty comfortable with it. I still have some work to do, as everybody does in terms of knowing what's going on and conceptionally getting the hang of things. I've think I've done pretty well so far."
That rings true for the entire Texans' team after Saturday's win.