INDIANAPOLIS -As Brady Quinn made his way through the bowels of the RCA Dome on Friday, he managed to turn quite a few heads.
Though the home of the Super Bowl champions was filled with personnel from every NFL team who see elite athletes nearly every day, it didn't stop almost everyone in attendance at the NFL Scouting Combine from stopping for a moment and watching the 6-3, 232-pound quarterback saunter by.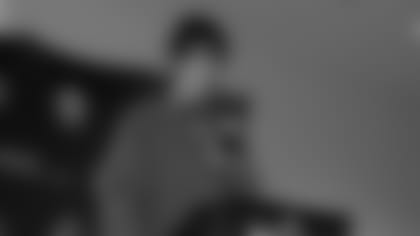 Quinn has been a hot topic lately. Once thought to be the consensus number-one selection in April's draft heading into his senior season at Notre Dame, Quinn is now thought to be a lock for the top-10, but no longer a sure thing at number-one overall to the Oakland Raiders.
Despite his diminished status, Quinn still drew quite the crowd as he made his way to the media area where he spoke for nearly 20 minutes on topics ranging from a sore knee (he hurt it against USC late in the season and again in the Sugar Bowl against LSU) to how he felt about is stock falling in the draft.
"No offense to anyone out there, but I try to avoid reading all the articles, watching all the shows just because right now it's time for us to be working out," Quinn said. "Obviously, I'm not going to have time to read all that."
Quinn then quickly admitted that he had heard through friends of his perceived diminished stature, but also was quick to point out that he really didn't understand why his stock could be falling in January and February.
"It's kind of hard for a guy to be slipping when we haven't done anything," he said smiling. "I haven't played a game in a couple of months.
"You sit back and say, 'Did I not do something right today in the weight room? Did somebody see me in the weight room miss a rep?' It's just funny, but it's just something you use for motivation."
Quinn, like many elite players before him, is quickly understanding why teams employ dozens of scouts. Top players get scrutinized so closely in the months leading up to the draft on so many factors not related to football, one sometimes wonders why games are played at all.
Because of his knee issue, Quinn won't take part in any physical tests this weekend in
. Instead, he's focused on the psychological testing and team interviews that occupied much of his time Friday.
He'll take to the field twice before the draft. Once on March 4 and again on March 22, two days that will provide a glimpse of the right arm that many thought was destined to win a national championship for Notre Dame and a Heisman Trophy for its leader.
Those were two goals Quinn had set for himself when he returned for his senior season in
. While he has come up short on both, one of his goals still remains.
"When I decided to come back, I had three goals that I set out for myself," Quinn said. "Win a national championship, win the Heisman and be the number-one pick in the draft. Obviously, the first two didn't work out and the last one is yet to be determined."
And that brings us to Jamarcus Russell, the player who has stolen Quinn's thunder and appears destined for a home in the Bay Area with
If Quinn is the perfect build for a quarterback, one would have to say that Russell is the perfect build for a linebacker. At just over 6-5 and 265 pounds, Russell can probably play any number of positions on the football field.
He's chosen quarterback, and it appears to be a smart move. Russell says he can throw the ball up to 85 yards in the air. You don't get points for that, but when you combine that with his imposing physical stature, those are the measurables that have scouts salivating over drafting him.
, let's say Russell sits in the pole position for the draft. So much so that he was asked Friday if he feels the need to merely "protect" his spot, rather then impress the assembled NFL masses.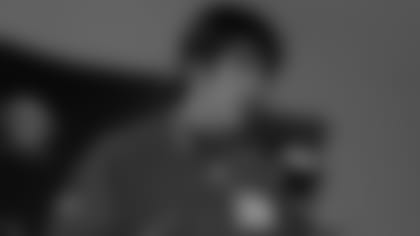 "Not necessarily protect it, because you never know what people think," Russell said. "But it's an honor to go so high, if God (willing) that happens. I'm just honored to be here. It's a pleasure."
Like Quinn, Russell has elected to display his athletic abilities on campus instead of on the turf at the RCA Dome this weekend. He'll go through the mind tests and physical measurements, but if anyone wants to see him throw a football 85 yards, they're going to have to travel to
Or coaches and scouts can head to
where both Quinn and Russell train. While the pair are now linked as the top two quarterback prospects in this year's draft, they have been intertwined since early January when Russell's LSU Tigers faced Quinn and the Fighting Irish in the Sugar Bowl.
The competition from that January night has spilled over to their workouts in the desert, and Quinn says it's only natural to develop a bit of a competitive streak when he sees the player who has supposedly supplanted him as the first overall selection come April.
"We obviously work out in
together, played each other in the bowl game so obviously there's some competitiveness there," Quinn said. "But in the end, you can't control what teams do, so it's out of your hands."
What might be even worse for Quinn's psyche is that some think that Russell's performance against the Irish in
vaulted him to the top spot, and Russell is one of those people.
"I think it (helped) a lot," Russell said. "Things went good for a couple years, but just to have a big bowl game, you know, it's such a big-caliber game to some people, I guess it pushed me up real high."
It's hard to imagine either player doing anything this weekend to drastically move them up or down in the first round. By the time the draft rolls around, the roles might be reversed and Quinn might be back on top.
He certainly won't have to worry about the guy sharing the gym with him in
"I'm happy for him and everything he does," Russell said of Quinn. "I wish him the best of luck. But my main thing is I'm just happy to be here myself. Sometimes people don't get the opportunity, the chance in life, to be mentioned as the first pick in the NFL draft. I'm just overwhelmed by it and very happy for it."
Quinn knows how it feels to be mentioned as the first pick, too. He also knows how quickly that can change before the last weekend in April.