To say it's been a busy week for Texans owner Bob McNair would be an understatement.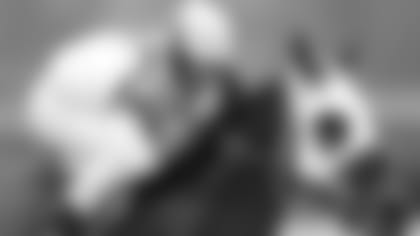 Last Saturday, his team selected Mario Williams as the number-one pick in the 2006 NFL Draft, and this weekend he travels to Louisville for the most exciting two minutes in sports—the Kentucky Derby.
At least McNair had some control over the outcome during the draft. But as far as the Derby goes, he can only hope for the best.
"What you hope for is not that you'll have good luck, but that you won't have any bad luck," McNair said. "That's what you hope for—that you won't get bumped, knocked around, lose a couple lengths, have a bad break out of the gate."
As the competition begins, McNair will focus his attention on his speedy brown horse Bob and John, who will sport the same green and white that his mother, the former racehorse Minister's Melody, wore in her racing days.
Bob and John, named after McNair and racing manager John Adger, will line up in the seventh position and contend with a loaded field of 20 for the coveted horse racing title.
In preparation for the Derby, Bob and John has finished in the top three of several graded races. The most notable and recent of Bob and John's victories came at the Aqueduct Wood Memorial Stakes in April. He finished third in the Grade 1 Hollywood Futurity and won his first graded stakes race at the Sham Stakes in February. In addition, he finished third in the Grade 2 San Felipe in March.
With so many horses vying for the prize, Bob and John's handlers feel that his fluid running style will help separate him from the field in the longer Derby.
"He has a solid foundation for the race, and we feel very good that he can handle the mile and a quarter," McNair said.
McNair looks to become a two-time Derby winner this weekend and improve his most recent Derby appearance with Congaree, who finished third in 2001. McNair's only Derby victory came in 2000 with Fusaichi Pegasus, who was owned by a Japanese businessman and co-bred at McNair's Stonerside Stables, where Bob and John was bred.
Bob and John's trainer, three-time Derby winner Bob Baffert, also hopes to earn another Derby victory. His odds, however, are higher than his partner McNair. Baffert trains three of the horses in the race: Sinister Minister, lining up in the fourth position, and Point Determined, lining up in the fifth position.
The race is set to start Saturday evening around 5:04 p.m. CST. Coverage begins at 4 p.m. CST on NBC. About two minutes after that, McNair will know if he's brought home another champion and if he'll be celebrating Texas-style in Kentucky.