The Texans hit the practice field today after a three-day recess during the bye weekend. As expected, there was a bit of rust that had to be shaken off. More evident, though, was an extra hop in the players' steps and a collective sense of excitement that hasn't been seen since the beginning of training camp.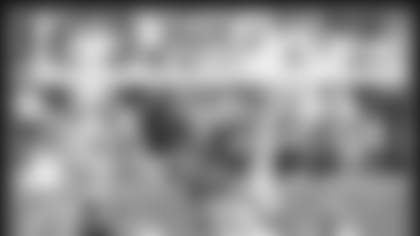 QB David Carr and the Texans hope to be flying high against the Titans for their first divisional road game this season.
"It's good to be back on the practice field," head coach Dom Capers said. "It's a good week for us to have the extra preparation time. The guys came back after a long weekend. We had a good work day today on Tennessee."
         The Texans are poised to meet the Titans, who boast a 3-2 record
         mostly due to the playmaking ability of quarterback Steve McNair.
         Out of the Titans' 12 touchdowns this season, he has played a part
         in 10 of them. Having faced him several times over the years, Capers
         understands his strengths and weaknesses as well as anybody.

         "McNair--he is a tremendous football player," Capers said.
         "He is a guy that can win the game on any given play. I've had
         the misfortune of playing against him for a lot of years now and he
         is the guy that makes it all happen. I think he is a very underrated
         player in the league. I think probably people realize more now what
         a tremendous player he is."

         Many Texans players were able to watch McNair play yesterday, when
         the Titans lost to the New England Patriots 38-30 on the road. If
         they didn't know prior to Sunday, they quickly found out how potent
         the Titans' offense is in the hands of McNair.

         "(McNair)
         can do some remarkable stuff," defensive end [Gary
         Walker]() said. "I
         think yesterday he threw a ball left handed and completed it.
         He is multi-talented. He
         is probably the best running back on the (Titans) as well." 

         The bye week was not only an opportunity for players to relax and
         maybe watch the Titans play on Sunday, but also a chance for some 

of the injured Texans to heal. Coming into the bye week, a number of players were either nursing injuries or just banged up from the wear and tear of the four preseason and four regular-season games.
         "I
         feel rested," Walker said.
         "I feel good.  I'm
         ready to play.  I think
         a lot of guys needed a break.  You
         know after training camp the bye week is kind of like your breaking
         point of the season."

         Another key player whose health has improved is cornerback [Aaron
         Glenn](), who sustained a groin injury in the team's win against
         Jacksonville. As a precaution, Glenn sat out practice today, but
         there is still a possibility that he will see action in
         Nashville. 

         "Nobody
         wants to get hurt but I'm still getting treatment and hopefully it
         comes around pretty quick," Glenn said. "I've made a lot
         of improvement but if I improved enough to say I'm going to play
         this week or if I'm going to be out the practicing tomorrow I
         don't know."

         The Texans players will have Tuesday off before resuming their
         preparations for the Titans on Wednesday. 

         **PRACTICE
         NOTES:**The Texans began today's afternoon practice outside under
         partly cloudy conditions, but they moved into the practice bubble
         halfway through practice due to rain and lightning…Linebacker [ Charlie Clemons](),
         who sat out last week's win due to complications from a cyst being
         removed from his shoulder, practiced today and looked like he hasn't
         missed a step…Safety [Jason
         Simmons]() highlighted the first half of practice when he
         intercepted one of [Dave
         Ragone]()'s passes during a practice drill…Capers expects each
         player to practice on Wednesday except for Glenn, who will likely
         rest his groin.