It's not as though Kris Brown was ever in any real danger of being cut. Despite what some fans thought and what might have been reported, Brown, the only kicker the Texans have ever known never came close to cleaning out his locker.
The Texans support of Brown never wavered and
's faith in their kicker paid off this weekend when Brown calmly nailed a 48-yard field goal as time expired to deliver the Texans their first win over the Colts in franchise history.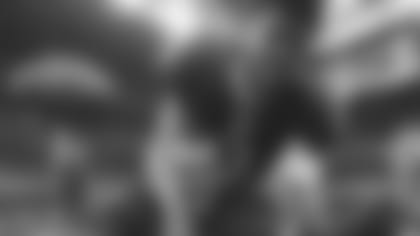 It was an early Christmas present for many Texans fans, a reward to Brown's teammates for a season of hard work that has gone largely unrewarded, and for Brown, it was a bit of redemption.
Brown started the season well. Through Houston's first seven games he had hit seven-of-eight field goal attempts with the lone miss coming in a 27-7 rout of Jacksonville at home in October.
But then the calendar changed to November and Brown's season took a turn for the worse. In
's four games during the 11 th month of the year, he converted on just four-of-eight kicks and there were grumblings that Brown might be replaced.
Gary Kubiak said publicly that the Texans had auditioned place kickers during a try out and the media ran with the story. The truth is that the Texans have tryouts virtually every week of the regular season and kickers had been through the doors of Reliant Stadium plenty of times before Brown's struggles even began this season.
Not surprisingly, no other available kicker was a better option than Brown and he remained in the lineup. He acknowledges that he had a rough spot this season, but now Brown thinks that is buried in the past.
"I think for me, this year, I've changed some things up and I think it just took some time for those changes to become ingrained in what I'm doing," Brown said. "Couple that with the mental part of what I do and getting the mental part and the physical changes to kind of mend together. It's been a challenge, but I think for the most part over the past five weeks I've really been kicking the ball pretty well."
Pretty well is probably a bit of an understatement. In
's last five games, Brown has converted on eight-of-10 opportunities with his only misses coming from outside of 40 yards.
On the season he's now over 76 percent on field goal attempts and has yet to miss a kick under 30 yards.  For his efforts this past Sunday, Brown was named AFC Special Teams Player of the Week.
It's something that Brown appreciates, but he knows the win means more than any award ever could.
"Awards are nice and everything, but really the bottom line was doing what it took to get this team a win, that's more satisfying than any award," he said.
You would think under Sunday's circumstances that Brown might have changed his approach at the end of the game. ](http://store.houstontexans.com/product/index.jsp?productId=1865446&cp=2237490&clickid=mainnavgeartxt&parentPage=family)With the game on the line and overtime looming, a 48-yard field goal is anything but routine, even for an eight-year veteran. The Colts even called a timeout in an attempt to cool Brown's adrenaline, but if they knew of his approach, they probably would not have wasted their time.
"I don't even think about that because to be honest with you I don't even think about where the ball is going to be at as far as a yard line standpoint," Brown said of the distance of Sunday's game winner. "All I know is that there is yard line that we get to where I know it's time for me to get ready and once the ball crosses that I really don't pay attention to where the ball is at on the field."
Brown said he's been asked over the past few days if that was the biggest kick of his career, he says yes, though not for the reasons one may assume.
"I would say yeah it's the most important kick because it was in the game we just played," Brown said. "If that happens this week, that's going to be the most important kick, that's just the way this business works."
With one game remaining and Brown currently riding a streak of seven consecutive makes, his confidence is, of course, high. If the Texans are in need of another clutch kick this Sunday against
, rest assured that Brown will deliver.
"Oh yeah," Brown said when asked if Sunday's game boosted his confidence. "Any time you have a game-wining kick, it's a confidence booster. Really, for me, it had been a long time since we had a situation like that. It was just good for me to know that, even though it's been a while, I can still go out there in those circumstances and perform at a very high level."