The Texans returned to practice Monday following an extended bye-week which saw them enjoy five days off. It was a welcome break to an NFL grind that's now into its' third month.
"It helps a lot," Anthony Weaver said of the time off. "Especially the young guys, they're used to an 11-game season. Now they've played four preseason games and now four games in the regular season, they're use to the season being about over right about now so to get that break will hopefully rejuvenate them a little bit and hopefully that rookie wall will hit later a little later then it normally does."
The bye week came at the perfect time for the Texans. After claiming their first win of the season eight days ago against the Dolphins,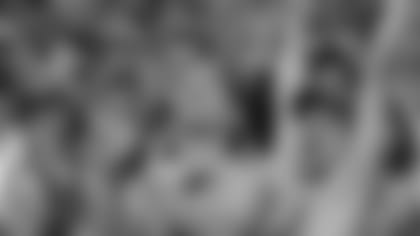 "It's a huge game," Weaver said. "I know how big this is for our fans and it's equally as big for us. One of the first things I heard when I came to
was 19-10 so this is huge."
Weaver said that while the team sees the game with the Cowboys as a huge rivalry game, the matchup also offers an opportunity to see how much the Texans have improved and there's not a better way of measuring that then against a quality opponent.
"It would be a huge boost for us," Weaver said of what a win would mean. "Last week was great, but we beat a team that was struggling, let's be honest, so for us to go out and beat a team that is supposed to be a playoff team could be huge for this organization."
Monday is typically spent with film review and study, but not today. The Texans put the shoulder pads on and practiced for over an hour. While much of the game plan for this weekend has yet to be installed, Monday still served a purpose.
"Having the long weekend that we did, it kind of knocks out the kinks," Antwan Peek said. "It's about getting fresh again. We're going to be fresh because we came in, had a practice, tomorrow we have off, and then we'll come back and get another bang day so it's going be a real physical week."
Dunta Robinson, who will have his hands full Sunday with either Terry Glenn or Terrell Owens, said the extra day probably won't amount to too much of an advantage once game time rolls around.
"I wouldn't say it's an advantage because we've been off for a whole week," Robinson said. "It just gives us a chance to get back in the swing of things, but they're coming in off a loss so I'm pretty sure they had to come in this morning and put that loss behind them and get started with us."
Many in the locker room were talking about
they hope to exploit this weekend.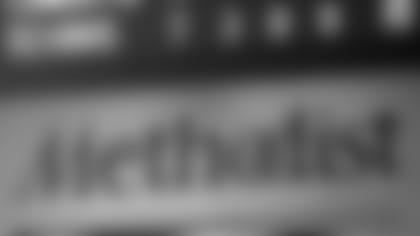 Cowboys quarterback Drew Bledsoe was sacked seven times by the Eagles and never found a rhythm Sunday thanks to a relentless
pass rush. The possibility of spending some time in the Cowboys' backfield is something Weaver, for one, is looking forward to.
"The reason you get excited when you play a guy like Drew Bledsoe is, he's a great quarterback you know if he has time he's going to find somebody open, but he's not very mobile," Weaver said. "So as a defensive lineman you lick your chops and pin your ears back and get after him because you know he's not going to run away from you."
has collected eight sacks through four games, but the Cowboys could be the perfect remedy for an inconsistent Texans' pass rush. Most players agree the formula is there for success, it's just going to take some time to produce results.
"We definitely have the tools, we just have to go in and find out what's broke and fix it," Peek said of
's pass rush. "I think that's going to be the difference in us winning some ball games."
It could be the difference this week and a well rested Texans defensive unit will only help