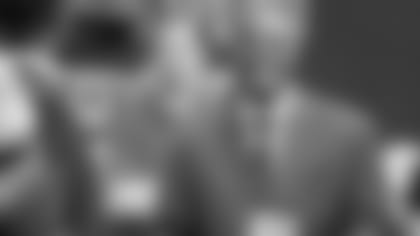 ]( "GM Rick Smith")

General manager Rick Smith spent part of Thursday afternoon in downtown Houtson at the United Airlines corporate office. He spoke to a hundred employees there on inclusiveness and his personal experiences with being an African American executive in the National Football League. The presentation was part of a tribute to Black History Month.
Diedra Fontaine, the director of diversity and inclusion at United Airlines, expressed the excitement United felt for the honorary guest speaker and for the partnership between the two organizations.
"We are so honored that Rick Smith is joining us," Fontaine said. "At United, we really believe in supporting diversity and inclusion, and throughout the year we have various heritage celebrations. Today we're celebrating Black History Month and Rick Smith being so phenomenal in his role of being one of the few African Americans to have a senior leadership executive role in the NFL."
Smith's message highlighted the large number of qualified minorities that he believes must be provided with opportunities to advance and progress in society.
"At this point in time, I think if you look over the landscape of the National Football League, we're coming off of an offseason where there were multiple hires but none of them were filled with minorities," Smith said. "I think as much as we can celebrate, I think that there is still work to be done and I think that's a message that we need to continue to promote."
Inclusion and opportunity for minorities is not limited to the NFL, Smith added.
"That's why it's nice to be in an environment like this, a corporate environment where you're talking about the same things and same issues and celebrating some of the same successes and also recognizing that there's still work to be done."
In regards to Black History Month, Smith views it was a time to appreciate the past and welcome an optimistic future.
"It's a time of reflection," he said. "I think it's a significant time that we have an opportunity to really look back and honor some individuals who've made significant contributions to life in general in our society, specifically. And it's an important time for me personally because there have been folks who have come before me who have made great sacrifices in order to push the envelope so that opportunities are afforded for people of color and minorities. And I think that's an important thing."