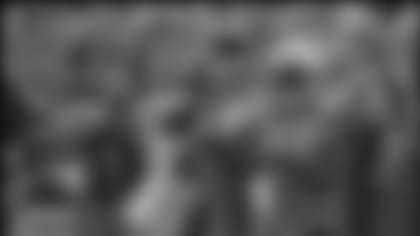 Robinson, the team's first-round pick out of South Carolina, has started all six games at right cornerback and leads Houston with three interceptions. He also has 29 tackles and a team-leading seven passes defensed.

Robinson answered questions after practice this week. Click here ([ ](http://play.rbn.com/?url=nfl/nfl/open/2003/texans/demand/duntaqanda102704.rm&proto=rtsp)) to watch. A transcript is provided below. ](http://play.rbn.com/?url=nfl/nfl/open/2003/texans/demand/gaffneyqanda.rm&proto=rtsp))
LB Kailee Wong ([ ](http://play.rbn.com/?url=nfl/nfl/open/2003/texans/demand/qanda092204.rm&proto=rtsp))
WR Andre Johnson ([ ](http://play.rbn.com/?url=nfl/nfl/open/2003/texans/demand/andreqanda081804.rm&proto=rtsp))


Dunta,
As a rookie, a lot of teams are going to try and pick on you especially in deep patterns. How do you prepare each week for this mentally and physically?
--Joseph McFerrin (Houston, TX)
*
*Joseph,
The way you prepare for teams coming at you deep is you prepare in practice by seeing a lot of deep balls by your receivers. You just play it over and over in your mind mentally, knowing what's going to happen and knowing what you have to do in different situations. I prepare for every game the same so I don't change my approach. I go in thinking the same.

Dunta,
How much has the game slowed down for you since Week One?
--Phil Krum

Phil,
It's slowed down a lot. I feel more comfortable with the plays. I just feel more relaxed out there. The first game you don't know what to expect but once the first game is over you know what the NFL is all about and you know what to expect from teams to come.

Dunta,
You're having an amazing rookie season so far, I'd like to say congrats on that. I've been watching you since college at South Carolina. You've inspired me to become a cornerback for my school, but I don't think I can because I'm only 5'8" and 145 pounds. I feel like I'm too small, but I really love watching you play. Is there any advice that you could give me because of my size? I feel like I'm too small and can't do much. I was just hoping that you could help me out and inspire me to play as well as you. Thanks.
--Chris

Chris,
One thing I would say is just believe in yourself. I was told over and over that, 'You're too small for this, you're too small for that' but I always believed that I could do whatever I wanted to. Don't let anyone tell you any differently.

Dunta,
What has been your most memorable experience with the Texans so far?
--Scott Wilson (Houston, TX)

Scott,
My most memorable experience was getting my first two interceptions against the Oakland Raiders. That first one is definitely the one that I'll remember the most.

Dunta,
What cornerback do you look up to and try to model your game after?

I like a lot of corners but I don't try to model my game after anybody. I want to start my own identity. Deion Sanders is my favorite player but I don't go out trying to play like him. I just try to do my own thing because once you go out and try to start playing like other people, that's when you start to fail.
Dunta,
Welcome to Houston! I grew up in Orangeburg, South Carolina and am an ardent Gamecocks fan. How are you adjusting to this wonderful city and what are your favorite things about it so far?
--Mario Jenkins (Houston, TX)

Mario,
I like Houston. I'm still in the south which is good for me. I went from Georgia to South Carolina now to Houston so it's pretty good. The reason I like Houston is because it's so spread out, there's a lot of things to do. It's a nice city; the people are good so I just like being here.

Dunta,
Just another Gamecock watching you have an incredible rookie year! Can you talk a little about the film study in the NFL compared to what you had to do in college playing SEC teams on a weekly basis? Lots of Texans fans in the state of South Carolina now – good luck to you and your team the rest of the way!
--James P. Helton, Jr.

James,
You have good receivers in the SEC but film study in the NFL is a little bit more precise. You have to know what routes the receivers like to run. You have to know if he's a physical guy or a speed guy so you have to know the receivers' tendencies and you have to go out and perform at the highest level.

Dunta,
Playing corner is one of the toughest positions on defense. My question is, with receivers like Jerry Rice, Terrell Owens, Derrick Mason and so many others, is there a certain technique that you use to cover those guys since the NFL went to the no bump after five yards rule? Thanks!
--Skip Rochelle

Skip,
You just try to use what those guys don't have and for me, that's my quickness. I'm a lot quicker than most of those guys. They're bigger. They're strong receivers so I have to use my quickness to put myself in position to make plays so that's what I use.