Houston Texans quarterbacks coach Greg Roman didn't hesitate while naming people who've influenced his life, as well as his career.
There's his uncle, Jack Clary, who wrote Paul Brown's autobiograhy and helped steer Roman to John Carroll University.
There's Houston head coach Dom Capers.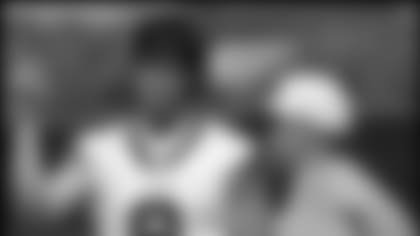 There's his brother, Matthew, who has Down Syndrome and who inspired Roman to found Project H.O.P.E. (Helping Others through Physical Education) in northeast Ohio. (Roman: "It's probably the thing I'm most proud of.")
And there's his high school coach, the late Ed Byrnes, for whom Roman played in the late 1980s at Holy Spirit High in Absecon, N.J.
"High school football, to me, was a great example of total commitment, eliminating distractions and basically living a dream," said Roman, who was an All-South Jersey guard as a senior. "I was very fortunate to be in a tremendous, winning program ... we won the parochial version of the state championship my sophomore and junior seasons. And I was fortunate to have a wonderful head coach (Byrnes). He was a tremendous, tremendous motivator who really captivated the young men he coached.
"He was very charismatic and old school, in terms of Xs and Os. He believed people won games, and not coaches. I learned a lot of valuable lessons, because in my area, there were a lot of distractions. Football gave me something to focus all my energy on."
Holy Spirit players certainly needed energy for one of Byrnes' favorite drills.
"We had two-a-days and ran eight quarter-miles," said Roman. "You had to make it 10 minutes, then move down by five-second intervals. If you missed any, you had to come to dawn patrol the next day and run.
"I dreaded those things, but it sure as heck taught you how to fight through fatigue and push yourself, and discipline our mind. Coach pushed us ... he prodded us."
Since Roman grew up in a rough part of town, it would have been easy to be pushed in the wrong direction. That didn't happen because, as Roman noted, football under Byrnes gave you "a sense of teamwork, discipline and organization."
"In high school, you learned to hold yourself to a high standard and to hold yourself accountable (for your actions)," recalled Roman. "I became extremely focused on being the best football player I could be."
Roman's focus carried over to John Carroll, a Division III school in Cleveland, where he was an All-American linebacker and an Academic All-American. But John Carroll wasn't his first choice.
"I grew up in Atlantic City and was thinking about going to Rutgers or somewhere in Ohio, because Paul Brown was from there," recalled Roman. "My uncle was taking me to Dayton when he said, 'Let's go to John Carroll.' I said 'John who?' "
John Carroll, among other things, is Don Shula's alma mater, which played a big part in Roman's decision.
Roman, admittedly, caught a big break after graduating college in 1994. Through a series of connections, including former Carolina strength and conditioning coach Chip Morton (who now holds a similar position with the Bengals), Roman was introduced to Capers.
"Chip told Dom he'd like to hire me, but I wasn't interested in being a strength and conditioning coach," said Roman. "Then, I saw they didn't have a defensive assistant."
Which is how Roman joined the Panthers in 1995.
"You think you know something about football, but you know nothing," he said. "I wanted to get in on the ground floor and help out the defensive staff, and hope that would build confidence in me.
"I was rolling the tarp out on the field and breaking down film. I kept my feet moving, my hands clapping, my ears open and my mouth shut. I tried to make myself valuable and learn. I was getting a Ph.D. in football while doing all sorts of odd jobs. But I felt if I paid my dues very hard, early, I'd learn more and would progress faster."
Indeed. During 1996, for example, Carolina set an NFL record for fewest second-half points allowed in a season. Then, after two seasons as the Panthers' assistant defensive/quality control coach, he was promoted to offensive quality control in 1998, offensive assistant from 1999-2000 and assistant offensive line coach in 2001.
Then, Roman moved on to Houston, where he coached tight ends for two seasons, and earlier this year, was promoted to quarterbacks coach.
"I have the utmost respect for every level of coaching," he said. "The collection of pro coaches is a great fountain of information to dip your cup in.
"I've had a pretty wide spectrum of experience and have worked with some great coaches ... Chris Palmer, George Seifert, Don Breaux. One of my favorite quotes from John Wooden is, 'What you learn after you know it all is what counts.' If you don't become stagnant, 15 years from now I'll still be learning."
Roman's learned enough about coaching quarterbacks that when he addresses high school players, he cuts right to the heart of his philosophy.
"Number one, Xs and Os don't come into play," he said. "One thing that will be consistent throughout is body mechanics. I guess it's real generic to say I would stress balance at the position. From a mechanical standpoint, do they have a consistent release point, all things being equal. That's what's going to breed consistency/accuracy.
"In this game, you've got to be in position at all times to adjust, move and adapt. If the quarterback's dropping and his feet get out from underneath his shoulders, he can't get rid of the ball right away. It's shoulders over your feet and feet under your delivery."
Roman also stresses the importance of "eliminating as many moving parts" in a release as possible in order to build accuracy.
"The more moving parts you inject into something, the more room there is for error," he said. "It comes with repetition."
If there's one increasingly important aspect of playing quarterback, it's something that can't necessarily be coached.
"You have to stress leadership," said Roman. "The quarterback really is an extension of the coaching staff. He's the one everyone's looking to in the huddle.
"The element I would emphasize is poise. Every quarterback will be judged on how he performs under the most intense circumstances."
Coach Byrnes wouldn't have had it any other way.