Head coach Gary Kubiak spoke to the media about the next step in rebuilding the Texans roster. The Texans released 19 players on Friday after the team's 16-13 win over the Tampa Bay Buccaneers and a day early from required NFL rules. At least two more players will need to be released by Saturday to comply with the 53-man roster rule.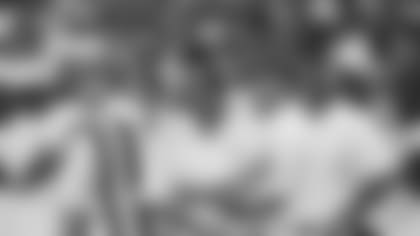 Thursday night's game played an important role on deciding which players remained on the roster. With fifteen starters sitting out for the game, players competing for position had a chance to make their claim to a position.
"I was very impressed," Kubiak said. "We gave those young guys a chance and a lot of those guys that were very impressive, unfortunately, were many of the guys we had to let go today...there were a lot of guys battling for a job and trying to prove they can play on this league. I liked the way they went about it."
Running back Antowain Smith was among those released despite his running display against the Buccaneers.
"First of all he played extremely well and Chris (Taylor) did too," Kubiak said. "That was a very tough decision for us, but the bottom line, for us, was youth and Chris' ability to become a returner, which we think he has the ability to do in this league.
Rookies Chris Taylor and Wali Lundy along with second year veteran Vernard Morency are the designated back up for injured Domanick Davis who's final status on the squad is still to be determined. Kubiak expressed concern on the young unit, but feels confident about his decision.
"It's a big concern," Kubiak said. "These kids worked hard and they played well. I think they're going to be fine players. It's going to take some time. There's going to be some growing pains. But that's the only way we're going to get better, if we take some chances on some of these players and are willing to work with them and raise them as pros sort of speak. You're looking at three guys that could be here a long, long time, too. It's going to be tough, but I believe in the kids and we'll go to work.
"I just want that position (RB) to be played well. I know it's a lot to ask for from these young guys, but I really think these guys are going to grow into this job and become fine pros. Hopefully we're going to catch the best of them as they grow."
Other positions that were up for grabs Thursday night were at tackle and defensive line, however, there was no final decision as of Friday afternoon.
"The tackle position was an extremely important battle for us, and we're not through there," Kubiak said. "That's probably the main reason we're at 55 today and not 54 or 53, because we still have some decisions to make there. I've told you we're looking for who is the best swing tackle for this football team, and that is the decision we have to make.
"On the defensive line we had a tough decision to make.  At this point we went with (DT) Alfred (Malone) (instead of Earl Cochran)." 
Players that made a final stride on the staff to stay on board were defensive tackle Travis Johnson, guard Steve McKinney and veteran defensive tackle Seth Payne. Rookie tackle Eric Winston is also being looked at as a back up guard.
The Texans also moved veteran linebacker Kailee Wong to the PUP list with Jerome Mathis and Kubiak spoke confidently about him returning to the lineup in five weeks.
Two quarterbacks, Quinton Porter and Cody Pickett were also released, but as well as with other positions, Kubiak is not discarding the possibility of bringing them back on the practice squad.
"We're going to go with two (QBs) right now," Kubiak said. "We have a couple of options. We could pick up another player and we could bring back one of those two back on our practice squad that we let go. I thought they both did a heck of a job last night. They really prepared to play hard and did a fine job out there last night.
"No doubt (they could come back on practice squad). I would say that of our eight. All eight could come off of our team. It could be four or five from our team and three or four from another place. But we've definitely got some very strong candidates for our practice squad."
The final Texans roster will be a young one and that will be evident from the starters the hit the field against Philadelphia Sept. 9. Tight end Owen Daniels now joins rookies Charles Spencer (LT), Wali Lundy (RB), Mario Williams (DE), and DeMeco Ryans (LB) on the starting line up.
"I wanted to look at all of our tight ends again," Kubiak said. "As you saw we didn't sit any of them.  We played them all. One thing that was very impressive coming out of the game was Owen. I think there is no doubt he is ready to go. He's our guy.  And he's a young one too, but the boy's going to be a fine player.  Last night we asked him of kind of step up and let us know that.  He did.  He played really well.
"That's the way we're going to get better.  We're going to build this thing from the ground up and believe in those kids.  Hopefully they are kids that are going to be playing here for a long, long time.  Yeah, it's a little nerve-wracking for a coach, but heck, let's go do it."
Despite this being the second cut in less than a week, the new head coach admitted that it was not any easier than the first.
"They're all tough," Kubiak said." Those guys have given you everything they've got for six weeks and they get very close. I think this group became very close because of the competition on our team. And our first go around together, us as coached and them as players. It was interesting to see all these guys who were let go and then there were a lot of veteran players around here today with those players because of some close bonds that they formed. Hopefully some things will work out for them. Hopefully a few of them will get picked up, or something will work out."

Kubiak and his staff will continue to make moves on the roster throughout the weekend to finalize the roster and set up a following squad to begin the 2006 campaign.