Adrian Peterson, it's about to be show time. Unlike many of the players slated to go in the top half of the first round in April's NFL draft, Peterson will work out at the combine this weekend.
On Friday, he measured in at just over 6-1 and tipped the scales at a sculpted 217 pounds. But Sunday will be the day of reckoning for Peterson, a player some say has the ability to be a franchise back in the NFL.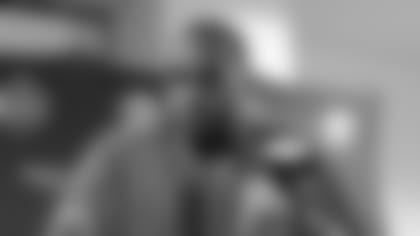 Peterson torched Big 12 defenses for three seasons as a Sooner. His skills are unquestioned. For Peterson, this weekend will be all about proving to the teams here in Indy that he is durable enough to make it through a regular season schedule of 16 games, not to mention the preseason and a possible postseason slate.
Sunday's workout in the dome will do little to answer those doubts, but an impressive workout most certainly would make the prospect of Peterson too tantalizing to pass up come April, despite a somewhat injury-riddled past.
Peterson said an ankle injury that sidelined him during his sophomore year is completely healed and he's not expecting any issues with his latest issue, a broken collarbone he suffered midway through this past season.
"The only injury I'm dealing with now is my collarbone injury," Peterson said. "A couple of doctors are saying that no surgery is required. It'll heal on its own. So as far as the collarbone injury, when it heals, it'll be as strong as it was before…I'm just basically going out and focused on performing well."
He also said the not working out this weekend was never an option, even though he proved to many he was healthy by playing in the Fiesta Bowl in January.
"That's the kind of competitive person I am," Peterson said. "I don't see any reason not to work out. I just want to come out here and perform."
He's setting his sights high, aiming for a 4.2 or low 4.3 in the 40-yard dash Sunday. It's safe to say that if he manages to crack the 4.3 barrier, any concern over injury will vanish come draft time.
Peterson won't be alone in April as far as big-name backs from big-time schools are concerned.
's Michael Bush will offer an option in the backfield for teams selecting outside the top 10.
Irons enters this year's draft after completing a solid career for the Tigers. In the mold of Cadillac Williams, Irons is a player who has the potential to be an every-down back in the NFL.
Like Peterson, he's set a pretty high bar for himself for Sunday.
"I'm trying to run a 4.43, a low 4.4," Irons said when asked what he wanted to run the 40-yard dash in. "I got a bet with my brother right now. He said, 'Kenny, if you go up there to the combine and run a 4.45, you ain't coming back to the house.' He said, 'You have been able to run a 4.45 since you were little, if you do that, you can't come back to this house and keep training.'"
On the other end of the spectrum is
's Bush. He won't run on Sunday, still recovering from a broken leg that ended his senior season quickly.
Bush's tale is a cautionary one. Considered a lock to be a first-day selection in last year's draft, he elected to return for his senior season. Instead of enjoying a Cardinal run to the Orange Bowl, he was given a titanium rod in his league to go along with two screws after fracturing his leg.
He'll workout on March 26 at
's pro day on campus. Teams will have to wait until then to see how his leg has healed. But according to Bush, teams don't seem too concerned, and he's hoping to go as high as the first round.
"I think I should go in the first round, but that's just my opinion based on what I did last year," Bush said. "Guys hurt themselves before and entered the draft and have played well. I don't think it should be a factor."
If things don't work out for Bush, his financial future still looks bright thanks to an insurance policy he took out on himself before injuring his leg. He hopes to not have to need it.
"No, not right now, things are looking too good right now," Bush said when asked if was ready to cash in his policy.
A life without football is something that none of these players want to consider. With perhaps the biggest moments of their professional futures ahead in the coming weeks, the only common denominator between the trio seems to be uncertainty.
Irons may have summed up the entire draft process the best.
"It's hard to tell who is interested in you right now," he said. "It's kind of a mystery."
Soon the mystery will be solved for all three.